Favorite Comic Book Covers of the Week 04/16/14
Hey, thanks for checking out Talking Comics: Favorite Comic Book Covers of the Week!
Each and every New Comic Book Release Day is something to be excited about. It's the day we're introduced to new worlds, are able to witness the next chapter in a continuing saga, or fall in love with a character or creator for the first time. I could go on and on, but I think you've already gotten my point. That point being … comics are awesome. So awesome in fact that even the covers of them are often times incredible works of art. We're here to show you some of our  favorite covers each week! So go ahead and take a few moments for yourself (haven't you earned it?) and feast your eyes on some truly inspired comic book covers!
So without further or due let's get this week's selections highlighted!
Steve Seigh's Favorite Comic Book Covers of the Week
Hulk #1
Written by Mark Waid
Art by Mark Bagley
Skottie Young Variant Cover
"Heh. It's been a while since I've posted one of these adorable Skottie Young covers. I think that the main reason why I'm partial to this one is the playful art against that bright yellow background. I just really love and appreciate the way all of the colors are working together for this piece." Steve Seigh
Ms. Marvel #3
Written by G. Willow Wilson
Art by Adrian Alphona
Cover by Jamie McKelvie
"Strike a pose, there's nothing to it, justice! Kamala looks commanding, determined, and unmovable on this cover, and I love that so much of her power and personality is displayed here. This cover says that this is a strong hero who can get the job done." – Steve Seigh
"Whist I love Jamie Mckelvie's cover that first fully showcases his design for Kamala's costume, I would have a hard time not picking Annie Wu's variant cover that so encapsulates the tone of this amazing new series, so here's that one, too!" – Bob Reyer
Translucid #1
Written by Claudio Sanchez & Chondra Echert
Art by Daniel Bayliss
Cover by Jeff Stokely
"I'm really digging the wild and almost psychedelic colors used to make this cover. I had the pleasure of reading this book a few days back and it's just as much fun on the inside as it is on the outside." – Steve Seigh
Thor: God of Thunder #21
Written by Jason Aaron
Art & Cover by Esad Ribic
"RAAAAAGGGHHHHHHHHHH and verily!" – Steve Seigh
Uncanny X-Men #20
Written by Brain Michael Bendis
Art & Cover by Chris Bucchalo
"Ha ha ha! I really like this cover if only for the sake that whenever I see it the song "Bad to the Bone" starts playing inside of my head. It's as if I look at it and someone is suddenly just off to the side of me, laying down that iconic guitar riff. Den nown neh now neh nownt!" – Steve Seigh
Bob Reyer's Favorite Comic Book Covers of the Week
X-Men #13
Written by Brian Wood
Art by Clay Mann
Cover by Terry Dodson & Rachel Dodson
"I was completely prepared to drop this series over some lingering characterization issues (not to mention the "theft" of favorites Kitty and Rogue by another series!), but if they"re going to start a new arc featuring this wonderful Terry Dodson cover of Jubilee and Baby Shogo, you kind folks wouldn't judge me too harshly, would you?" – Bob Reyer
BONUS "X"- TRA COVER!!!
UNCANNY X-MEN OMNIBUS VOL. 2 (Marvel)
(John Byrne Variant)
Writer: Chris Claremont
Artist: John Byrne; Dave Cockrum
Inker: Terry Austin
Cover: John Byrne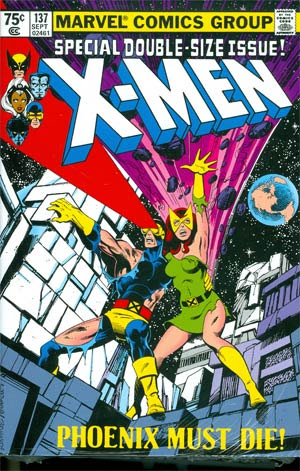 With this volume covering issues # 132 to #153 (plus tons of extras!), they couldn't have a picked a more perfect image for the cover than this one from #137's finale of "The Dark Phoenix Saga" by John Byrne and Terry Austin that, with just the subtle placement of Scott's and Jean's hands at each other's waists showcases one of comics' greatest romances…and tragedies! (Why this is a "variant" and a Stuart Immonen re-draw of the same image is the "regular" is beyond me! Accept no substitutes–buy Byrne!)
WINTER SOLDIER: BITTER MARCH #3 (Marvel)
Writer: Rick Remender
Artist: Roland Boschi
Cover: Andrew Robinson
"Shades of Jim Steranko–another "Bitter March" cover that harkens back to the classic Silver Age glory of his Nick Fury work! "Don't yield–back S.H.I.E.L.D.!" – Bob Reyer
WONDER WOMAN #30 (DC)
Writer: Brian Azzarello
Artist: Goran Sudzuka
Cover: Cliff Chiang
"Whilst I have little love for the story direction this book has taken, throughout this run artist Cliff Chiang has almost never failed to deliver images of a powerful and more importantly, respectful Wonder Woman. Just dreaming here, but if he remained as penciller, and Gail Simone came back to write this series, DC might have a hit on their hands!" – Bob Reyer
And now, a moment of "Really, DC?" from your Cranky Old Uncle Bob:
By now, most of you know that I've had a beef with the artwork that DC has used to present far too many of their female characters. (Yes, I'm looking at you Worlds' Finest–well…maybe not?) I also realize that the the book I'm about to mention is rated "T for teen", and perhaps it's just me (I don't think so, however!), but this cover from Batman & Wonder Woman (which might be a fine book inside) seems aimed at "teen fantasies" with an image of Diana that resembles nothing more than a wasp-waisted, hydraulically-enhanced, vacant-faced "love doll"!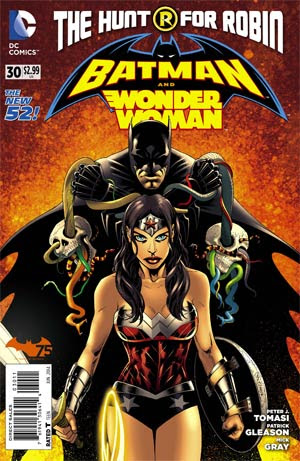 And then there's this abomination from Justice League #29 that wipes away any good feelings I had gleaned from the previous issue and the respectful appearance of my childhood favorites the Metal Men. Honestly now, could there be any "dramatic reasoning" behind the pose that poor "Wonder" Tina is forced to endure on this wretched cover?
Favorite Comic Book Covers of the Week Soundtrack
This list was compiled while listening to the band Antemasque.
That's all, folks! Join us next week for another round of covers and an avalanche of incredible cover art!
This is a column featuring Favorite Comic Book Covers of the Week 04/16/14 as chosen by Steve Seigh, Bob Reyer, and several staff members and fans of Talking Comics.