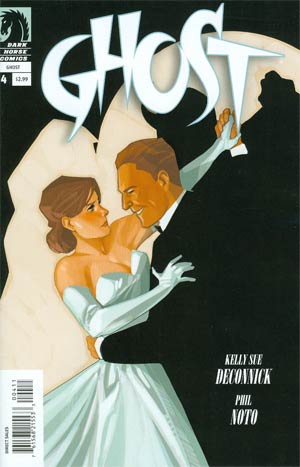 GHOST #4 Review
(Dark Horse)
Writer: Kelly Sue DeConnick
Artist: Phil Noto
Colorist: Lee Loughridge
A review by Bob Reyer
Ghost #4 is a book that I have been eagerly anticipating, yet dreading at once, as it meant that I would be finishing this stellar mini-series by Kelly Sue DeConnick and Phil Noto. From the introductory chapters in Dark Horse Presents through to the chilling conclusion, this re-launch of the spectral avenger first seen in 1993's Comics' Greatest World has honored the past of Elisa Cameron (Ghost), whilst re-positioning her with a new supporting cast and mission, but with all the subtlety, depth and emotional richness that creator Eric Luke embued the character with at the outset.
As it played out then, in this new Ghost series we are introduced to a phantasmic figure, unaware of her own identity, and how she came to be the risen dead. In the opening chapters collected as Ghost #0, Elisa is "called" to appear via a mysterious box wielded by two reality TV "journalists", Tommy Byers and Vaughn Barnes, who will come to serve as her real world "spirit guides", aiding her in restoring her memories, and discovering the nature of her demise.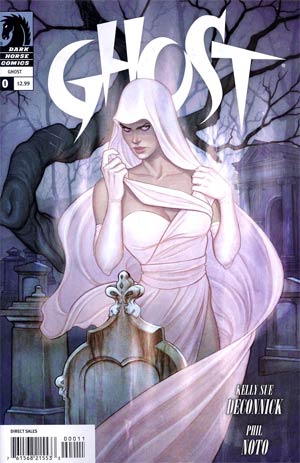 In this latest release, the events of the previous issues have come to a boil, as the Mayor's Black and White Ball is the setting for the final confrontation between Elisa and the forces that propelled her into this new life lived beyond the veil of true human existence. As this plot advanced through the series, readers were introduced to Vaughn's ex-wife Caroline, her new beau, Mayor Bobby Chambers, and the villainous Dr. Linda October. All these players take major roles in the finale, where the loose ends are (mostly) tied up in a very satisfying bow. To the last moments, there are new pieces of information, one of which ties back to what seemed a bit of throw-away business back in issue #0!
If I'm being sparse with the details, it is because Ghost is a tale of discovery for many of the characters, and far be it from me to intrude upon the masterful pace of revelation on which Ms. DeConnick has set this story. Whether wistful, angry, or resolute, Elisa Cameron's determination for justice drives the book into a head-long rush to Hell and back, both figuratively and literally.
Artist Phil Noto's style is a perfect compliment to the dual mystery/action threads of Ms. DeConnick's story. His ability to shift tonal gears, sometimes from panel-to-panel within the same page, keeps you a bit off-kilter, and never knowing what lurks ahead. Additionally, with a lead of such complexity, and with so much of her emotion conveyed unspoken, Mr. Noto is a full partner in delivering a stunning character study of a woman in turmoil, with one particular sequence from #0 that had me a tearful wreck.
(As an aside, the colorists throughout the series did yeoman's work, with the palettes used by Lee Loughridge to differenciate past from present or real from imagined  in #3 and #4  a tremendous highlight!)
Needless to say, Ghost #4 is not a stand-alone, but requires the lead-in chapters to provide the proper context. If you've been reading Ghost from the start, this final issue will "send you out of the theatre happy". If you haven't been reading this series (I did try to clue you in ahead of time!), you have missed a marvelous re-tooling of a heroine that had been long relegated to the "fond memory" file, and Ms. DeConnick and Mr. Noto are to be applauded for resurrecting Elisa Cameron and her ghostly alter-ego for this new era.
VERDICT:  As I said way back in my review of #0, Ghost was, and is a "Must Buy". If you can't find the back issues, don't despair, as a trade paperback entitled Ghost Vol. 1: In the Smoke and Din collecting all the chapters of this "Ghost Story" will be released by Dark Horse on August 13th!
NEWS UPDATE:  Ms. Kelly Sue DeConnick told this correspondent that Ghost will be returning as an on-going series later this year, and that she would be contributing to the first story arc, a fact confirmed at ECCC and via a Letters Page notation.
Soundtrack:  This essay was composed whilst listening to the 1997 "Grammy Album of the Year" nominee Love Scenes, by chanteuse Diana Krall, which features the hauntingly beautiful "I Don't Stand a Ghost of a Chance With You", which you can see below, and perhaps listen to whilst reading:
[youtube]http://www.youtube.com/watch?v=2R6aVmSUmkU[/youtube]