Written by Mark Waid and Brian Augustyn 
Drawn by Tom Grummett
Colored by Glenn Whitmore
Lettered by Jack Morelli
Review by KrisK
Mark Waid, very much the architect of the modern Archie comic, returns to the character again. This time, Waid steps backward in time to the 1950s and the birth of Rock and Roll. Archie Comics previously released Archie 1941,which dealt with Riverdale and the impeding World War. If they are successful enough, one imagines the company will release a mini for every decade thereafter. I hope they do. A civil rights Archie sounds sublime.
This Archie though, revolves around good old Rock and Roll. While not as history book important as WWII, the effects of its birth affected the world in a much more positive way.  Archie and the guys play the local prom, but the principal banned rock and roll. Instead, the guys play slow dancing classics from the depression era. The night crawls by, and the students almost fall asleep on their feet.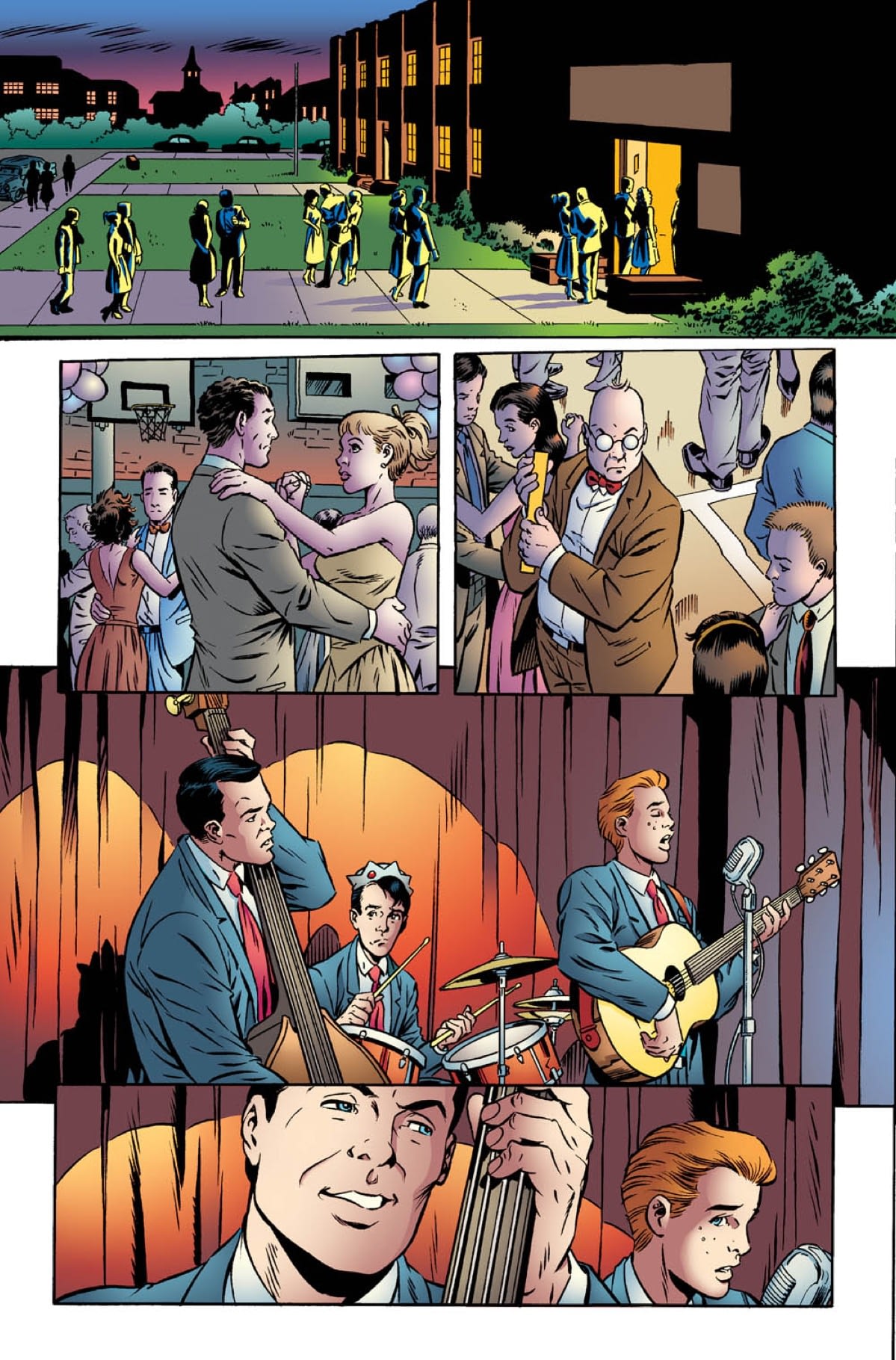 For the last song, Archie decides that since they graduated,  the principal can't touch them. They play a song they wrote, and the students respond with elation. The principal hates it though, and he ends the jam. The band gets bounced, but an agent heard them play and loves the song. Archie tells his parents, and he gets serious about the music. Veronica schemes to help her beloved ginger, in a subplot, with the help of Daddy's money.
The story functioned as an Archie Comic. I expected more jokes, honestly. I know the series aims to be a bit more dramatic, but I come to Archie for Jughead jokes above all. Archie Comics leans much more serious, these days, and I can't say it hasn't been successful, spawning several comics and TV shows. Archie's relevance increased tenfold in the last five years.
Waid knows the characters. He understands their dynamics and motivations. The story serves as a simple PG Slice of Life tale, set in the birth of Rock. While all the characters sing true, one wishes for more humor. The eccentricities of the characters seem played down for realism's sake.
The art suits the comic well. While none of the panels stop the reader with their beauty or skill, the 1950s offer little new. Furthermore, Archie rarely lets artists create tableaus to their technical prowess.
Verdict: Pass. It's not a bad comic by any means, but when the shelves are so full of great comics, it doesn't rise to the top.