Favorite Comic Book Covers of the Week 09/03/14
Hey, thanks for checking out Talking Comics: Favorite Comic Book Covers of the Week!
We here at Talking Comics just love  New Comic Book Release Day! It's the day in which each of us are introduced to new worlds, bear witness to the next chapter in a continuing saga, or could fall in love with a new character or creator. I could wax romantic about comics until the Skrull cows come home, but I do believe I've made my point. That being … comics are awesome! In fact, they're so awesome that sometimes even the covers of them are incredible works of art. Thus, we've invited you to this weekly column  so that we might share with you some of our favorite comic  book covers each week! So go ahead, take a few moments for yourself (haven't you earned it?), and feast your eyes on some truly inspired comic book cover art!
So without further or due let's get this week's selections highlighted!
Steve Seigh's Favorite Comic Book Covers of the Week
Nailbiter #1
Written by Joshua Williamson
Art and Cover by Mike Henderson
"All the power to you if you're able to resist the beautiful Alice In Wonderland-like vibe that this cover is giving off. Down, down, down the bloody rabbit hole, curious girl!" – Steve Seigh
THE DEATH-DEFYING DR. MIRAGE #1 (of 5)
Written by Jen Van Meter
Art by Roberto De La Torre
Cover by Travel Foreman
"Earlier today I saw this book on the shelf and was completely taken by the longing expressions displayed on the faces of the characters featured on this cover. Lucky for us all that the inside pages are just as hypnotic and intriguing." – Steve Seigh
Heavy Metal #270
Written by Various
Art by Various
Cover by I'd sure like to know!
"Man oh man would I love to run into a cosplay of this at a con! Loving that matching bone helm and BFG combo!" – Steve Seigh
Rocket Raccoon #3
Words and Art by Skottie Young
Variant Cover by Pascal Campion
"Suddenly, I've got a hankering to play Max Payne. Hmmm, I wonder why?" – Steve Seigh
Hawkeye vs. Deadpool #0
Written by Gerry Duggan
Art by Matteo Lolli
Cover by James Harren
"Ladies and Gentlemen, LET'S GET READY TO RUMBLLLLLLLEEEEEE!" – Steve Seigh
Bob Reyer's Favorite Comic Book Covers of the Week
ANGRY BIRDS COMICS #4 (IDW)
Writer: Paul Tobin
Artist/Variant Cover: David Baldeon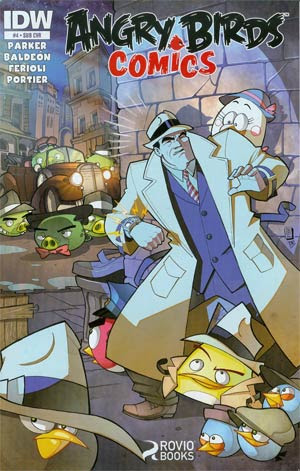 "I have no idea what Dick Tracy is doing on this David Baldeon cover of Angry Birds Comics, but seeing the lantern-jawed detective and his two-way wrist radio in this environment is certainly worth a mention here-abouts, don't you think?" – Bob Reyer
GIANT-SIZE KUNG FU BIBLE STORIES (Image)
Editor: Erik Larsen; Bruce Timm
Writer: Various
Artist: Various
Cover: Erik Larsen; Bruce Timm; Adam Warren?
"Originally debuting at SDCC, but now available in a limited edition, this treasury-sized anthology features seven new tales from the aforementioned creators as well as Arthur Adams, Ryan Ottley, Tom Scioli, and Andy Kuhn, all fronted by this very cool mash-up cover!" – Bob Reyer
BLACK WIDOW #10 (Marvel)
Writer: Nathan Edmondson
Artist/Cover: Phil Noto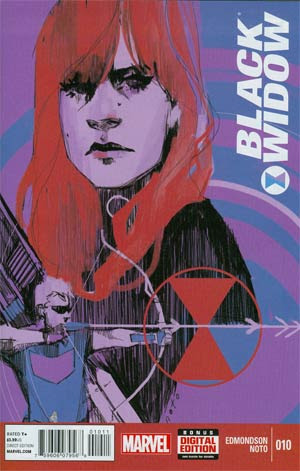 "As usual, Phil Noto delivers another stunner with this very cinematic cover!" – Bob Reyer
ROCKETEER: JET-PACK ADVENTURES PROSE SC (IDW)
Writer: Various
Artist/Cover: J Bone
"This collection of short stories featuring Dave Stevens' classic character is sure to be a blast (sorry!), based on this cover by J Bone that shows off some of what we're about to encounter, including Doc Savage and two of his Fabulous Five!" – Bob Reyer
Favorite Comic Book Covers of the Week Soundtrack
This week's track is entitled "II" by the band Arc In Round.
That's all, folks! Join us next week for another round of covers and an avalanche of incredible cover art!
This is a column featuring Favorite Comic Book Covers of the Week 09/03/14 as chosen by Steve Seigh, Bob Reyer, and several staff members and fans of Talking Comics.