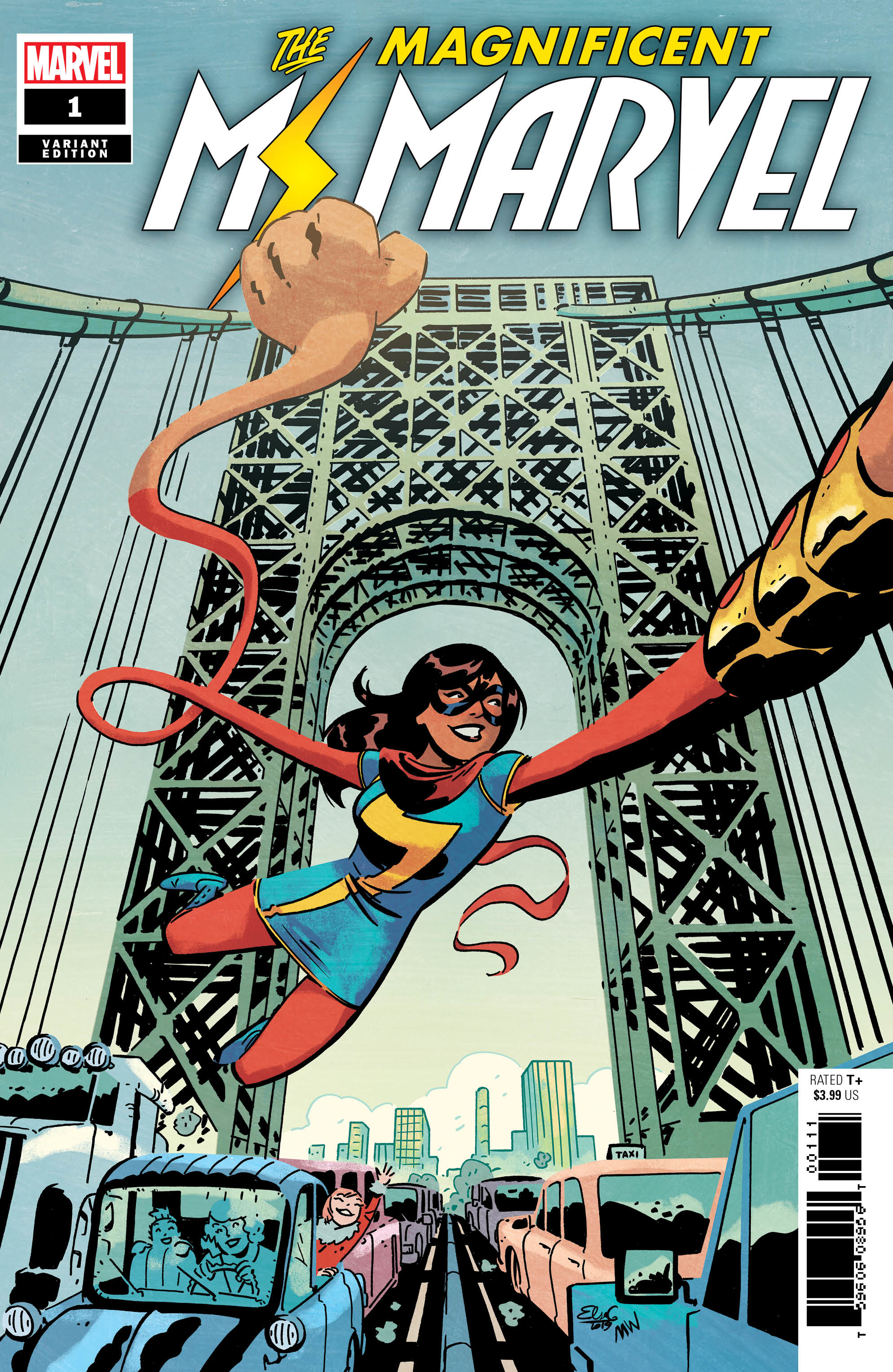 The Magnificent Ms. Marvel #1
Writer: Saladin Ahmed
Penciler: Minkyu Jung
Inker: Juan Vlasco
Color Artist: Ian Herring
Letterer: VC's Joe Caramagna
Review by KrisK
Kamala Khan, aka Ms. Marvel, returns after the briefest of hiatuses, to punch more bad guys with over-sized fists and love more people with an over-sized heart. After a legendary run by creator G. Willow Wilson, Ms. Marvel has returned, written by the hand-picked successor, Saladin Ahmed.
If you haven't met Kamala yet in your comics, she started out, as so many do, as an unexpecting teenager. Then, when Black Bolt unleashed giant clouds of terrigen mists onto the world, the Jersey City resident cocooned. When she awoke, her body stretched like Reed Richards and grew like Hank Pym. (Or any of the several other Giant-Man type characters).
Kamala admired Carol Danvers, now rocking the Captain Marvel mantle, so she adapts Carol's old moniker, Ms. Marvel. In her solo series, most of her villains are smaller scope villains, much like Spider-Man or the other teen heroes. What makes Ms. Marvel so magnificent is she also deals with real life, addressing bigotry based on religion and sexual orientation and bullying. As easily the most visible Muslim character in the Marvel Universe, Kamala shines as evidence that we all deserve equality. Her solo series also excels at presenting Kamala as a fellow fan girl, writing fan fiction for the heroes, even as she fights besides them, and she games extensively, with one arc prominently featuring that part of her life.
On teams, Kamala quickly grew to be a go to hero. She served on the Avengers and Secret Warriors, and she led the Champions in two iterations. Kamala's heart and values inspire even the veteran superheroes. It won't be long until she blows up box offices and makes grown men in movie theaters cry. (I might be alluding to myself)
In this comic, Saladin quickly sets up the backstory, with an alien planet in the future. A father tells his daughter of a hero from the planet Earth known as the Destined One. The descriptions of Ms. Marvel and her character reappear throughout the issue as we see Kamala in various parts of her life. Kamala explains her backstory to her best friend, Nakia, who has never heard the origin story. Kamala runs home after figuring out she is late, and she argues with her parents before storming out to fight monsters. The monsters blend into her personal life, and the fight comes home in a way Kamala never imagined.
As always, Saladin knocks this one out of the park. Just like he did with Miles Morales, Saladin creates a modern teenager who feels just like your niece or nephew. I laughed a few times, and the dialogue gripped me in every scene. Jung might be my favorite Ms. Marvel artist. Not only does Jung make fluid action scenes that make Ms. Marvel seem more powerful than ever, he never slacks on a character. You can look at anyone in the comic and know what they are feeling by looking at their faces. So often, art can feel rushed in a comic, but here, it feels like Jung had all the time in the world. Vlasco inks perfectly for the lines, and the colors by Herring, as they have been for the past five years, pop and glow on the page.
Verdict: Buy! I couldn't have hoped for a better comic after Wilson left! The more I look at this comic, the more I love it. The wait until the next issue will be unbearable, because I know the series is the same top level series I have grown to love.