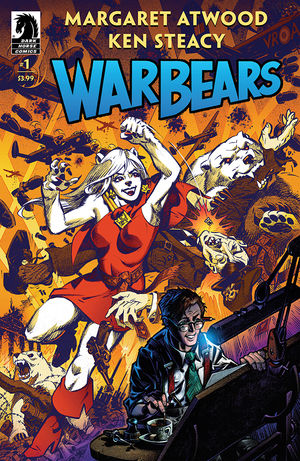 Warbears #1
Writer: Margaret Atwood
Artist: Ken Steacy
Review by KrisK
World War II rationing! Golden Age Comics! Werebears! Warbears, the new comic from Margaret Atwood of The Handmaid's Tale and Angel Catbird fame, shines a light on the life of WWII era comics writers.  Al Zurakowski is a rookie comic book creator working his first job. He has hopes, dreams, and a crush on his boss. His brothers fight the Axis over seas, but his sickly nature prohibits him from serving. So he writes comics. His first comic idea, the eponymous Warbears, might just be his ticket to the big time!
 I went into this assuming this would be more similar to Angel Catbird and follow the Warbear, herself. I like the angle Atwood uses more, though. Instead of doing that, it peels back the curtain on Golden Age comics, serving as historical fiction the reader can easily buy into. His familial struggles help the reader relate to Al easily, as does being at the bottom of the food chain at work. A 1940's slice of life comic scratches an itch I would never have imagined having. It lacks the humor of Angel Catbird, but it fills the hole with human drama and moxie.
The art by Ken Steacy suits the comic well, tailored to fit by a pro. The art blurs Golden and Modern age without distracting. Towards the end, the reader gets to actually read Warbears in its black and white Golden Age printing, and I would have bought it as a legitimate classic comic, if I saw it alone and out of context.
The only downside is the price. At $4.99, it costs more than the average big 2 comic. After seeing Marvel actually putting out a number one for the normal price, it disappoints me to see Dark Horse pull the same move. That may just be the extra cost of getting a big name like Atwood, though. She has literary credit across mediums.
Verdict: Buy! This comic fills a seldom filled niche in historical comic fiction. I loved getting a glimpse at the world of early comics and WWII in general.