Hey, thanks for checking out Talking Comics: Favorite Comic Book Covers of the Week!
Each and every New Comic Book Release Day is something to be excited about. It's the day we're introduced to new worlds, are able to witness the next chapter in a continuing saga, or fall in love with a character or creator for the first time. I could go on and on, but I think you've already gotten my point. That point being … comics are awesome. So awesome in fact that even the covers of them are often times incredible works of art. We're here to show you some of our  favorite covers each week! So go ahead and take a few moments for yourself (haven't you earned it?) and feast your eyes on some truly inspired comic book covers!
Steve Seigh's Favorite Comic Book Covers of the Week
Batgirl #33
Written by Gail Simone
Art by Fernando Passarin and Jonathan Glapion
75th Anniversary Cover by Cliff Chiang
"Love love LOVE those "Halloween colors"! And what's this? Smiles?! Get out!" – Steve Seigh
FBP #12
Written by Simon Oliver
Art by Robbi Rodriguez
Cover by Nathan Fox
"Oh my! Is that portal into the tropical unknown for me? You shouldn't have!" – Steve Seigh
Spread #1
Written by Justin Jordan
Art and Cover by Kyle Strahm
"Ha ha ha! I'm sorry, but I'm totally in love with that happy child sitting amidst the blood and chaos spattered on No's outfit. It make me giggle." – Steve Seigh
Spider-Man 2099 #1
Written by Peter David
Art by Will Sliney
Baby Variant Cover by Skottie Young
"I never tire of these Baby Variant covers. They're just so gosh darn adorable, don't cha know?! Yes, that was a Bobby's World nod. You're welcome." – Steve Seigh
Deadpool #31
Written by Gerry Duggan and Brian Posehn
Art by John Lucas
Cover by Mark Brooks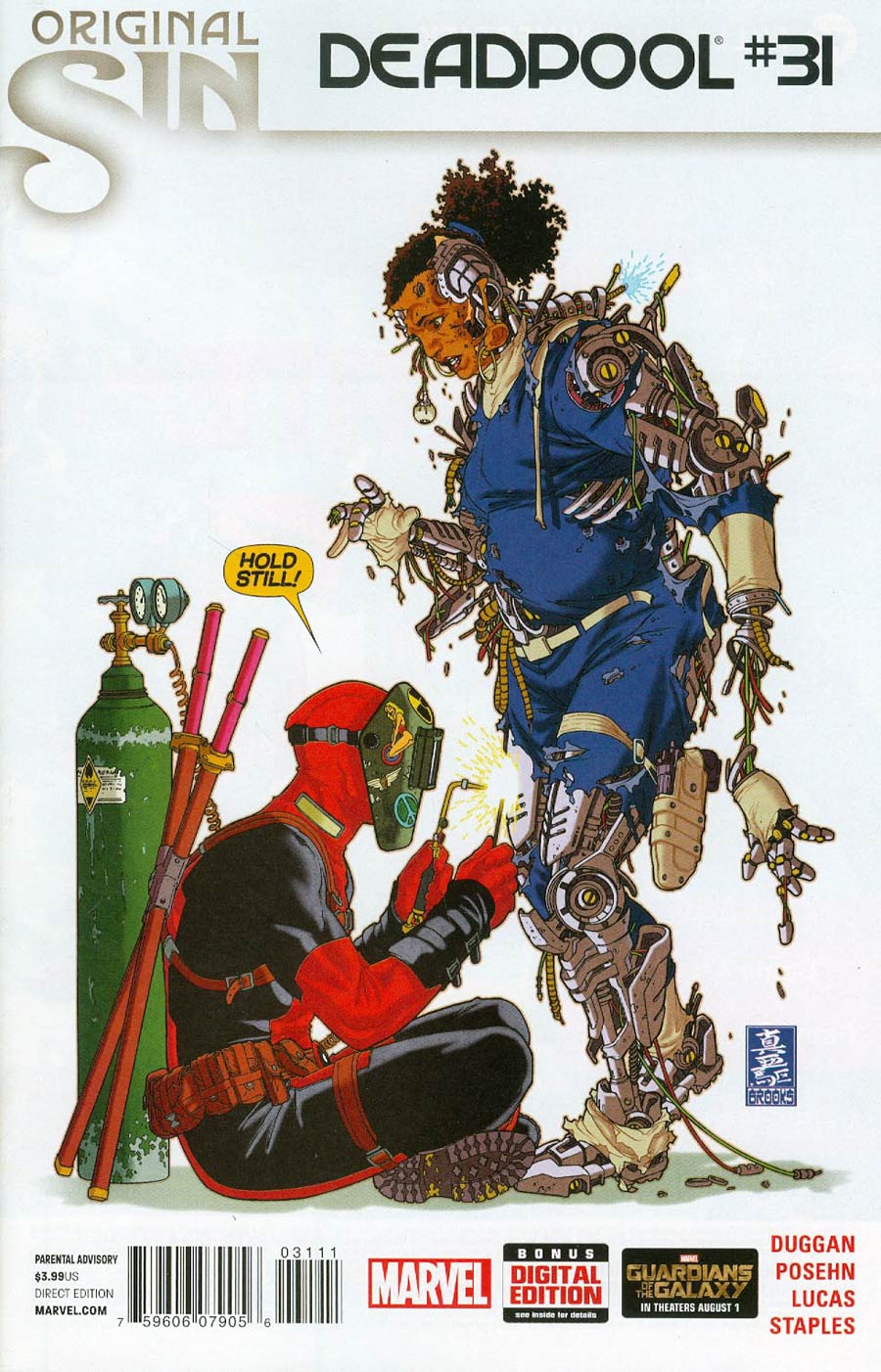 "Oh good grief! What has Deadpool gotten this poor woman into now?" – Steve Seigh
Bob Reyer's Favorite Comic Book Covers of the Week
Batgirl #33
Writer: Gail Simone
Artist: Fernando Pasarin
Cover: Alex Garner
"Another month, another amazing Batgirl cover! Alex Garner continues to astound with these powerful images that drive you to want to read the story, and then on closing the book, makes you want to re-read it just by seeing the cover again!" – Bob Reyer
Detective Comics #33
Writer: Brian Buccellato; Francis Manapul
Artist: Francis Manapul
Variant "Batman 75th" Cover: Jim Steranko
"Sticking with Bat Family covers, there's this stunner from comics legend Jim Steranko! The "deep focus photography" nature of the Gotham city-scape really sets a moody back-drop for a Batman who means business on this night, as he's even brought some winged friends along with a cloud of bats!" – Bob Reyer
Winter Soldier: The Bitter March
Writer: Rick Remender
Artist: Ronald Boschi
Cover: Andrew Robinson
"This entertaining thriller comes to an end with this issue, and I'm going to miss these covers by Andrew Robinson that so embody the Sixties-era James Bond and Derek Flint movie posters!" – Bob Reyer
Captain Marvel #7
Writer: Kelly Sue DeConnick
Artist/Cover: David Lopez
"It looks as if Carol has had enough of diplomacy, if this cover by series artist David Lopez is any indicator! I'm sure they'll be a strongly-worded letter about this sent to the Embassy, and then published in The Times!" – Bob Reyer
…and then there's this…
"So, the "artistic" reason for this very-unflattering "worm's eye view" camera angle is…? The art itself is quite good, and if you could rotate this image about 45 degrees to the right, or even better, "take the shot" of the Canary from the waist up, this might have made it to the "Covers of the Week", but alas, such is not to be." – Bob Reyer
Favorite Comic Books Covers of the Week Soundtrack
This week's track is called "White Wind" and it's by the trance educing band School of Seven Bells.
That's all, folks! Join us next week for another round of covers and an avalanche of incredible cover art!
This is a column featuring <strong>Favorite Comic Book Covers of the Week 07/09/14 as chosen by Steve Seigh, Bob Reyer of Talking Comics.