Favorite Comic Book Covers of the Week 04/02/14
Hey, thanks for checking out Talking Comics: Favorite Comic Book Covers of the Week!
Each and every New Comic Book Release Day is a blessing. It's the day we're introduced to new worlds, are able to witness the next chapter in a continuing saga, or fall in love with a character or creator for the first time. I could go on and on, but I think you've already gotten my point. That point being … comics are awesome. So awesome in fact that even the covers of them are often times incredible works of art. We're here to show you some of our  favorite covers each week! So go ahead and take a few moments for yourself (haven't you earned it?) and feast your eyes on some truly inspired comic book covers!
So without further or due let's get this week's selections highlighted!
Steve Seigh's Favorite Comic Book Covers of the Week
Batman: Detective Comics #30
Story by Francis Manapul and Brian Buccellato
Art and Cover by Francis Manapul and Herman Meija
"I'm loving the inclusion of bold and beautiful colors on this cover. I'm also quite digging the watercolor-like presentation. If the inside of the book is anywhere near as gorgeous as this cover than consider Detective Comics to be back on my pull list." – Steve Seigh
Trillium #8
Story, Art, and Cover by Jeff Lemire
"To infinity and beyond. Together." – Steve Seigh
Red Sonja #8
Written by Gail Simone
Art by Walter Giovani
Cover by Jenny Frison
"And you thought that Jaws was the only reason not to get back in the water." – Steve Seigh
She-Hulk #3
Written by Charles Soule
Art by Javier Pulido
Cover by Kevin Wada
"Good Lord, this is gorgeous! I love the contrast of the green on green coloring and both characters are looking rather imposing here on this cover. I can't wait to read this!" – Steve Seigh
"Considering where last issue left off, will Jen be battling the ruler of Latveria…in a courtroom? Kevin Wada's covers for this new She-Hulk have been a delight,and this one is no exception!" – Bob Reyer
Superman: Action Comics #30
Written by Greg Pak
Art by Aaron Kuder, Jed Dougherty, and Karl Kerschl
Cover by Aaron Kuder
"Pffft, please. I'm Superman, man! Bring it on!" – Steve Seigh
Bob Reyer's Favorite Comic Book Covers of the Week
Pretty Deadly #5
Written by Kelly Sue Deconnick
Art by Emma Rios
Cover by Emma Rios and Jordie Bellaire
(From the Pretty Deadly Tumblr, here's a neat piece of reference material that Ms. Rios used to channel her inner Sergio Leone!)
"This first arc of the stunningly original Pretty Deadly comes to a close with this issue, and spying that California Collar draped over the branches of a Hangin' Tree, it doesn't seem as if everybody makes it out! I'm sure that Kelly Sue DeConnick, Emma Rios, Jordie Bellaire, and Clayton Cowles will bring us a great story no matter who ends up with hemp fever from swinging on the end of that rope!" – Bob Reyer
Black Widow #5
Written by Nathan Edmondson
Art and Cover by Phil Noto
"There are two reasons that I've chosen this cover:
1) Of course, Phil Noto's art makes you feel as if you can actually see Natasha running, and the mix of fear and determination on her face is just masterful, and…
2) YIKES!!!!" – Bob Reyer
Batman Beyond: Batgirl Beyond TPB
Written by Scott Peterson; Various
Art by Annie Wu; Various
Cover by Annie Wu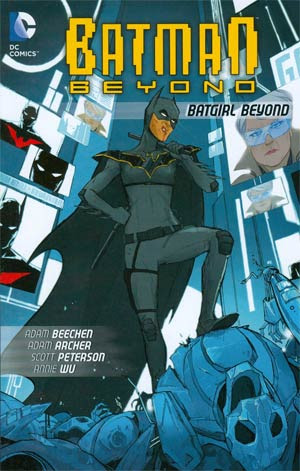 "I've been fortunate enough to have already read these intriguing tales of Neo-Gotham thanks to a Comixology gift from Talking Comics' own Carolyn Cocca, and I can't recommend them highly enough. Nissa, this new incarnation of Batgirl, has certainly caught the attention of Police Commissioner Barbara Gordon, but will she approve? This cover by Annie Wu suggests that Babs isn't too thrilled by someone taking up her cowl! (By the way, digitally these issues are #27–#29!)" – Bob Reyer
Chicagoland Detectives Agency Vol. 6 – "A Midterm Night's Scheme"
Written by Trina Robbins
Art and Cover by Tyler Page
"Just a wonderfully humorous cover image by Tyler Page for the latest volume of this fun all-ages mystery by Trina Robbins, and how could I resist a Shakespeare pun?" – Bob Reyer
Favorite Comic Book Covers of the Week Soundtrack
This list was compiled while listening to the album Quality Control by the rap ensemble Jurassic 5.
That's all, folks! Join us next week for another round of covers and an avalanche of incredible cover art!
This is a column featuring Favorite Comic Book Covers of the Week 04/02/14 as chosen by Steve Seigh, Bob Reyer, and several staff members and fans of Talking Comics.