CATWOMAN 80TH ANNIVERSARY 100-PAGE SUPER SPECTACULAR #1
Written by:
Ann Nocenti, Will Pfeifer, Tom King, Ed Brubaker, Paul Dini, Jeff Parker, Chuck Dixon, Ram V., Mindy Newell
Art by:
Ty Templeton, Jonathan Case, Steve Rude, Lee Garbett, Tim Sale, Pia Guerra, Kelley Jones, Fernando Blanco, Robson Rocha, Jim Balent, Emanuela Lupacchino, Tula Lotay, Mikel Janin, Cameron Stewart
Review by KrisK
Catwoman, aka Selina Kyle, easily the most famous thief in comics, has been wowing fans and Batman for 80 years. While characters like Superman and Batman seem eternal, the villains do not. Characters like Catwoman constantly evolve and change, always remaining fresh. Catwoman changes suits constantly, but she stays the complicated larcenist. She steals from the rich, then donates generously to animal shelters. She fights with Batman these days, but her history highlights many battles with the Caped Crusader, too. Selina appeared on screens in movies and tv shows, both cartoon and live action, (lets not mention her solo movie), and headlines an eponymous comic series, herself. Celebrating such an illustrious career takes great skill, but this special delivers. Filled to the brim with famous DC writers from eras going back decades, the special shows the many lives of Catwoman.
For the first story, Paul Dini returns to Catwoman. His Batman: The Animated Series created an iconic portrayal of the character. Unfortunately, the team elects to go with the modern suit. I do enjoy the new suit, but I would have loved to see a BAS suit here. The story features Catwoman facing off with the Taxidermist. This short tail, like all of them in this anthology, keeps the pacing tight, with only a few pages to deliver. Somehow, all of them do.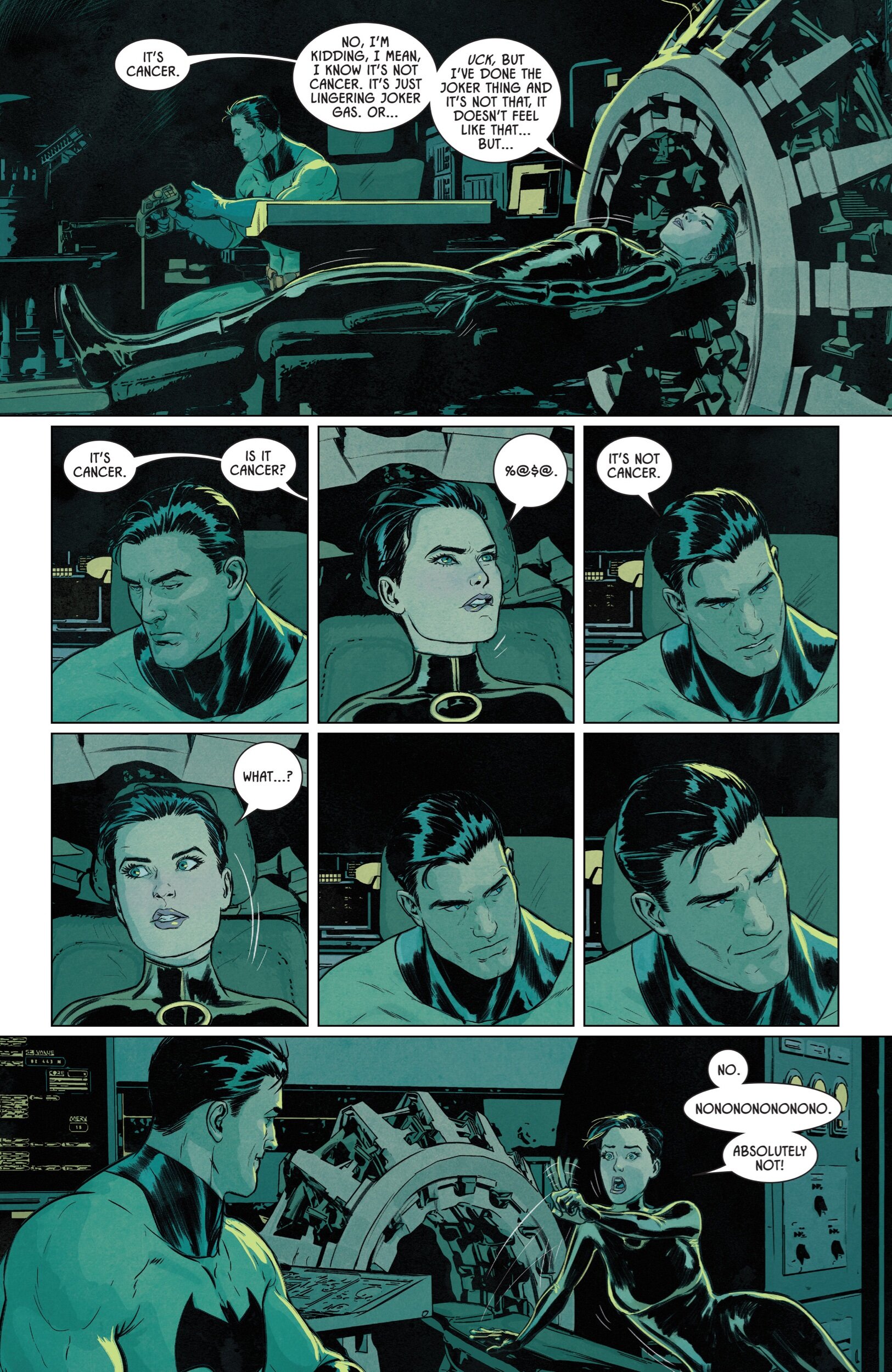 Ann Nocenti's bit, showcasing Michelle Pfeiffer's suit, features two security guards and a night they won't forget. After this, Tom King writes a sequel to his second Batman annual: 
Date Nights, Last Rites
. This story brought some feels and was easily my personal favorite.
After this, the stories go decade by decade, starting with the 60's. Jeff Parker writes a fabulous Batman '66 entry, which Jonathan Case elevates with great art capturing the fun, campy tone. The 70's issue, written, drawn and colored by the incomparable Liam Sharp, gives us the lesser seen intimidating Catwoman who proves she can win a fight without flicking her whip.
The 80's issue, written by Mindy Newell, returns to the world of Batman: Year One. I never liked the villainess as prostitute/stripper stories, whether it be Catwoman, Poison Ivy, or Harley Quinn. The story delivers enough pathos though, to look pass the return of escort Selina. The 90's issue brought back Chuck Dixon, in a story very reminiscent of a No Man's Land issue. Like this issue, Catwoman must battle Clayface in order to get the goods. Artist Kelley Jones even draws the costume from that era, making me want to dive back into that event.
The 2000's issue delivers a comic con set mystery from Will Pfeifer. In the modern era Catwoman story, written by Ram V, Catwoman leaves Villa Hermosa for a cross country trip with her sister. The final chapter gives us a bonus track with the most prestigious of the Catwoman alumni still in the game, Ed Brubaker. Cameron Stewart channels Darwyn Cooke. This story offers a brief nostalgia trip for what many consider the best modern run on the character.
Verdict: Buy! I honestly loved this collection. While many of these anthologies feel perfunctory, this spectacular lives up to the name.