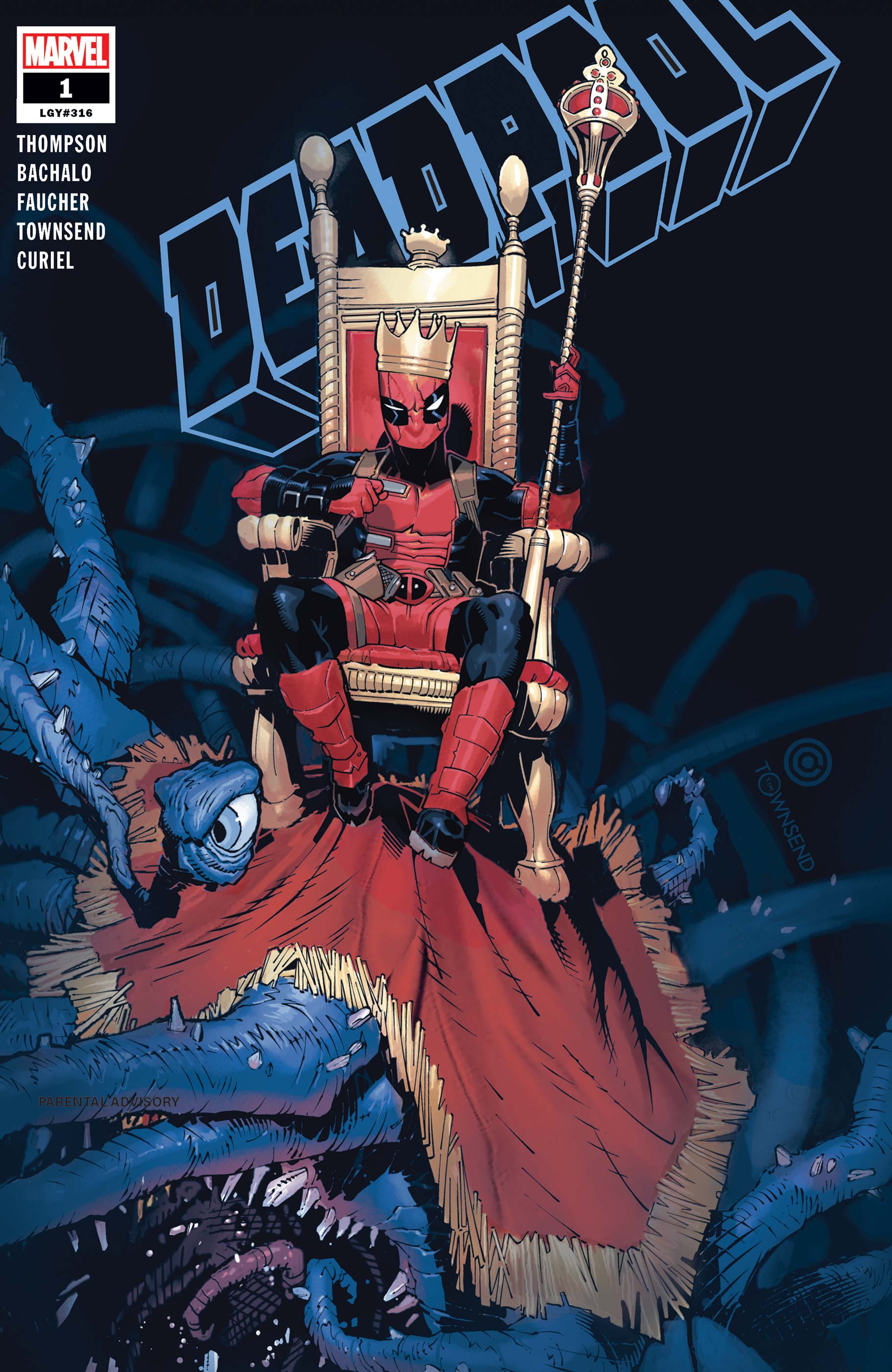 Deadpool #1
Writer: Kelly Thompson
Penciler: Chris Bachalo
Inkers: Wayne Faucher, Tim Townsend, Al Vey, Jaime Mendoza, Livesay, and Victor Olazaba
Color Artist: David Curiel
Letterer: VC's Joe Sabino 
Reviewer: KrisK
In the name of amateur journalistic integrity, I need to get something off my chest before you read this: I love the work of Kelly Thompson. As a result, I read whatever Kelly Thompson comic I find. (Phew, feel better.) Kelly Thompson, writer of cult favorite Marvel comics like West Coast Avengers, Hawkeye, and Rogue and Gambit, takes on Deadpool, aka Regeneratin' Degenerate, aka Wade Wilson.
If most of your current Deadpool knowledge stems from the movies, let me catch you up real quick. Deadpool married Shiklah, a succubus queen of the Undead. Deadpool, while married to this queen of monsters, hung out with the dark creatures. He eventually lost Shiklah to Dracula, but the marriage failed from the beginning. Deadpool leaned more and more toward heroics, as he joined and fought for the Avengers, which strained the already doomed relationship. Another important personal detail: Wade learned he had a daughter. He loved her, but he often felt like a danger to her.
During Secret Empire, Deadpool believed HydraCap, aka Stevil, to be the true Captain America. He followed his perceived hero to a fault. On Hydracap's orders, Deadpool killed Phil Coulson. After that, Deadpool's reputation transformed to mud. As persona non grata, Deadpool decided he needed to return to his roots: Mercenary work. Deadpool wiped his memory. No more Avengers memories, and more importantly, no more paternal memories. Deadpool devolved into a mercenary again. He works out of New York, and he lives an empty life. (Personally, I preferred Wade, when he attempted to be a hero and father.)
Now, let's talk Deadpool #1. The issue opens with Wade losing in glorious and goriest fashion to the King of Monsters. Flash back to earlier, and Wade celebrates his birthday at a Christmas bar with a kidnapped mailman. (Not Willie Lumpkin) Nobody visits him, and he agrees to take a job killing the King of Monsters. The monsters found legal papers from the seventeenth centuries, giving them legal ownership of Staten Island. His employer believes killing the King ends this mass immigration.
From the start, Thompson feels right at home with Wilson. She writes his dialogue organically, and you can hear Deadpool's voice in every word. As a result, the book avoids any hard transitions between writers. (The previous writer Young also nailed Deadpool) A couple of famous Thompson characters appear, along with a "Slayer of looks and hearts." Thompson writes a fun story full of twists, and a great final splash page.
In addition, Bachalo's art captures the monsters excellently. The variety of beasts never ceases. Bachalo excels at monsters, if you didn't guess from his Doctor Strange work. The army of inkers worked seamlessly, so you can't tell it wasn't just one. Similarly, Curiel allows himself some fun with the monster's colors as well. He manages to blend a colorful cast of creatures with the grayness of winter spectacularly.
Verdict: BUY! The team for Deadpool couldn't get any better. They work perfectly together to create the most fun I have had with a book this fall.