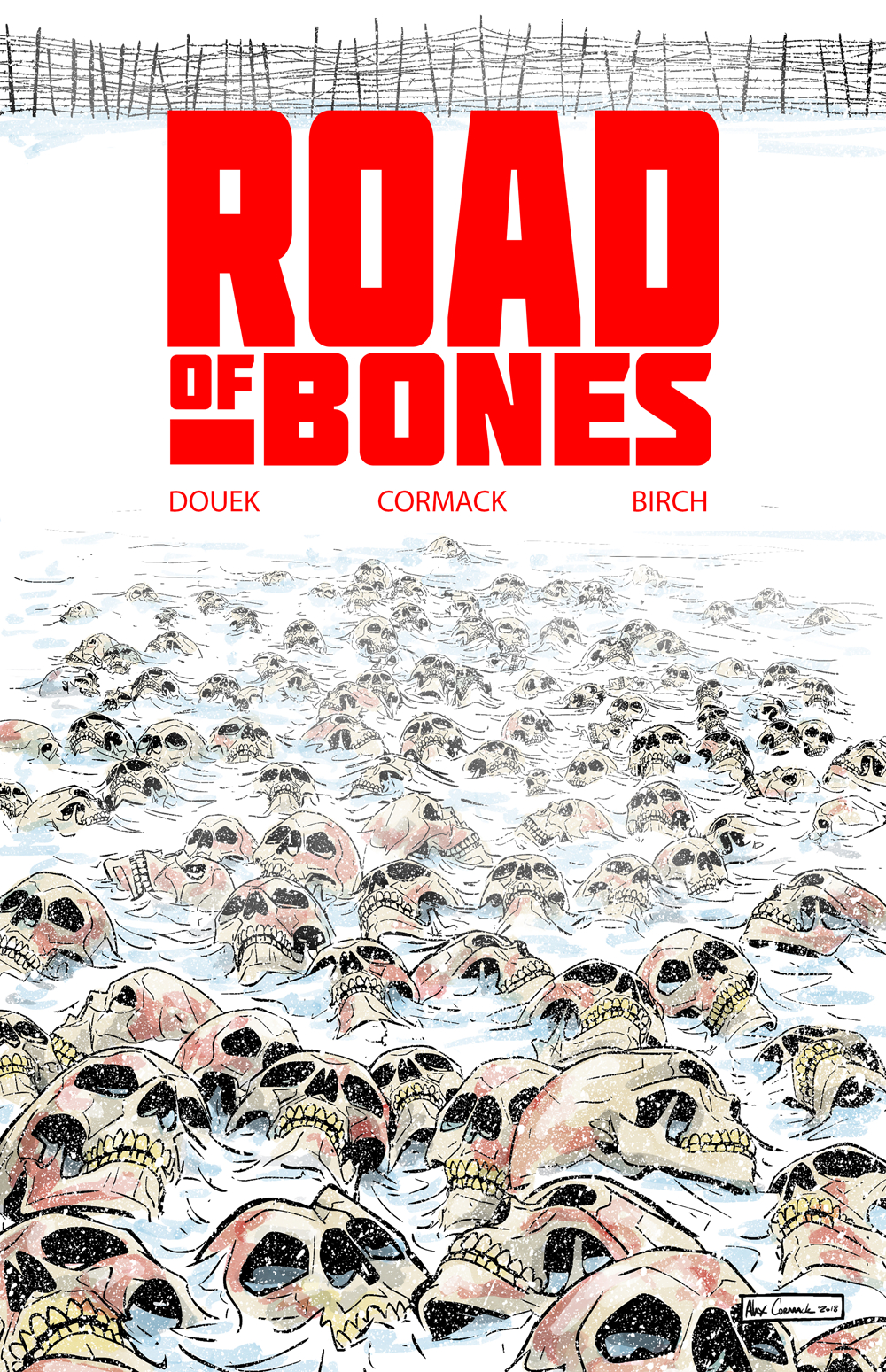 Road of Bones #1
Written by Rich Douek
Art/Colors/Cover by Alex Cormack
Letters by Justin Birch
Review by KrisK
Kolyma, Siberia, USSR, 1950; if that doesn't tell you the bleakness of the horror comic, Road
of Bones, I don't know what will. Road of Bones, named after an infamous highway in Russia
that has the bodies of the dead workers buried under it, follows a political prisoner, Roman
Morozov, in a gulag. He told a political joke at a party.
Now, he serves 25 years in a work camp
where most die within a year. Gulags pit everyone against each other, and no one, inmate or
guard, keeps their hands clean of blood. Roman works in the kitchens, when not working on the
road. A ranking professional criminal in the prison system approaches Roman with a plan to
escape. The gulag runs on violence, and the people live as monsters. But a real monster may live
there too.

The Road of Bones blends historical fiction with horror seamlessly. The human's lack of
humanity leaves the reader chilled to the bone. The monster may be evil, but its karma might be
better than some of those guards. The dialogue serves to move the story forward, but it failed to
make me care for the main character. Any pathos rests on the shoulders of the plot.
The art sets the tone. Blood red serves as the only vibrant color on the page. While we can't
really imagine the horribleness of the situation, we can tell it was truly a frozen hellscape.
The problem with the comic is, while the premise is great, I didn't leave it wanting more. The
supernatural aspect fell flat. The main character lacks any interesting or redeeming traits. The
reader sees no good in him, just less bad.
Verdict: Pass. While the premise intrigues, the story fails to live up to it. I enjoy the history part
of this historical fiction. The problem for me is I don't like the fiction part. The comic consists of
dull characters and predictable plot points.