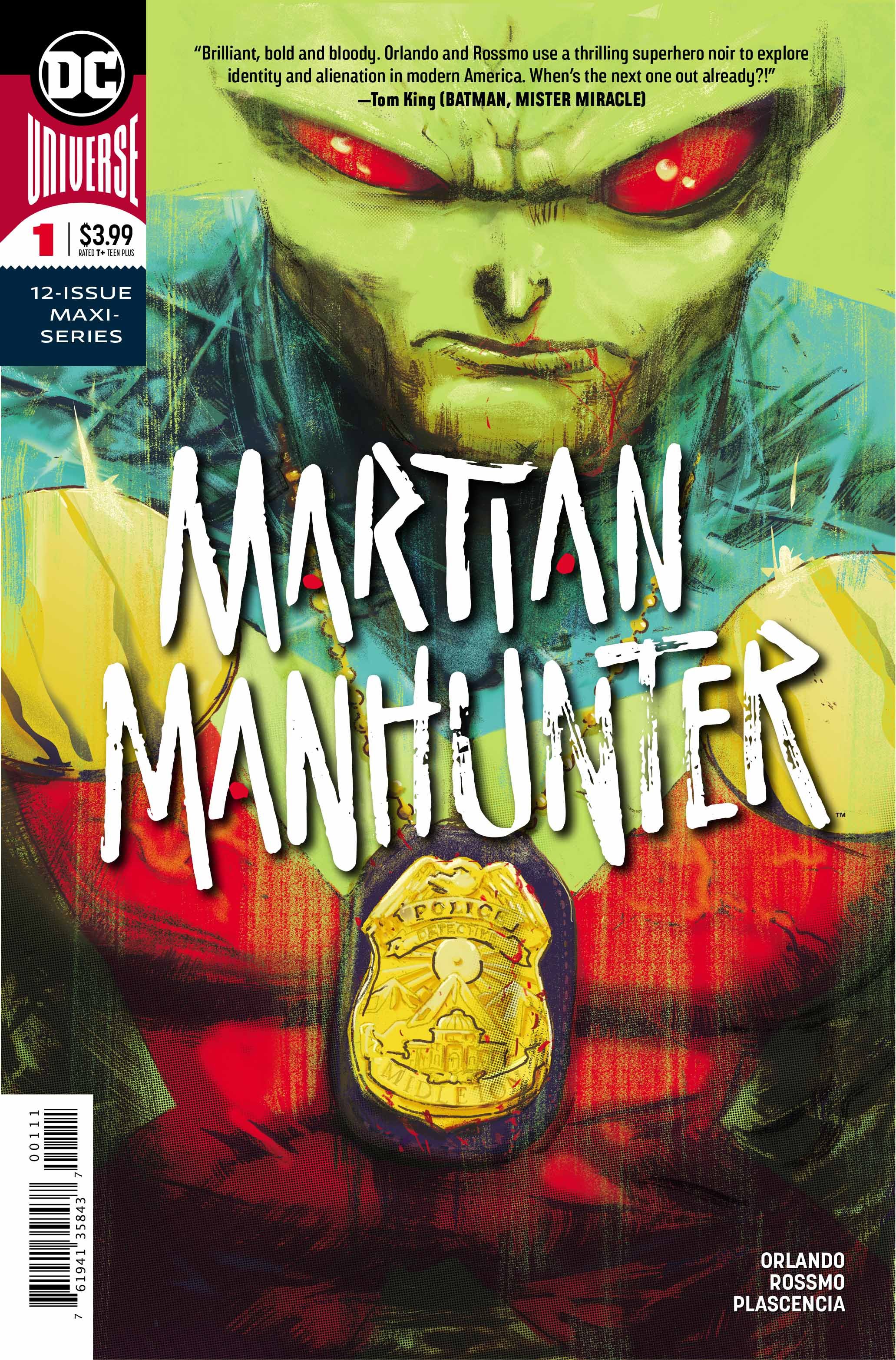 Martian Manhunter #1
Written by Steve Orlando
Illustrated by Riley Rossmo
Colored by Ivan Placencia
Lettered by Deron Bennett
Review by KrisK
The Martian Manhunter, aka J'onn J'onnz, hangs out in the background a lot since DC Rebirth. While he finally fights the good fight in Justice League, it took a long time to happen. For many of us, particularly those who grew up with the amazing animated series, the Martian Manhunter is a premier member of the Justice League. He soars in the Supergirl TV show, even if he is under utilized. (Probably because of his power).
It wasn't until Metal, the Scott Snyder comics event that came with its own soundtrack, that J'onn has emerged to help the DC Universe. Which begs the question, what has he been up to during this time? DC has begun ret-conning his time as an important member of the Justice League, but you have to wonder what the deal is. Maybe Doomsday Clock will clear it up. Blame it on Doctor Manhattan.
When J'onn J'onnz isn't fighting as a green man in a cape, he takes the form of a John Jones, a homicide detective for Midleton PD in Colorado. J'onn was as corrupt as they come when he worked as a Manhunter (Mars for police officer) on Mars. Here on Earth, he works penance, being the cop he should have been before on his home planet. One morning, while investigating a gory double murder/missing child case, J'onn starts sensing bits of Mars with his psychic abilities, specifically fright foam. The story flashes back to J'onn's time as a Manhunter on Mars, shaking down criminals for money. He goes home to his loving family, but he keeps a part of him walled off from his wife, so she doesn't know his crimes. The story jumps back to the present, and the case affects J'onn more and more to disastrous results.
This comic is a wild ride. The story by Orlando tells so much about a character who has stood in the back for too long. His complexities intrigue the reader in ways that more straight forward characters like Superman and Captain America cannot. J'onn was bad, and he lost everything. His attempts at doing penance give him more heart than most human characters. His powers allow for more empathy and sympathy than most people can feel for a stranger.
The art is bananas, and I mean that in the best possible way. The style switches around between J'onn's time in Midleton and Mars. Midleton's art sports strange, dramatic facial proportions; Mars cranks it up to 11 with strange everything.
Verdict: Buy! This comic shines bright by doing its own thing. Everything from the art to the story's dwelling on J'onn's corrupt past feels like nothing else going on in DC at the moment. It's amazing to see arguably the most powerful member of the Justice League in such gifted hands!