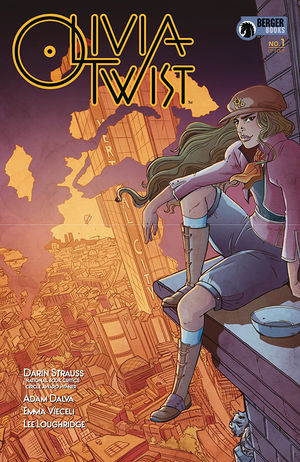 Olivia Twist #1
Writer: Darin Strauss and Adam Dalva
Artist: Emma Vieceli
Review by Kris K
Please sir, I want some more. Now performed by an Olivia, not an Oliver. Dark Horse just released a steam punk, gender swapped take on the Charles Dickens classic, Oliver Twist. It modernizes the details, and the book feels more relatable than ever for it. This dystopian future feels more real than most I have encountered in the medium.
Olivia's mother was a scientist who was incarcerated in a camp for being a Muslim. Her father met her there, and they worked on invention designs. They fell in love. They attempt to escape after Olivia is born, but they fail. Olivia ends up free of that camp, though, and she ends up in a work house. She can live there until she is 18. If you aren't familiar with the book, I won't spoil the direction from there with any details. Strauss and Dalva make some plot changes too, not just name and sex of the protagonist.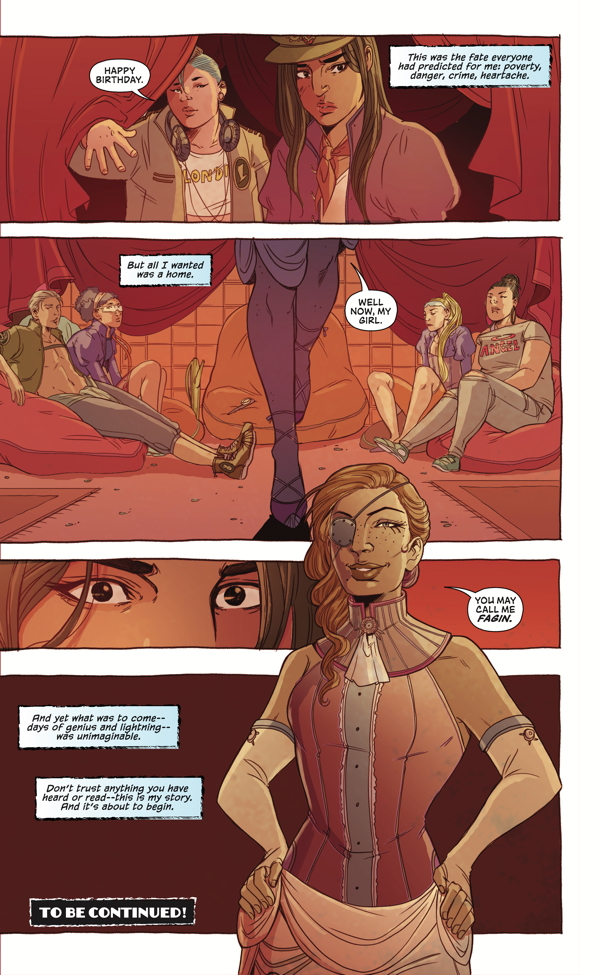 The world is worse outside than the workhouse residents know. Corporations run everything. Wage inequality grows, even more than now. The singularity law ended much of automation by not allowing robots to work on robots. Corporations responded with child labor. America ceases to exist after the singularity law. Corporations "yanked" it. The rich can easily obtain drastic body alterations, including retinas and limbs.
The writing here by Strauss and Dalva flows naturally. The dialogue isn't quotable, but it feels right for the story. It has the light touch of euphemisms that futuristic sci-fi often utilizes. I am not a huge fan of the foreshadowing early on, though. It was too insightful on where the story was going.
The art suits the comic well. The style is modern, but they keep the duller tones one would associate with the industrial age. The stroke of steam punk is subtle, and it feels more like an evolved Industrial Age then an alternate future.
The big downside to this issue is the $4.99 price sticker. Which stinks because the next issue promises a skyscraper heist, cyborgs, and a love triangle!
Verdict: Check it out! This comic costs more than the reader may want to put down, but it is going some interesting places. Heists and cyborgs definitely go together. I like that this comic doesn't feel like it needs to be a carbon copy of the original, but it instead goes its own way.