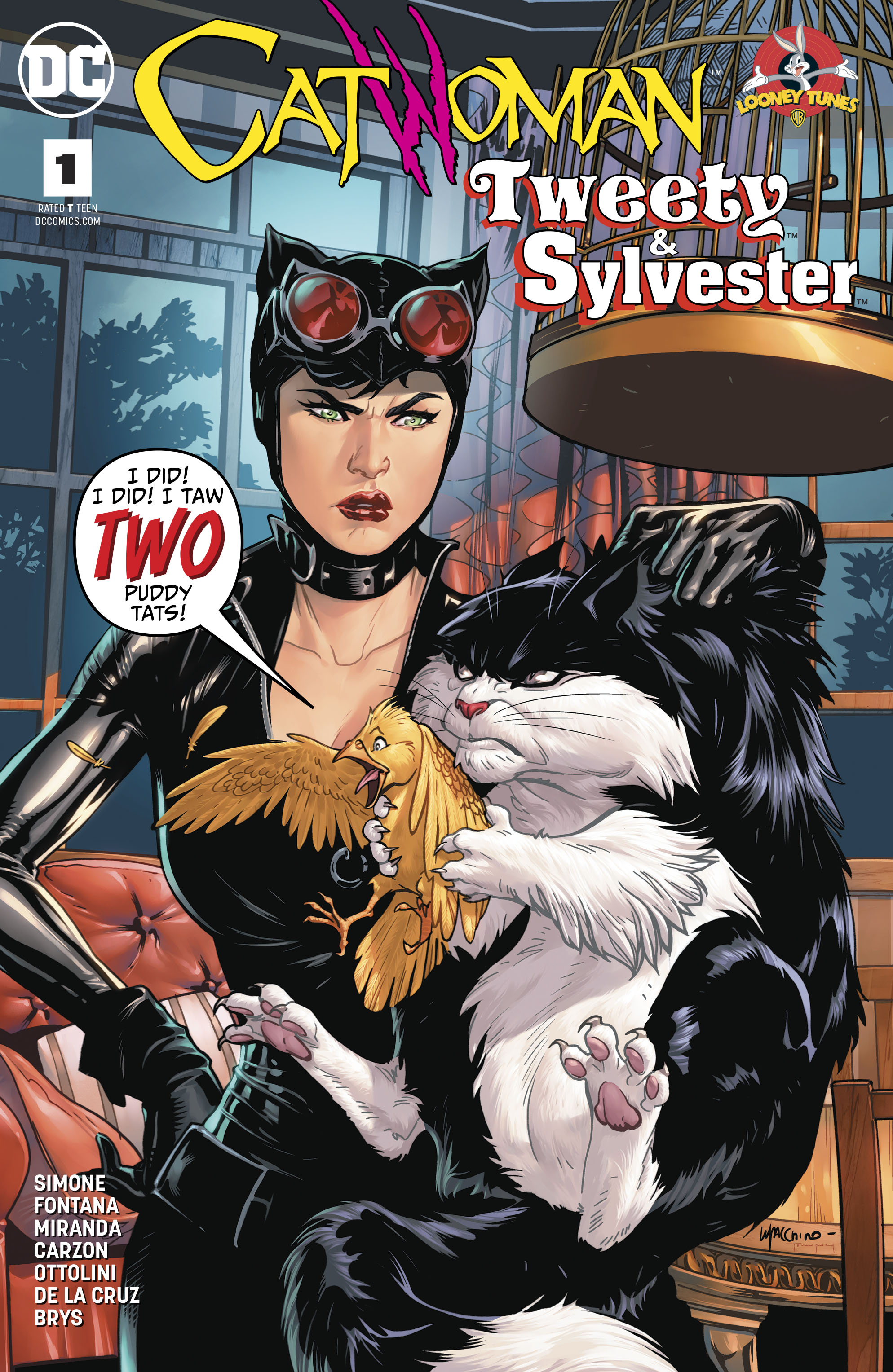 Catwoman/Tweety and Sylvester Special #1
(W) Gail Simone,Shea Fontana
(A) Inaki Miranda, Walter Carzon
(CA) Emanuela Lupacchino
Review by KrisK
The epic war between Sylvester and Tweety has reached the DCU! Will the world survive?
DC released their next batch of Looney Tune/Superhero crossovers, and Catwoman met up with the pair of pets. This issue, like the previous crossovers, consists of two stories. The first is longer and done in the fashion of DC. The second is shorter and all Looney Tune.
Witches clash over whether the bird or the cat is the best animal in witchcraft, so they decide to make the Cats and Birds of DC go to war. If Sylvester eats Tweety, the Cats win. If Tweety survives the night, the Birds win. Loser get wiped off the face of the earth. No pressure. What ensues is a loving, hilarious shout out to countless bird and cat themed superheroes, many I would never have thought of.
The second story follows the shorter Looney Tune format for a comic. Zany and wacky, it provides a much lighter tail. Granny has valuable jewelry in a safe. Catwoman wants it. Sylvester wants Tweety. The duo band together, and Tweety must fight them off, while Granny is away. All Tweety wants is to see the Black Canary on late night TV.
This comic entertained me to no end. It was fun and referential. Gail Simone showed yet again that she knows the DC Universe well.  Fontana writes a solid Looney Tunes tale. In my opinion, Looney Tunes doesn't always translate well to comics since you lose the sound, but she knows how to work a panel and uses great layouts.
The art,  by Miranda and Carzon, fits the stories perfectly. The first story sports the New 52 style, and the second story panels could be shots removed from a Saturday morning cartoon. The action flows well, as do the jokes. I love how Sylvester looks through the issue. The artists colored the first story so that you can see the depth and size of the city, adding the third dimension to a two dimensional format.
Verdict: Buy! The crossovers so far have been really top notch, and the creators have nailed the characters. Every crossover, no matter how absurd, has felt natural. Every event progresses naturally, and the interactions never feel forced. Gail Simone knows her stuff.