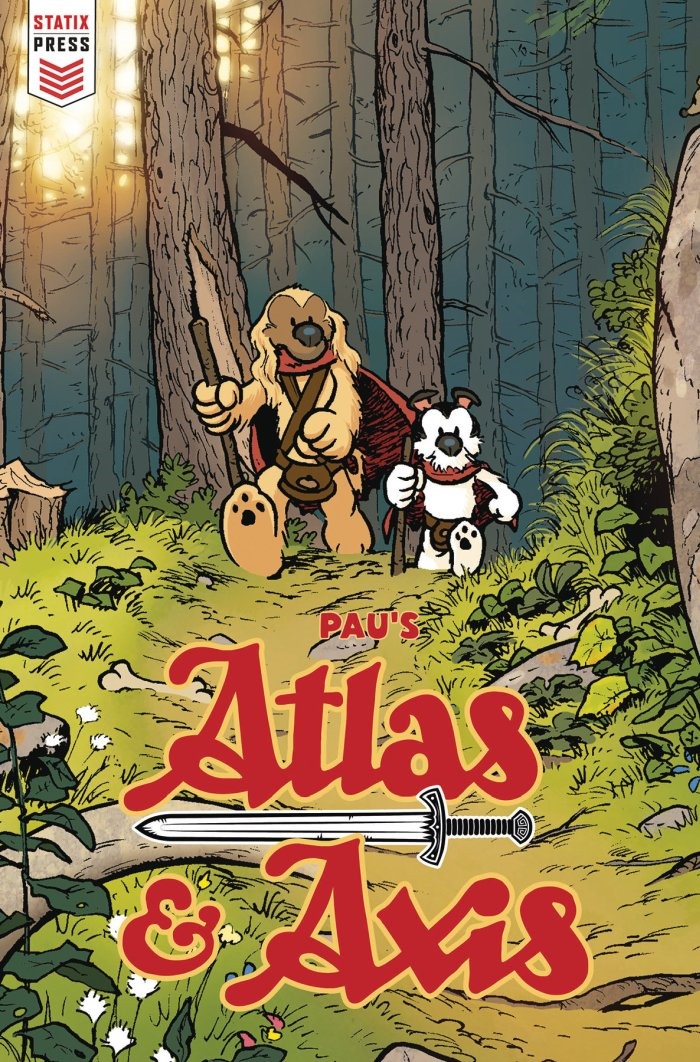 Atlas and Axis #1
Created by Pau
Review by KrisK
Spaniard Pau's European classic, Atlas & Axis, is here, courtesy of Titan Comics. This comic has been running in Europe since 2010, and it's arrival in English here in America has excited the niche readers of European comic book readers. For the rest of us, we are in for a surprise. I will admit that I generally don't enjoy European comics. Their humor evades me, and I find their books dull. I did not have that problem at all with Atlas & Axis. It's what I wish Spy Seal had been.
The basic premise is Atlas & Atlas are anthropomorphic dog warriors. Unlike some other stories, these dogs act like dogs. They chew bones, publicly urinate to mark their territory, and they like to smell butts. This comic embraces the humor of dogs being dogs in a very organic way. The dogs head into town for the Puppies' Feast, and they discover the entire village destroyed. The last surviving warrior dog informs them the women and puppies were taken by dogs who came from the sea. The dying warrior dog hands them one of the pins from the invaders' uniform before dying. The warriors grieve the loss of their compatriots, and they decide they must go find the women. Their journey then begins, and it was actually enjoyable.
The story hums along at a good clip, and it didn't drag at all. It made me laugh a few times, and though the comic is longer than the standard American comic, it didn't feel longer. Pau created an easy to enter world, which was surprising in the ways it felt natural. Pau's art was simple, but it was well colored, and Pau takes liberties with the details to let the art stand out. Every scene clearly emotes the feelings of its protagonists. Pau colors the book very well giving deep colors to the panels. Particularly the all red panels.
Verdict: Buy. While this comic might look like another kid's fantasy with animals, a quick flip will prove the assumption wrong. An in-depth read would accomplish even more, ensuring the reader is in for a treat. This book is going places.