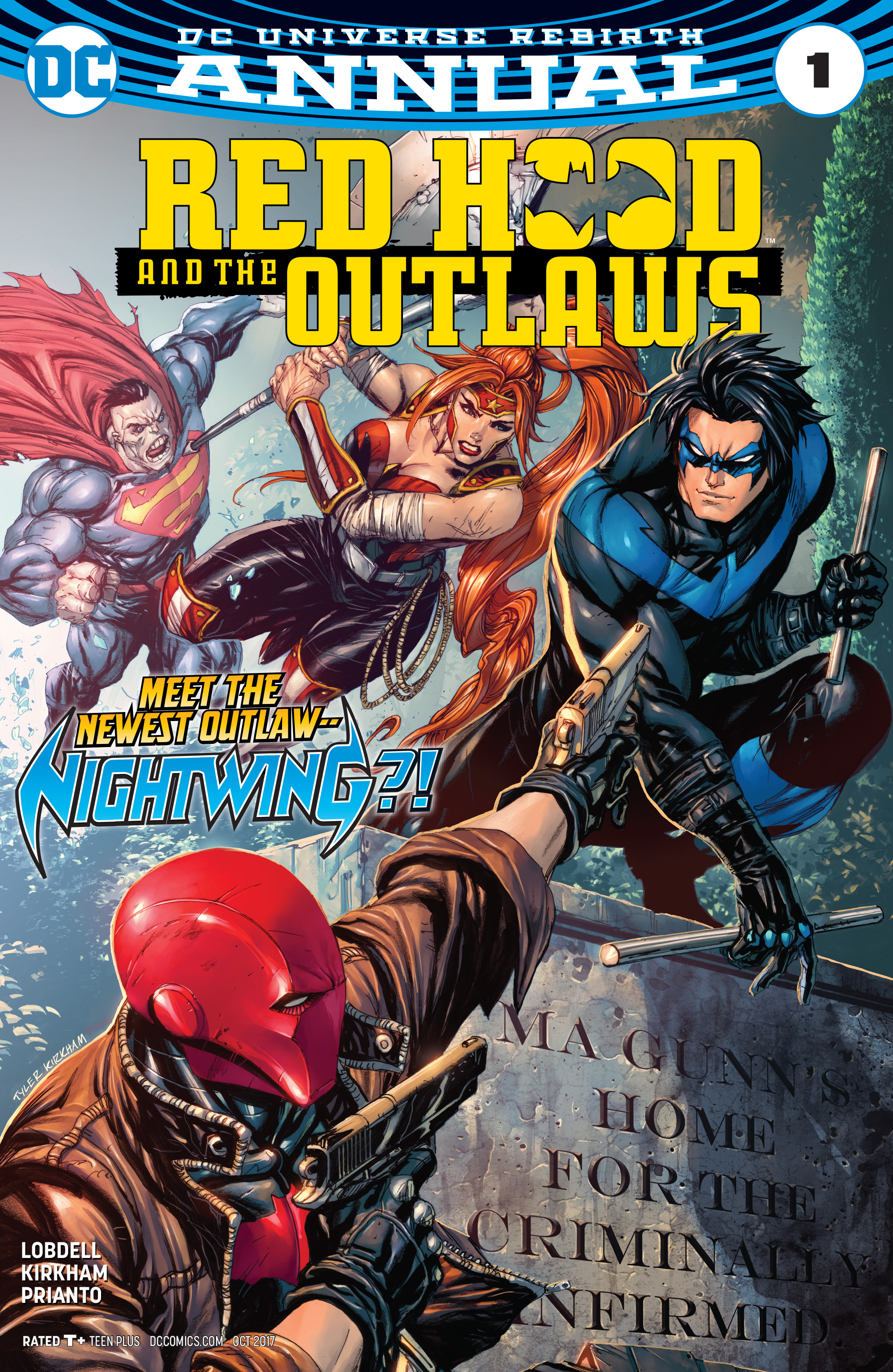 Words by Scott Lobdell
Art by Tyler Kirkman
Colors by Arif Prianto
Letters by Taylor Esposito
Cover by Tyler Kirkman and Tomeo Morey
Review by KrisK
I have been following Red Hood since the start of New 52. It has ups and downs, but it has almost always been written by Scott Lobdell (outside of some issues by James Tynion IV). At this point, one can presume, he will stay with the comic until it is cancelled or absorbed into another series. Red Hood started with Arsenal and Starfire as his outlaws, then he just worked with Arsenal in the short lived Red Hood & Arsenal. With Rebirth, the series stars Artemis, an Amazon, and Bizarro, a defective Superman clone as Red Hoods' outlaws.
This annual, titled Big Tent , Bigger Dreams has the always enjoyable addition of Dick Grayson, aka Nightwing. The story ties itself in with both Detective Comics and All-Star Batman, via an abandoned Colony weapons depot and KGBeast, now just known as Beast. Red Hood and his Outsiders go undercover in a travelling circus, and summon Nightwing via cryptic coordinates. This leads to some humorous banter, and the best undercover identity that Grayson has ever taken. While there is not necessarily as much Red Hood/Nightwing time as one would want, what the reader does get is pretty solid.
One of the increasingly best parts of the series is Bizarro, who I was very hesitant about reading about monthly when the series started. He is becoming a surprisingly likable character, as he escapes the simple tropes you normally see with the character to a more complex and lovable hero. He even starts a budding romance with a sideshow actress, which might be the highlight of the book.
The writing by Lobdell has gotten better since Rebirth, and what once felt like a meandering rebel without a cause seems to have a mission he sticks with. The banter is the best its ever been, and the stakes are alot higher than when he and Arsenal were hired guns fighting mimes. (Yes, that sadly happened.) I have always felt like Red Hood was underutilized and its nice to see Lobdell get his groove.
Verdict: Check it out.  If you have any interest in the Red Hood character, or if you have a love of Robin Reunions, then this book is an enjoyable night at the circus. It establishes the characters well for any who want to jump onto the series. I hope Lobdell keeps growing the characters so that this dark trinity can one day challenge their more famous counterparts in quality.