Favorite Comic Book Covers of the Week 10/29/14
Hey, thanks for checking out Talking Comics: Favorite Comic Book Covers of the Week!
Each and every New Comic Book Release Day is a blessing. It's the day we're introduced to new worlds, are able to witness the next chapter in a continuing saga, or fall in love with a character or creator for the first time. I could go on and on, but I think you've already gotten my point. That point being … comics are awesome. So awesome in fact that even the covers of them are often times incredible works of art. We're here to show you some of our  favorite covers each week! So go ahead and take a few moments for yourself (haven't you earned it?) and feast your eyes on some truly inspired comic book covers!
Steve Seigh's Favorite Comic Book Covers of the Week
WAYWARD #3
Written by Jim Zub
Art by Steve Cummings
Cover by Jorge Molina
"AAAGGGHHHHH!!! What is there not to love about this cover? Check out those bright, bold, and beautiful colors! Eh, am I right? That's one serious hairball of mischief, right there! I count at least 6, maybe 7 different beasts hailing from Japanese folklore in that pile. How many can you spot?" – Steve Seigh
HARLEY QUINN ANNUAL #1
Written by Amanda Conner and Jimmy Palmiotti
Art by John Timms
Bombshell Variant by Ant Lucia
"Bombs away! I love the style and attitude on this cover. Harley looks as if she's up to know good and she's not afraid to show it. Classic." – Steve Seigh
Elektra #7
Written by Haden Blackman
Art by Alex Sanchez
Cover by Mike Del Mundo
"Welp, here's another ridiculously cool Elektra cover by Mike Del Mundo! Damn, this dude has some serious talent!" – Steve Seigh
UMBRAL #11
Written by Antony Johnston
Art and Cover by Christopher Mitten
"When we were all at Tor Comics the other day, and this cover emerged from its Diamond shipping box, I took immediate notice. One of the things I've always appreciated about UMBRAL (artfully speaking) is that gorgeous shade of purple that's used consistently throughout every issue. Here it is again being used to create this bold and beautiful cover. I've no idea who that dude on the cover is, but I wouldn't want to mess with him. No, sir!" – Steve Seigh
INHUMAN #7
Written by Charles Soule
Art and Cover by Ryan Stegman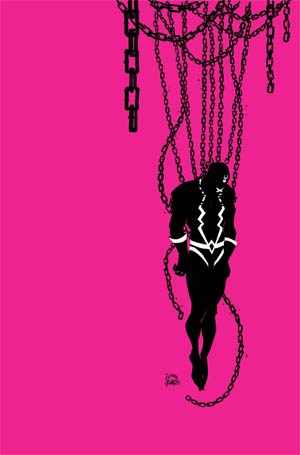 "!!!, could it be? Is Black Bolt crossing over into a secret issue of Sex Criminals? It sure looks like it to me! …. not really, I'm just trying to make you laugh." – Steve Seigh
Bob Reyer's Favorite Comic Book Covers of the Week
EC ARCHIVES: TALES FROM THE CRYPT VOL. 5 (Dark Horse)
Writers: Various
Artists: Various
Cover: Jack Davis
"What better image to lead with than a classic from the EC "gory" days!" – Bob Reyer
LITTLE NEMO: RETURN TO SLUMBERLAND #2 (IDW)
Writer: Eric Shanower
Artist/Cover: Gabriel Rodriguez
"The playful vibrancy of this cover by Gabriel Rodriguez is just charming, and bodes well for this second issue, despite some dire warnings in the solicits!" – Bob Reyer
RASPUTIN (Image)
Writer: Alex Grecian
Artist: Riley Rossimo; Ivan Plascensia
Cover: Riley Rossimo
"STOP LOOKING AT ME LIKE THAT!!! Yikes, it seems as if the Mad Russian is up to no good here!" – Bob Reyer
MARVEL 75TH ANNIVERSARY CELEBRATION (Marvel)
Writer/Artist: Various
Favorite Comic Book Covers of the Week 10/29/14
Cover: Paolo Rivera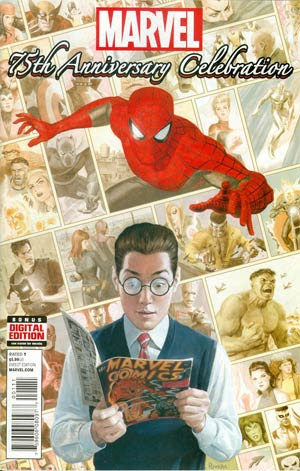 "Paolo Rivera's wonderful image captures so many of Marvel's greatest characters in a way that reminds us all of that thrill we had the first time we encountered our own favorites!" – Bob Reyer
VAMPLETS: UNDEAD PET SOCIETY (HCF FREE COMIC) (Action Lab)
Writer: Gayle Middleton; Dave Dwonch
Artist: Amanda Coronado; Bill Blankenship
"A-w-w-w-w! (I think!)" – Bob Reyer
LENORE #11 (Titan Comics)
Writer/Artist/Cover: Roman Dirge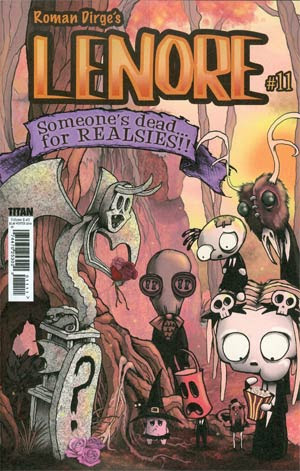 "What better way to close this Halloween edition that with this spectacular image by Roman Dirge!" – Bob Reyer
Favorite Comic Book Covers of the Week Soundtrack
This week's track is entitled "Feed My Frankenstein" as performed by the musical artist Alice Cooper.
That's all, folks! Join us next week for another round of covers and an avalanche of incredible cover art!