Hey, thanks for checking out Talking Comics: Favorite Comic Book Covers of the Week!
Each and every New Comic Book Release Day is something to be excited about. It's the day we're introduced to new worlds, are able to witness the next chapter in a continuing saga, or fall in love with a character or creator for the first time. I could go on and on, but I think you've already gotten my point. That point being … comics are awesome. So awesome in fact that even the covers of them are often times incredible works of art. We're here to show you some of our  favorite covers each week! So go ahead and take a few moments for yourself (haven't you earned it?) and feast your eyes on some truly inspired comic book covers!
Steve Seigh's Favorite Comic Book Covers of the Week
Ultimate Comics Spider-Man #2
Written by Brian Michael Bendis
Art by David Marquez
Variant Cover by Amy Reeder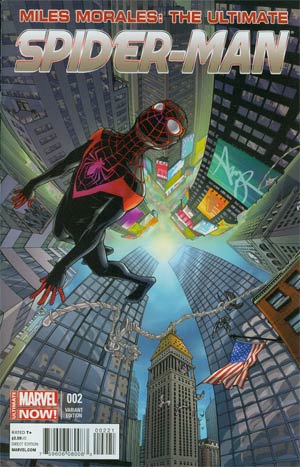 "I've been waiting to catch this cover in all of it's full colored glory and WOW, it did not disappoint! I love the motion of it, the bending of the buildings, the sense of vertigo it exudes. It's all good! Boy what I wouldn't give for a Spider-Man mini drawn by Ms. Amy Reeder!" – Steve Seigh
The Superior Foes of Spider-Man #12
Written by Nick Spencer
Art by Steve Leiber
Cover by Ron Wimberly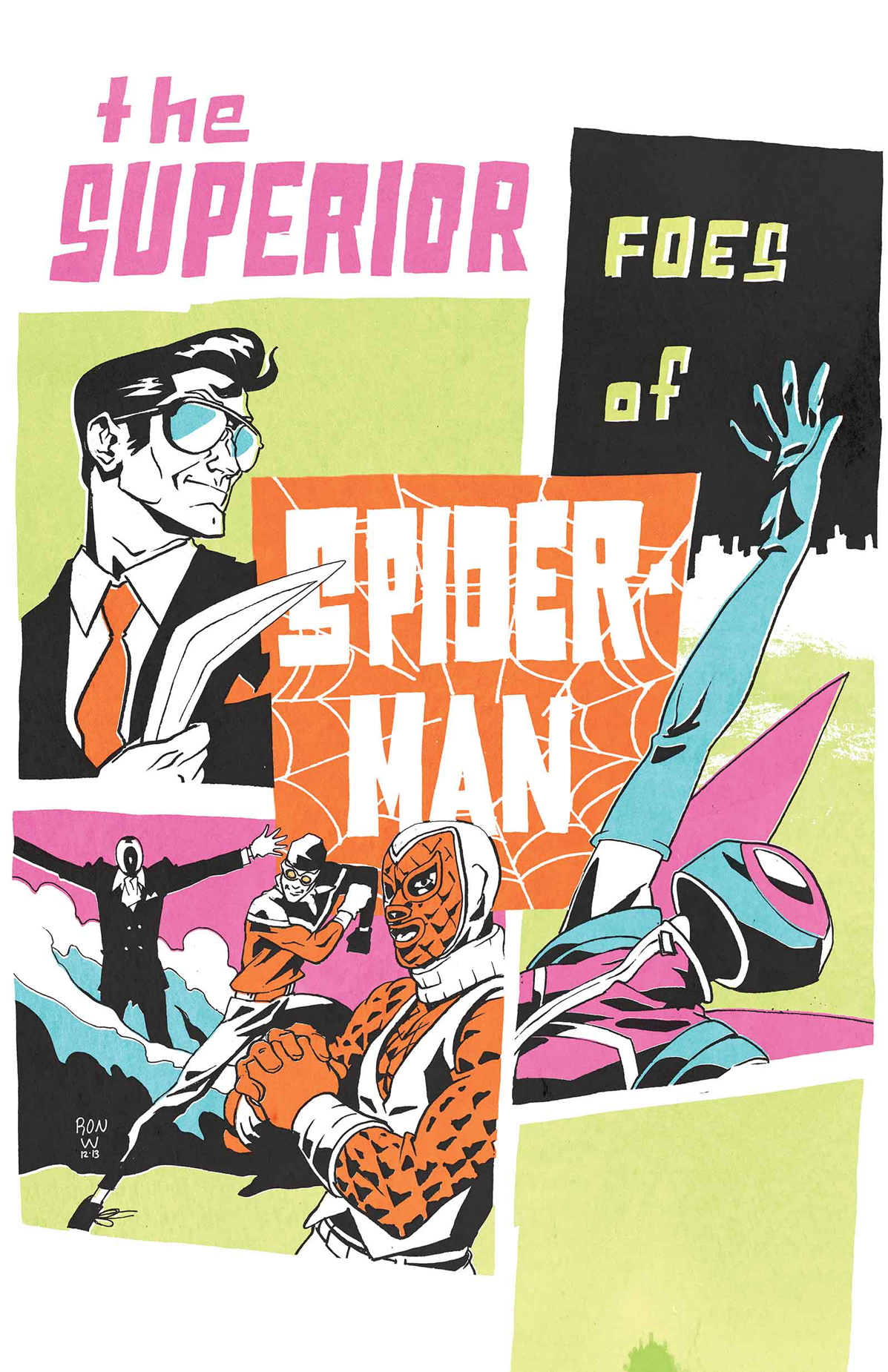 "Would you look at this cover! I can totally hear a wah-wah pedal rocking back and forth inside of my head each time I look at it. Groovy, baby." – Steve Seigh
The Superannuated Man #1
Words, Art, & Cover by Ted McKeever
"We f*ck you up, Lebowski! We takes the money!" – Steve Seigh
Vampirella #1
Written by Nancy A. Collins
Art by Patrick Berkenkotter
Cover by Stephanie Buscema
"D'awwwwwwww! This cover is wickedly adorable!" – Steve Seigh
Iron Man #27
Written by Kieron Gillen
Art by Joe Bennett
Cover by Christian Ward
"Good lord do I love that sherbert-like color and the look of desperation subtly featured on Iron Man's mask." – Steve Seigh
Bob Reyer's Favorite Comic Book Covers of the Week 
Ghost #4
Written by Kelly Sue Deconnick
Art by Geraldo Borges, Andy Owens
Cover by Ariel Olivetti
"Look Dick, a ghost!" says Jane.
"She seems scary, Jane." says Dick.
Worry, Dick, worry.
"Let's get the hell outta here!" says Jane.
See Jane run.
Run, Jane, run!
See Dick faint.
Elisa thinks Dick is a demon.
Poor, poor, Dick."
– Bob Reyer
Batman '66 Meets The Green Hornet #1
Written by Kevin Smith, Ralph Garman
Art by Ty Templeton
Cover by Alex Ross
Variant Cover by Michael and Laura Allred
"It was impossible to choose between these two marvelous covers from two of my favorite cover artists, so you fine folks in "radio-land" get to see both! Seeing these, I'm now going on "trade-wait" and hoping for the usual Dynamite "DVD extras" cover gallery!" – Bob Reyer
Big Trouble In Little China #1
Written by Eric Powell
Art by Brian Churilla
Variant Cover by Terry Dodson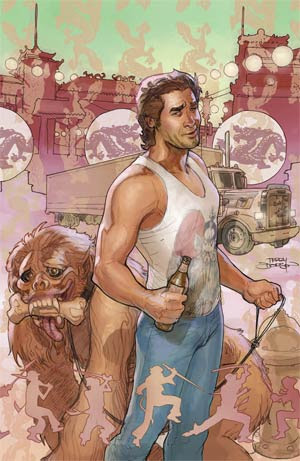 "Just remember what 'ol Jack Burton does when the earth quakes, and the poison arrows fall from the sky, and the pillars of Heaven shake. Yeah, Jack Burton just looks that big ol' storm right square in the eye and he says, 'Give me your best shot, pal. I can take it'"
"Who's Jack Burton?"
That's not a question any of us who are fans of John Carpenter's "Big Trouble in Little China" have to ask! That film's mash-up of action, comedy, romance, and mystical martial arts may have bombed at the box-office, but over the years it has become a cult classic! Terry Dodson has perfectly captured the bemused look of "Jack Burton" with this image!" – Bob Reyer
John Carpenter's Asylum
Written by Bruce King
Art by Leonardo Manco
Cover by Tim Bradstreet
"Speaking of John Carpenter, this series coming out under his banner sports an image by long-time (and award-winning) Punisher cover artist Tim Bradstreet that is truly the stuff of nightmares!" – Bob Reyer
Favorite Comic Book Covers of the Week
This week's hard rocking track is brought to you by the band PAWS. The song "Tongues" is from their brand new album Youth Culture Forever.
That's all, folks! Join us next week for another round of covers and an avalanche of incredible cover art!
This is a column featuring Favorite Comic Book Covers of the Week 05/21/14 as chosen by Steve Seigh, Bob Reyer, and several staff members and fans of Talking Comics.