Favorite Comic Book Covers of the Week 03/12/14
Hey, thanks for checking out Talking Comics: Favorite Comic Book Covers of the Week!
Each and every New Comic Book Release Day is a blessing. It's the day we're introduced to new worlds, are able to witness the next chapter in a continuing saga, or fall in love with a character or creator for the first time. I could go on and on, but I think you've already gotten my point. That point being … comics are awesome. So awesome in fact that even the covers of them are often times incredible works of art. We're here to show you some of our  favorite covers each week! So go ahead and take a few moments for yourself (haven't you earned it?) and feast your eyes on some truly inspired comic book covers!
If you'd like to contribute to this column all you need to do is send Steve an email at SteveSeigh@TalkingComicBooks.com, telling him the title of the issue with the cover that you dig, as well as a brief description of why you're grooving on that particular cover. We'll try to include as many selections as possible and hope that you enjoy seeing your choices displayed for all of the internet to see.
So without further or due let's get this week's selections highlighted!
Steve Seigh's Favorite Comic Book Covers of the Week
Nosferatu Wars One – Shot
Written by Steve Niles
Cover by Menton3
"I'm in the mood for a cover that's dark and mysterious this week, and lucky for me Menton3 is on the case. I adore everything about this cover: the way her face seems to float inside of a negative space created by a shadow of dark hair, her blood red lips, and particularly the noble look of the crow sitting atop this dangerous woman's head. Well done." – Steve Seigh
Captain Marvel #1
Written by Kelly Sue Deconnick
Art  Cover by David Lopez
"Carol Danvers is back and she's as stunning as ever on this cover! It's been far too long since we've taken to the skies with Captain Marvel and I for one cannot wait to see what awaits us inside of this issue!" – Steve Seigh
"David Lopez has certainly captured the "Carol-ness" on this cover to the new Captain Marvel #1; that small smirk that says "This isn't my first time at the rodeo, boys–I'm an Avenger!" " – Bob Reyer
Batman #29
Written by Scott Snyder
Art by Greg Capullo & Danny Miki
Cover by Greg Capullo
"Like I said, I'm in the mood for a taste of the mysterious this week, and thanks to Greg Capullo, even Batman is in on the action. What the hell awaits us behind this cover? More Riddler hi-jinks? We'll have to read it and find out, won't we?" – Steve Seigh
Superior Foes of Spider-Man #9
Written by Nick Spencer
Art & Cove by Steve Lieber
"Ha ha ha! Now to lighten things up a little bit with this playful and brilliant cover from Steve Lieber. I never play these claw machines in real life, because I think they're a total scam, but I would pump dollar after dollar into one of them if it meant that I could procure my very own D-List villain to do my bidding." – Steve Seigh
Deadpool #25.Now
Written by Gerry Duggan 
Art by Mike Hawthorne
Animal Variant Cover by Katie Cook
"Yes! How could I deny a Deadpool Giraffe animal variant? The answer: I can't, and now neither can you, I bet. Adorable!" – Steve Seigh
Bob Reyer's Favorite Comic Book Covers of the Week
Batgirl #29
Written by Gail Simone
Art by Fernando Pasarin
Cover by Alex Garner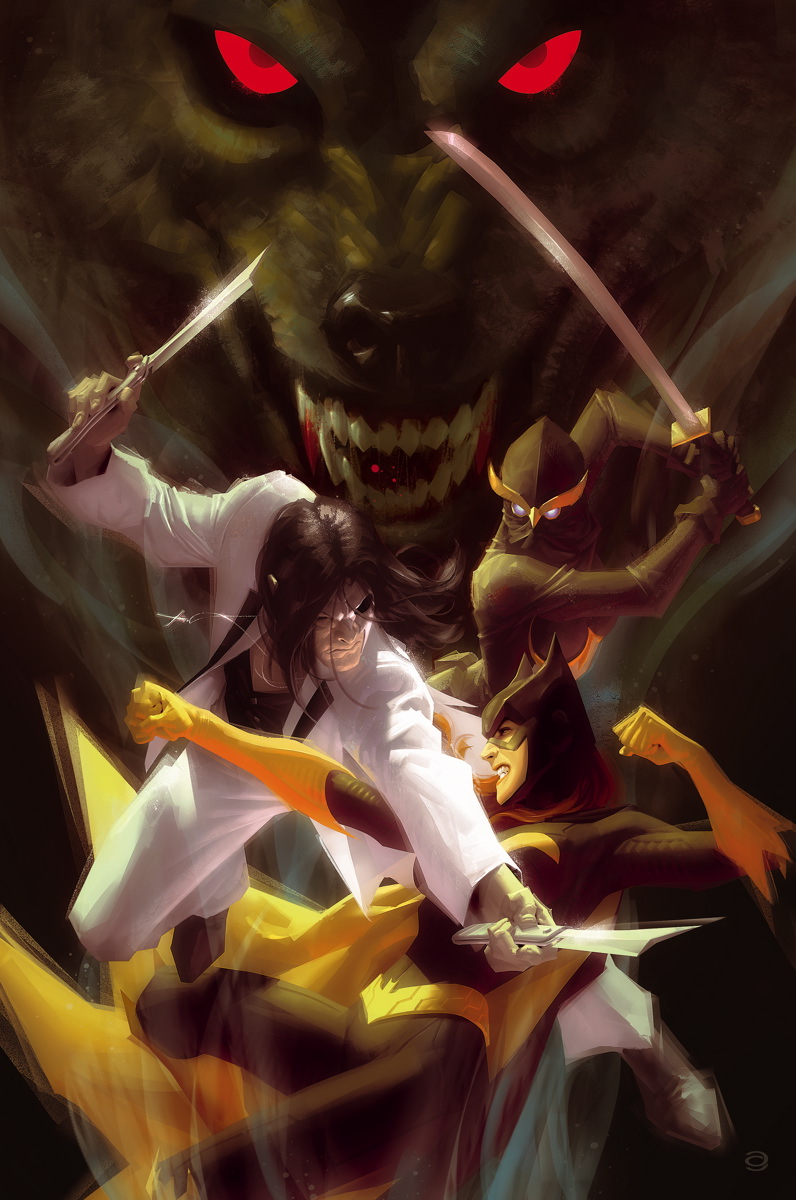 "It's no surprise that Batgirl is on my list as it features another amazing cover by Alex Garner! This one has a Seventies martial arts movie poster vibe to me somehow– "The Dynamic Duo Superladies vs. the Ninja Vampires"–or something like that!" – Bob Reyer
Batman Li'l Gotham #12
Written by Dustin Nguyen & Derek Fridolfs
Art & Cover by Dustin Nguyen
"Just a lovely Bat-family portrait by Dustin Nguyen on this final issue of the series." – Bob Reyer
Ghost #2
Written by Kelly Sue Deconnick and Christopher Sebela
Art & Cover by Terry & Rachel Dodson
"Not that this isn't a fabulous cover by Terry and Rachel Dodson of Eliza doing her best to overcome the villainous Dr. October, but I'm so thrilled to get this second issue in my hands that I would have picked this for my list if it had a blank cover!  That it sports this great image made my explanations easier!" – Bob Reyer
Powerpuff Girls #7
Words, Art & Cover by Derek Charm
"Due to a question on our Forum, I've been on a "giant monster" jag, so seeing this playful take on kaiju by Derek "Could he be more aptly named?" Charm made me smile! This is a book that could not only be a gateway to having your daughter or son read comics, but also to watch old-fashioned monster movies–not too shabby for something that isn't a "real" comic book; right, Mr. Stephenson?" – Bob Reyer
Favorite Comic Book Covers of the Week Soundtrack
This list was compiled while listening to the Allman Brothers, maaaaaaaaan. They are one of my father's all time favorite bands. Further proof that my Dad really knew how to rock!
That's all, folks! Join us next week for another round of covers and an avalanche of incredible cover art!