Favorite Comic Book Covers of the Week 02/26/14
Hey, thanks for checking out Talking Comics: Favorite Comic Book Covers of the Week!
Each and every New Comic Book Release Day is a blessing. It's the day we're introduced to new worlds, are able to witness the next chapter in a continuing saga, or fall in love with a character or creator for the first time. I could go on and on, but I think you've already gotten my point. That point being … comics are awesome. So awesome in fact that even the covers of them are often times incredible works of art. We're here to show you some of our  favorite covers each week! So go ahead and take a few moments for yourself (haven't you earned it?) and feast your eyes on some truly inspired comic book covers!
If you'd like to contribute to this column all you need to do is send Steve an email at SteveSeigh@TalkingComicBooks.com, telling him the title of the issue with the cover that you dig, as well as a brief description of why you're grooving on that particular cover. We'll try to include as many selections as possible and hope that you enjoy seeing your choices displayed for all of the internet to see.
So without further or due let's get this week's selections highlighted!
Steve Seigh's Favorite Comic Book Covers of the Week
Black Science #4
Written by Rick Remender
Art & Cover by Matteo Scalera
"This is hands down my favorite cover offered from the Black Science comic book series to date. I love the wicked island color scheme and the seductive mood it creates." – Steve Seigh
Dead Boy Detectives #3
Written by Toby Litt and Mark Buckingham
Art by Mark Buckingham and Gary Erskine
Cover by Mark Buckingham
"I'm loving these covers from artist Mark Buckingham. For me, it's all about the positioning of the skeleton on this cover that really grabs my attention. Give it a good look, isn't it awesome the way each eye line matches perfectly with the other? Good stuff, man." – Steve Seigh
Mind Mgmt #19
Words, Art and Cover by Matt Kindt
"Ladies and gentlemen, hurry, hurry, hurry! Step right up and witness the Master of Delusions … as well as this beautiful cover from Matt Kindt. I am so totally behind in my reading of this series, but this cover has me intrigued. I must add this title (and many others to my "To Read" pile) ASAP!" – Steve Seigh
"I don't read Mind MGMT, so I have no idea what this image may-or-may-not represent, but I absolutely love the playful nature of this cover, as well as the interesting use of (what I assume to be) watercolors!" – Bob Reyer
Rat Queens #5
Written by Kurtis J. Wiebe
Art  Cover by Roc Upchurch
"Okay, I admit it, Betty is my first hippy hobbit crush and I can't get enough of this cover. There, I said it. Now if you'll excuse me … this cover and I would like to be alone." – Steve Seigh
Tomb Raider #1
Written by Gail Simone
Pencils by Nicolas Daniel Selma
Inks by Juan Gedeon
Cover by Dan Dos Santos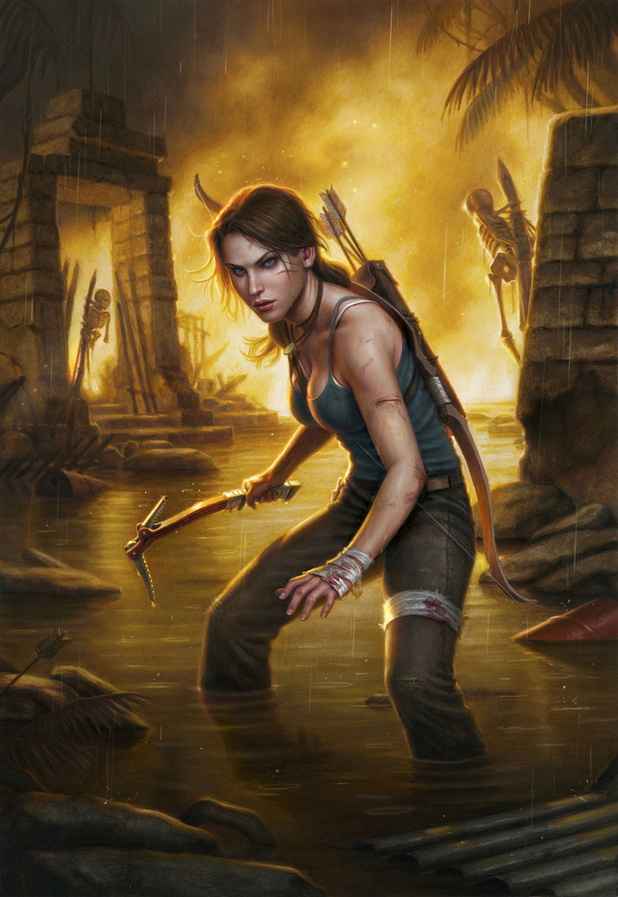 "Yes! If you are not yet aware of my love for Lara Croft … well, you are now! Seriously, she looks amazing on this cover! I've been a fan of the Tomb Raider franchise since day one of Lara's debut on the original Playstation console. Sure, there have been a few less than stellar titles throughout the years, but 2013 was a kind year to Lara and it's my hope that 2014 will be even better!" – Steve Seigh
Bob Reyer's Favorite Comic Book Covers of the Week
Doc Savage #3
Written by Chris Roberson
Art by Bilquist Evely
Cover by Alex Ross
"Not only is there the expected "James Bama/muscular vibe" to this amazing cover by Alex Ross, in Doc's pose Mr. Ross has also captured something of the utterly different style of Ross Andu, who had a nice run on this title back in the Seventies at Marvel!" – Bob Reyer
Fantastic Four #1
Written by James Robinson
Art by Leonard Kirk
Variant Cover by Alex Ross
"This painting of the Richards clan is a spectacular blend of super-heroics and "New Frontier" space-age optimism, and instantly one of my favorite FF images ever! That said, I'm going to have to wait for the trade to own a copy of this cover by Alex Ross, as it is one of those "ultra-rare" variants, and you know how I feel about that whole concept!" – Bob Reyer
Bob's "Can I UN-see this?" Cover of the Week
Batman/Superman #8
Written by Greg Pak
Art & Cover by Kenneth Rocafort
"I was going to leave the cover credit blank, or fill it in as "The Cover Artist" so as not to assign blame, but in the end, I think this cover of "BS" (*ahem*) needs a parent. Gentle readers, you'll notice both the anatomy and heroic poses for Superman and Batman, and how they contrast with Power Girl, who leading with her chest seems about to engage in a classic stripper's dance move, and The Huntress, whose ultra-suggestive pose would needless require her to visit a chiropractor immediately following the "cover shoot"! For those interested, It was art such as this that caused me to drop Worlds' Finest!" – Bob Reyer
Favorite Comic Book Covers of the Week Soundtrack
This list was compiled while listening to the new self-titled album by the musical artist St. Vincent.
That's all, folks! Join us next week for another round of covers and an avalanche of incredible cover art!