Favorite Comic Book Covers of the Week 02/19/14
Hey, thanks for checking out Talking Comics: Favorite Comic Book Covers of the Week!
Each and every New Comic Book Release Day is a blessing. It's the day we're introduced to new worlds, are able to witness the next chapter in a continuing saga, or fall in love with a character or creator for the first time. I could go on and on, but I think you've already gotten my point. That point being … comics are awesome. So awesome in fact that even the covers of them are often times incredible works of art. We're here to show you some of our  favorite covers each week! So go ahead and take a few moments for yourself (haven't you earned it?) and feast your eyes on some truly inspired comic book covers!
If you'd like to contribute to this column all you need to do is send Steve an email at SteveSeigh@TalkingComicBooks.com, telling him the title of the issue with the cover that you dig, as well as a brief description of why you're grooving on that particular cover. We'll try to include as many selections as possible and hope that you enjoy seeing your choices displayed for all of the internet to see.
So without further or due let's get this week's selections highlighted!
Steve Seigh's Favorite Comic Book Covers of the Week
Alex + Ada #4
Story and Script by Jonathan Luna & Sarah Vaughan
Story, Script Assists, Illustrations, Letters & Design by Jonathan Luna
"There's something truly enchanting about this cover. Ada looks as if she's so at peace, and yet, as I view the light show dancing across her skin and hair, I imagine a torrent of information pouring into her artificial brain. My heart tells me that the information she's downloading is somehow simulating for her, a dream state of an unparalleled nature. It's all very wild and I love it." – Steve Seigh  
Disney Kingdoms: Seekers of the Weird #2
Written by Brandon Seifert
Pencils by Karl Moline
Cover by Mike Del Mundo
"C'mon, who can't appreciate a menacing vortex of books looking to gobble you whole? Mike Del Mundo is at it again with these covers and I am totally on board with that." – Steve Seigh
The Midas Flesh #3
Story by Ryan North
Art by Shelli Paroline, Braden Lamb
Cover by John Keogh  Kate Leth
"I love the look of determination on the face of this character. She appears as if she's about to head off into the unknown with her head held high, the only way a woman of conviction can face the dangers of the day." – Steve Seigh
Red Sonja #7
Written by Gail Simone
Art by Walter Geovani
Cover by Jenny Frison
"Last week it was Black Widow in danger of being chomped by gators, and this week it's the beautiful yet deadly Red Sonja. Those gators are gonna be coin purses in about 2 seconds if you ask me." – Steve Seigh 
Harley Quinn #3
Written by Jimmy Palmiotti and Amanda Conner
Art by Chad Hardin
Cover by Amanda Conner & Paul Mounts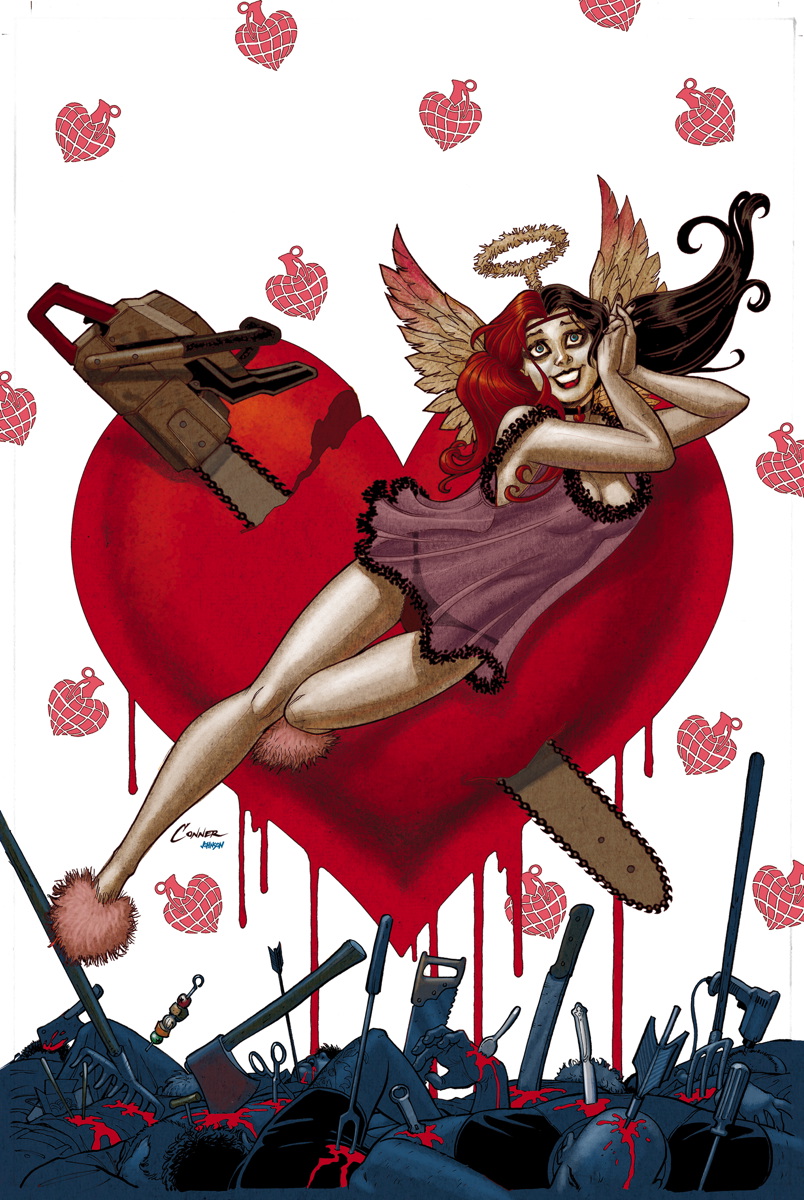 "Oh Harley, won't you be my valentine?" – Steve Seigh
"Dr. Quinzel seems to have a rather interesting take on the whole "lover's holiday" thing, doesn't she? Based on this cover by Amanda Conner, I would venture a guess that Harley's favorite movie to watch on February 14th would be either "My Bloody Valentine" or The Saint Valentine's Day Massacre"!" – Bob Reyer
Bob Reyer's Favorite Comic Book Covers of the Week
Justice League #28
Written by Geoff Johns
Art & Cover by Ivan Reis
"Not that anyone need remember, but I've mentioned that the first comic I have memory of reading is DC's Showcase #37 from 1962 that introduced theMetal Men and their creator Dr. Will Magnus. They remain a favorite to this day, but I do worry that in this day and age the charming and quirky tone of the Kanigher/Andru/Esposito original will have transmuted into the "Death Metal Men"! Would I love to see a Michael Allred Metal Men series!"
(BONUS: Here's the cover to their first appearance!)
Red Sonja #7
Cover by Stephanie Buscema
Written by Gail Simone
Art by Walter Geovani
Cover by Jenny Frison
Favorite Comic Book Covers of the Week Soundtrack
This list was compiled while listening to the album "Ghost Reveries" by the band Opeth.
* WARNING * The song featured below has got some major kick to it. I would advise turning your speakers down a touch should you decide to partake of this track's raw and ultimately awesome power! To me, this is metal!
That's all, folks! Join us next week for another round of covers and an avalanche of incredible cover art!