Favorite Comic Book Covers of the Week 02/12/14
Hey, thanks for checking out Talking Comics: Favorite Comic Book Covers of the Week!
Each and every New Comic Book Release Day is a blessing. It's the day we're introduced to new worlds, are able to witness the next chapter in a continuing saga, or fall in love with a character or creator for the first time. I could go on and on, but I think you've already gotten my point. That point being … comics are awesome. So awesome in fact that even the covers of them are often times incredible works of art. We're here to show you some of our  favorite covers each week! So go ahead and take a few moments for yourself (haven't you earned it?) and feast your eyes on some truly inspired comic book covers!
If you'd like to contribute to this column all you need to do is send Steve an email at SteveSeigh@TalkingComicBooks.com, telling him the title of the issue with the cover that you dig, as well as a brief description of why you're grooving on that particular cover. We'll try to include as many selections as possible and hope that you enjoy seeing your choices displayed for all of the internet to see.
So without further or due let's get this week's selections highlighted!
Steve Seigh's Favorite Comic Book Covers of the Week
Memory Collectors #3
Written by Menton3 & Jason Mote
Art by Menton3 & Christopher Mitten
Cover by Menton3
"This is without a doubt one of my favorite pieces of art that I've ever seen from Menton3. That blue! Those swirling roses! I've been following Menton's work for a number of years now, and this is without a doubt one of my all time favorite offerings from his epic imagination." – Steve Seigh
She-Hulk #1
Writtten by Charles Soule
Art by Javier Pulito
Cover by Kevin Wada
"Who is Kevin Wada and where can I see more of his art? What's not to love about this cover? The color palate is breathtaking, and it's got an almost pin up girl approach to it. I'm really digging that. I've had a bit of a comic book crush on She-Hulk for almost a year now and I've got to say, Jennifer looks gorgeous!" – Steve Seigh
"I'm not familiar with the work of Kevin Wada, but off this cover, I want to see more! A fun, "fashion-y" image that speaks to what is purported to be a lighter look at super-heroics through the trials (*ouch*–sorry!) and tribulations of Marvel's Jade Giantess!" – Bob Reyer
Superior Spider-Man #27.Now
Written by Dan Slott
Art by Giuseppe Camuncoli
Animal Variant Cover by Jenny Parks
"You know how awesome this is. Does it really require on explanation? I didn't think so. Meow!" – Steve Seigh
Thor: God of Thunder #19.Now
Written by Jason Aaron
Art by Esad Ribic
Animal Variant Cover by Jenny Parks
"It's a Meow Meow weilding 'Meow-Meow!'. Done!" – Steve Seigh
Deadpool #24
Written by Gerry Duggan & Brian Posehn
Art by Mike Hawthorn
Cover by Mark Brooks
"I'm a HUGE fan of the Alien franchise, so there wasn't even a question as to whether or not this over would end up on my list this week. Additionally, it's nice to see some work by Mark Brooks now that the Fearless Defenders series has wrapped." – Steve Seigh
Bob Reyer's Favorite Comic Book Covers of the Week
Batgirl #28
Written by Gail Simone
Art by Fernando Pasarin & Jonathan Glapion
Cover by Alex Garner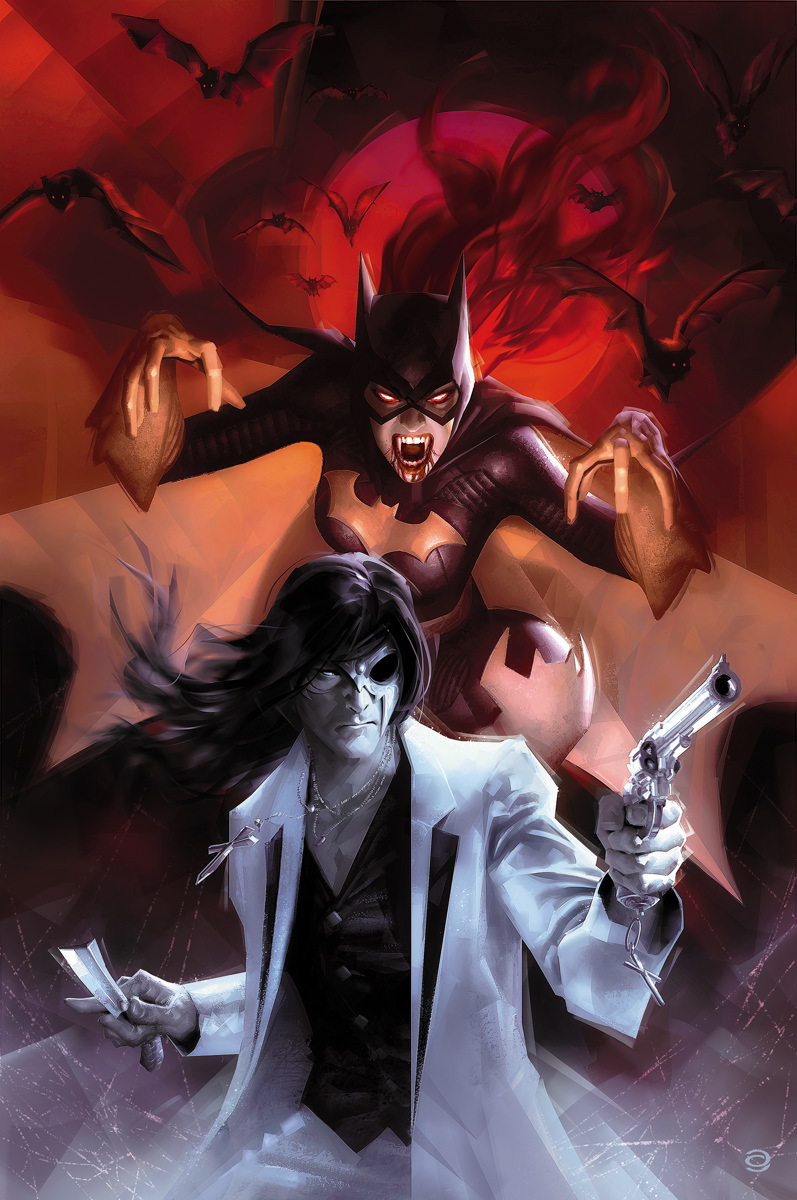 "Barbara Gordon's gone through quite a lot since reclaiming the cowl of Batgirl, but becoming a vampire tops the list! And wasn't this supposed to be one of those sunnier "Gothtopia" tie-ins?" – Bob Reyer
Winter Soldier The Bitter March #1
Written by Rick Remender
Art& Cover by Roland Boschi
"I love the Swingin' Sixties vibe on this cover by Roland Boschi; to me, it's  a mix of Jim Steranko and Alex Toth, with maybe a dash of Frank Bellamy, the artist on the old "Modesty Blaise" comic strip." – Bob Reyer
Favorite Comic Book Covers of the Week Soundtrack
This list was compiled while listening to the song "Ice Cream Man" by Tom Waits.
That's all, folks! Join us next week for another round of covers and an avalanche of incredible cover art!