Bob's Top Ten Comics for 2013
A mess o'stuff by Bob Reyer
With another year having gone in the books, it's time for my co-hosts, fellow contributors, and me to make our personal "Top Ten Comics for 2013" lists, and in my case, to see if I can influence the voting for some of my favorites! There have been some very special comics out this year, from the worlds of "capes'n'cowls", horror, science-fiction, and humor, as well as all manner of mash-ups and combinations, and from creators both seasoned and new. This platform also affords me an opportunity to check out your thoughts on these books that I've been on about all year, and for some of you to see how your opinions have influenced my selections, too!  I'll post my complete "Top Ten" (give-or-take) lists at the end, but there are a few titles and creators that I'd like to single out for special mentions.
Going right for it, my pick for "Breakout Artist" is Amy Reeder, whose stunning art from Rocket Girl #1 can be seen at the right. Her work in the past on various DC and indie books was excellent, and her Halloween Eve one-shot was one of my favorites of 2012, but here that art has taken a leap upwards from an already high place. Notice in the page lay-out shown here how your eye is being directed to follow the panels in a way that mimics Rocket Girl's actions in the panels themselves! Beyond the beauty of the work itself, Ms. Reeder's story-telling craft and ability to create moments of genuine emotion made her the stand-out in this category, even over such tough competition as Freddie E. Williams II, Alex Garner and Yasmin Liang. Rocket Girl also factors into a number of my other lists, as Brandon Montclare was in the running for "Breakthrough Writer" till the last minutes, the cover for  Rocket Girl #2 made the cut, and the series itself was on my lists for best "New", "On-Going" and "Over-All" comic!
Another smaller series that caught my fancy was brought to my attention by our own Stephanie Cooke, and that is the delightful Bandette by Paul Tobin and Collen Coover. Originally a digital title from MonkeyBrain Comics, a hardcover collection ("Presto!") has just been released from Dark Horse, which seems only right as the series deals with a rather-young cat burglar who "liberates" all manner of objets d'art from their sometimes unscrupulous owners, so a book about someone stealing rare books should be in print form, non? Bandette appears on a number of my lists ("Humour", "Kids", and "Webcomic") and all quite deservedly! 
 On that "Humour" list…
(Robert, why are you spelling "humour" in the English/Canadian way? Not that I mind, but the last I checked, you were born and raised in New York. By the way, I find Bandette's outfit simply marvelous, darling!   @udrey)
(Well, Audrey, since you asked; as Our Ms. Cooke recommended it to me, I thought I should spell it "correctly"!)
As I was saying, the "Humour" list also contains "straight comedy" such as Faith Erin Hicks' Adventures of Superhero Girl and It Girl & the Atomics, as well as some titles that might not be considered humour at all, such as FF, Avengers Assemble, and Afterlife with Archie, but these books provided some of the biggest laugh-out-loud moments of the year for me, so on the list they go!
While walking on the sunny side of the street, let me just mention Jamal Igle's Molly Danger, which is a marvelous all-ages book in the truest sense of that term. Crafted as a comic book that he could share with his own daughter, it's the story of the "world's strongest 10-year-old", but there is so much more to it than that; Molly has a secret, you see (which you'll have to read for yourself!), and that leads her to discover the value of friends and family in a quite moving way. There's plenty of action, too, as Molly dukes it out with baddies and giant robots, and always in good service to the story, and to Mr. Igle's high goals. Molly Danger is simply a book that's a lot of fun, and is highly recommended! 
In the "Mini-Series" category, I must take time to mention John Byrne's Doomsday.1 from IDW. For those of you who are fans of films such as the original Planet of the Apes, The Andromeda Strain, or Colossus, the Forbin Project, or who enjoy comics such as The Wake or The Massive, Doomsday.1 is a slice of old-fashioned science-fiction that tells of an Earth devastated by a massive solar flare, and how human society copes with the aftermath. Beautifully told in words and pictures by the industry legend, it has just been released in a trade paperback collection, which I would suggest is the best way to read this very cinematic tale.

Coming into the home stretch now, I'll start by saying how much I enjoyed the many books that fell under my "curse" and are now longer with us: Fearless Defenders, Dark Avengers, Red She-Hulk and X-Factor, with Matt Fraction's Fantastic Four and his FF with Michael Allred soon to follow them into the four-color graveyard. All of these fine comics found places on my lists, as did their creators, so my thanks to Mr. Fraction, Cullen Bunn, Peter David,  and Jeff Parker, and their various "partners in art" for a great time; sorry about putting the Mal'occhio on you!
My favorite "New" book this year (as well as my #2 in both "On-Going" and "Over-All"!) was The Movement by Gail Simone and Freddie E. Williams II. Using very minor, virtually unknown, or newly-created heroes as a team is a huge risk, but Ms. Simone and Mr. Williams made the gamble pay off. Within a short time, Virtue, Katharsis, Mouse, Vengeance Moth and the rest have become favorites due to the creators' combined efforts at crafting layered and complex characters, and the involved but involving story-line never fails to heighten our attachments to these new additions to DC's line-up.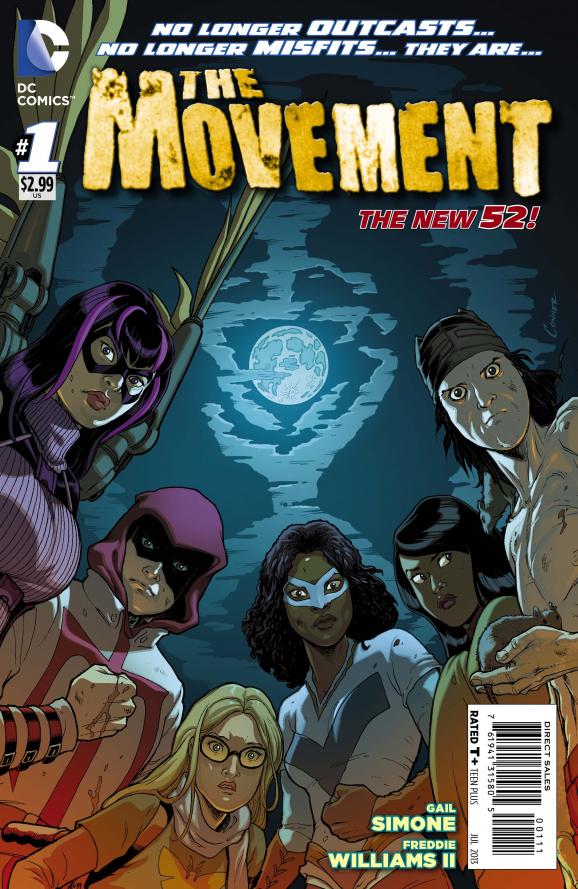 Finishing up, for the year 2013 the book that for me summed up all the best that a super-hero comic could be was Kelly Sue DeConnick's Captain Marvel. Already a great book, Captain Marvel reached new heights this year, as within the pages of that book and Avengers Assemble, Ms. DeConnick brought a new level of emotional connection between the character of Carol Danvers and her audience as she fought to subdue "The Enemy Within", as this Summer's mini-cross-over was titled. As Carol struggled with adversity from all sides, we were shown the face of true heroism as she came to the only decision that she could, but at a tremendous personal cost. Quoting the close of issue #14 :
"We tell her that heroes aren't defined by their powers or their costumes…but by the contents of their hearts."
"We will know the light she has inside her because she showed us all today."
"We will know…she's Captain Marvel…she's our hero."
(I'm welling up again as I type it! Darn you, Kelly Sue!)
Topping this (which I didn't think possible!), there's another heart-wrenching climax that is basically the entirety of issue #17, which was my favorite "Single Issue" of the year (#14 was right behind!), and both would be in my "All-Time" lists as well! For all this, Captain Marvel is also at the top in "On-Going", "Over-All", "Story Arc", penciller Filipe Andrade is in the #3 slot for "Best Artist", and Ms. Kelly Sue DeConnick is my choice for "Best Writer", especially factoring in her other fine work on Avengers Assemble, Dark Horse's Ghost and the stunningly original Pretty Deadly, co-created with her sometime-collaborator on Captain Marvel, the amazing Emma Rios.
The rest of my picks will appear below (provided I can get the computer to co-operate!), and if you feel the urge, don't hesitate to leave a comment on the post, as I'd love to discuss what you think!
BREAKTHROUGH ARTIST

Amy Reeder

Freddie E. Williams II

Alex Garner

Yasmin Liang

Will Sliney

Francesco Francavilla

Scott Hepburn

Stephanie Buscema

 

BREAKTHROUGH WRITER

Caleb Monroe

Jamal Igle

Brandon Montclare

Faith Erin Hicks

WEBCOMIC

Bandette

Our Valued Customers

Girls with Slingshots

Hark! A Vagrant!

Adventures of Superhero Girl

Lady Sabre…

Girl Genius

JL8

PUBLISHER

Marvel

Image

IDW

Dark Horse

Dynamite

DC

KIDS

Princeless

Molly Danger

My Little Pony

Bandette

Li'l Gotham

Batman '66

HUMOUR

Adventures of Superhero Girl

Empowered

It Girl & the Atomics

Princeless

FF

Bandette

Archie: Afterlife

Batman '66

(Avengers Assemble)

(Harley Quinn)

ANTHOLOGY

Witching Hour

Dark Horse Presents

Womanthology: Space

True Patriot Comics

A + X

HISTORICAL

Pretty in Ink

Divas, Dames & Daredevils…

Miss Fury: Sundays 1941-1944

"Secret History/Marvel Comics"

Flash Gordon (Titan)

IDW "Artist Editions"

Marvel's continuing GA program

PS Art Books "Collected Works"

 

COVER ONLY ARTIST

Mark Brooks

Joe Quinones

Amanda Conner

Alex Garner

Stephanie Buscema

 

Alex Ross (Hall of Fame!)
OVER-ALL

Captain Marvel

The Movement

Hawkeye

Fantastic Four

Fearless Defenders

Rocketeer/Spirit

FF

X-Factor

Rocket Girl

Pretty Deadly

(*N.A.; Batgirl; X-Men)

ON-GOING

Captain Marvel

The Movement

Hawkeye

Fantastic Four

Fearless Defenders

FF

X-Factor

Rocket Girl

Pretty Deadly

Red Sonja

Empowered

 

MINI-SERIES

Rocketeer/Spirit

Steed & Mrs. Peel

Mara

Doomsday.1

Locke & Key: Alpha/Omega

It Girl & The Atomics

Masks

Triple Helix

 

NEW

The Movement

Fearless Defenders

Rocket Girl

Pretty Deadly

Red Sonja

Sex Criminals

T.H.U.N.D.E.R. Agents

Molly Danger

Mara

(*New Avengers; X-Men)

STORY ARC

CM: "Enemy Within"

FD: "Doom Maidens"

X-F: "End of X-Factor"

RSH: "Route 616"

The Movement: "The Tweens"

S&MP: "Hellfire"

F4/FF: "Worst. Vacation.Ever."

DA: "The Other NYC"

BG: "Batgirl—Wanted!"

 

SINGLE ISSUE/ONE-SHOT

Captain Marvel #17

Captain Marvel #14

Hawkeye #9

Empowered: 9 Beers w/Ninjette

Fantastic Four #4

X-Factor #262

The Movement #4

Molly Danger

X-Men #4

Harley Quinn #0

Witching Hour

COVER

Doc Savage #1

Fearless Defenders #2 (Blister)

Captain Marvel #11 (JQ/poster)

Batgirl #24 (AG/Babs & Ricky)

Pretty Deadly #1

Hawkeye Annual (Javier Pulido)

FF #7 (Silver Age vibe)

Batgirl #21 (AG/Ventriliquist)

Rocket Girl #2

X-Men #1 (Coipel)

 

ARTIST

Michael Allred

David Aja

Filipe Andrade

Amy Reeder

John Byrne

Emma Rios

Alan Davis

Francesco Francavilla

Adam Warren

Mark Bagley

WRITER

Kelly Sue DeConnick

Gail Simone

Matt Fraction

Cullen Bunn

Peter David

Jeff Parker

Jonathan Hickman

John Byrne

Paul Levitz

Mark Waid