(Art by Alan Davis from the cover of "Women of Marvel" magazine–simply stunning!)
Bob's Top Fifty Female Characters!
A list by… well… Bob Reyer!
As Talking Comics' resident Rob Gordon, I love making lists (a nod to those of you who've seen "High Fidelity"!), so as a coda to our "Women in Comics Week", here are my Top Fifty Female Characters of all time, as selected after an exhaustive process of elimination, and far too many glasses of Malbec! (The second number in each case was the lady's position on last year's tally!)
Some of this list will be familiar, as I did run a Top Ten list during last year's "Women in Comics" event, but there are some changes, and the correction of a horrendous oversight from last time, when I didn't include Alicia Masters, one of the longest-lasting and most important supporting characters in the Marvel Universe, and one who needs to be seen more often in the pages of Fantastic Four.
When introducing Alicia Masters, the blind step-daughter of the villainous Puppet Master, Stan Lee & Jack Kirby certainly played into every angle of the "Beauty and the Beast" trope, but it worked to perfection here, and served to illuminate the tragic situation of Ben Grimm. He felt that it wasn't fair that Alicia should love him in his present state, despite her protestations to the contrary. Ben also had a contradictory, nagging fear that Alicia could only love him as The Thing.  Beyond her relationship with the conflicted Mr. Grimm, Ms. Masters was of course a talented sculptor, and a highly-valued member of the Richards' extended family, who often was the voice of common humanity, and never more than when she convinced the Silver Surfer to help defeat his master during "The Galactus Trilogy".
 Also new to the list is the first costumed super-heroine, Tarpe Mills' Miss Fury, of whom I wrote at length back in March of this year  ( http://talkingcomicbooks.com/2013/03/tales-from-the-archives-tarpe-mills-and-miss-fury/), as well as Faith Erin Hicks' marvelous Superhero Girl, and my thanks to our own Ms. Stephanie Cooke for alerting me to the joys of that hilarious, but also quite touching strip.
A few of the fabulous females on this list had marked gains from last time, with Captain Marvel cracking the exalted Top Ten. The Valkyrie, via  her starring role in the new Fearless Defenders, found herself moved up the list, as did Adam Warren's Empowered and Gail Simone's interpretation of Zinda Blake, the Lady Blackhawk.
(Huntress, Lady Blackhawk, and Misfit, who just missed the list!)
The character who had the biggest gain was Dark Horse Comics' spectral avenger Ghost, who leapt a staggering twenty places! "How is that possible, Cranky Old Uncle Bob?" I can hear some of you saying…
(Sorry Robert, but you can't; that's just the wine talking.  @udrey)
Well, for whomever it is asking, as I was about to explain, the reason was that with the new Kelly Sue DeConnick/Phil Noto series out, I re-read the Eric Luke originals and was even more taken with Elisa Cameron this time around, and Ms. DeConnick's take on the character certainly cemented those feelings.
 Before I go, I would like to mention briefly some of the lesser-known ladies on the list, perhaps in hopes of piquing your interest in checking them out. Songbird and Moonstone constitute the light and dark of the original Thunderbolts, with their story-lines running from the beginning to its lamentable finish.
The Fallen Angel, protector of the mysterious city of Bete Noir, is a creation of Peter David, and the follow-up to his Supergirl run, and although he insists that they're not the same person–and introduced a character in the IDW run that he says is—I still have my doubts!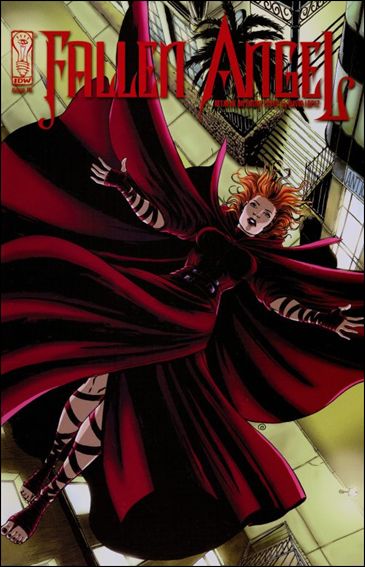 The Miss America listed here is Madeline Joyce, the Timely/Marvel heroine from the Forties, and one-time member of the All–Winners Squad, the fore-runner to The Invaders.
The Iron Maiden has nothing to do with the band, nor the torture device, but was instead the main villain in Wally Wood's T.H.U.N.D.E.R. Agents,  and she has re-emerged in the new IDW series in all her evil glory!  (And with a new secret!!)
Thunda first appeared as the newest member of the Frightful Four in Fantastic Four #129, but she didn't join for evil purposes; her real agenda was to challenge The Thing in combat, which she would in the well-remembered #133, which was drawn by Ramona Fradon:
A "big" favorite of mine is another very tall lady that was sadly only seen in a handful of issues, and that is Ann O'Brien, from Art Adams' wonderfully retro sci-fi/super-hero mash-up Monkeyman & O'Brien. (The surname "O'Brien" is in tribute to legendary stop-motion animator Willis O'Brien, who was responsible for the FX in the original "King Kong" and "Mighty Joe Young".)
Thanks to our podcast guest Trina Robbins and her collaborator, artist Ann Timmons, I've become a fan of their all-ages heroine Go Girl! Lindsay Goldman's mom was a super-heroine in her youth, so when her daughter discovers she has powers of her own during a hostage crisis involving her best friend, she borrows her Mom's costume and flies off to effect a rescue!
Finally, two of my favorite DC heroines of the Silver Age are here, Tina aka Platinum from the Metal Men, and Elasti–Girl from the Doom Patrol. They are polar opposites, yet much alike in their determination to do good works despite their odd circumstances. Tina is a human-appearing robot, so chock full of emotions that she pines for her creator, Dr. Will Magnus, which constantly has him threatening to "adjust her responsometer". She is a true hero though, as on many occasions she sacrificed herself to save the day, and despite misgivings, Doc Magnus would have to bring her back in full mettle. (Sorry!)
Rita Farr, former movie star turned super-heroine Elasti–Girl, has been dealt a cruel blow by fate; exposed to strange gases whilst filming in Africa, she finds herself able to grow into a giantess or shrink to fit through keyholes. Her career ended with her exposure as a "freak", she joins the Doom Patrol to hide away, but becomes a hero in the company of her other afflicted team-mates.
The powerful women here-in spring from all eras of comics history, and cover a pretty wide array of thematic ground. What they all have in common though is the courage of their convictions that they can change the world–including the "bad girls" on the list!
I had quite a lot of fun going through the archives for this one, and I hope that came though, certainly enough to prompt some of you to take your own exploration into the stories of these amazing women!
ADDENDUM:
Here are the "Honorable Mentions": Adrienne (from "Princeless"), Clea, The Cheetah, Crystal, Dazzler, Misty Knight, Misfit, Red She-Hulk, Rogue, Mary Jane Watson, and certain to be on next year's list…Molly Danger!
Soundtrack:  I wasn't sure what to go with, but here for your listening pleasure is this song from Pat Benatar, that might serve to sum everything up:
[youtube]http://www.youtube.com/watch?v=qbJB3q7CdoE[/youtube]