Favorite Comic Book Covers of the Week 09/11/13/
Hello and welcome to the revised edition of Talking Comics: Favorite Comic Book Covers of the Week! It used to be that every week our Executive Editor Steve Seigh would showcase his favorite comic book covers of the week and then you could all go about your day. Well no more! From this point forward Steve won't be the only one displaying the covers that caught his fancy. As of today, and for the foreseeable future, you'll be viewing selections not only from Steve, but from other site staff and fans alike!
If you'd like to contribute to this column all you need to do is send Steve an email at SteveSeigh@TalkingComicBooks.com, telling him the title of the issue with the cover that you dig, as well as a brief description of why you're grooving on that particular cover. We'll try to include as many selections as possible and hope that you enjoy seeing your choices displayed for all of the internet to see.
So without further or due let's get this week's selections highlighted!
– Steve Seigh's Favorite Comic Book Covers of the Week –
Astonishing X-Men #67
Writer: Marjorie M. Liu
Artist: Amilcar Pinna
Cover Artist: Phil Noto 
"I really just enjoy the fact that i get a Lovecraft meets Fear and Loathing in Las Vegas vibe from this cover." – Steve Seigh
Avengers #19
Writer: Jonathan Hickman
Artist:  Leinil  Francis Yu
Cover Artist: Leinil  Francis Yu
"I'm digging on the red and black coloring and you've got to admit that it's a pretty epic depiction of Captain Marvel." – Steve Seigh
"I like the color theme to each issue of Infinity and the subsequent Avengers and New Avengers issues. While it makes them a little hard to differentiate from each other, it also serves to make it easy to see which issues go together. And having Captain Marvel on the cover only makes it that much cooler." – Michael Duke
True Lives of the Fabulous Killjoys #4
Writer: Gerard Way
Artist: Becky Cloonan
Cover Artist: Becky Cloonan
"It's all about the cool colors of this cover for me. I also like the layout of the text. It reminds me of a fashion magazine setup." – Steve Seigh
The Fearless Defenders #9
Writer: Cullen Bunn
Artist: Will Sliney
Cover Artist: Mark Brooks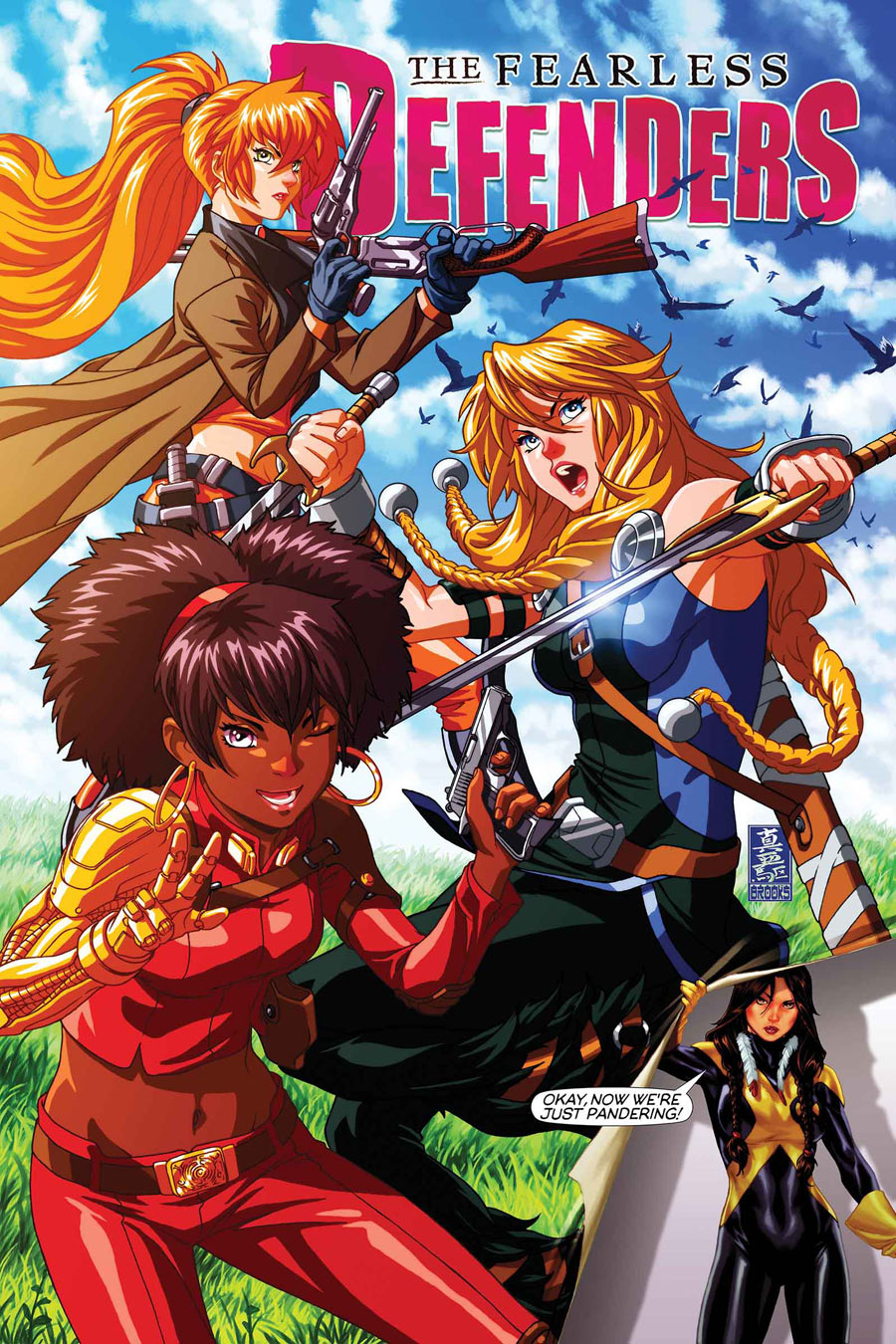 "I've been a big anime fan ever since I can remember. This cover might be pandering but it's totally hitting the mark for me. Go figure. Ha ha!" – Steve Seigh
Rachel Rising #19
Writer: Terry Moore
Artist: Terry Moore
Cover Artist: Terry Moore
"I love the fire on charcoal look this cover has. I'm also super excited to have another chapter of Rachel Rising in my hands so I figured I'd include it in this week's list." – Steve Seigh
– Bob Reyer's Favorite Comic Book Covers of the Week –
X-Men #5
Writer: Brian Wood
Artist: David Lopez
Cover Artist: Arthur Adams
"It's been an Arthur Adams deluge on the "Battle for the Atom" books so far, which is pretty darn special, if you ask me…which you did! His art is so classic, and yet so singular at the same time! Could someone at Marvel offer Mr. Adams a series, please?" – Bob Reyer
It Came! #2
Writer/Artist/Cover by Dan Boultwood
"This fun homage to 50s science-fiction movies by Dan Boultwood still manages a some modern touches, particularly in the color palette selected…not to mention the coffee stains!" – Bob Reyer
*Editor's Note: The cover I'd found ( with the proper sizing) online does not feature coffee stains. Bummer. Better luck next time I suppose. Ha ha! – Steve
– Michael Duke's Favorite Comic Book Cover of the Week – 
Star Wars #9
Writer: Brian Wood
Artist: Ryan Kelly
Cover Artist: Gabe Eltaeb
"I think this is the most evocative and visually stunning "women floating in space" cover of the week. Leia has been a standout character in this series and it looks like she's going to have a gut-wrenching issue this time around." – Michael Duke
– Patrick Brennan's Favorite Comic Book Cover of the Week –
Indestructible Hulk #13
Writer: Mark Waid
Artist: Matteo Scalera
Cover Artist: Mukesh Singh
"The covers for this series have been pretty awesome these last couple of months.  We've had cowboys, dinosaurs, and this issue gives us the Hulk taking on a horde of knights and practically uppercutting a horse.  Pretty freaking sweet." – Patrick Brennan
– Favorite Comic Book Covers of the Week Soundtrack –
This list was compiled while still listening to the album The Bones of What You Believe by the band CHVRCHES. Pick this album up!
[youtube]https://www.youtube.com/watch?v=WHjN44LLKcA[/youtube]
*Remember, if you would like to participate in this column you can send your cover selections (please, only one cover per week) to SteveSeigh@TalkingComicBooks.com. Be sure to have your selections in by midnight of the Monday that corresponds with that week's releases. Also, please try to keep your selections to books that are being released that week ONLY. Thanks so much and we look forward to sharing your thoughts with all who stop by the Talking Comics website. Cheers! – Steve
This list was compiled by Steve Seigh – Executive Editor of Talking Comics. You can hear Steve on the Talking Comics weekly podcast as well as find him on Joblo.com where he writes a featured, bi-weekly column called Ink & Pixel. His Twitter handle is @dead_anchoress.