Favorite Comic Book Covers of the Week 09/04/13/
Hello and welcome to the revised edition of Talking Comics: Favorite Comic Book Covers of the Week! It used to be that every week our Executive Editor Steve Seigh would showcase his favorite comic book covers of the week and then you could all go about your day. Well no more! From this point forward Steve won't be the only one displaying the covers that caught his fancy. As of today, and for the foreseeable future, you'll be viewing selections not only from Steve, but from other site staff and fans alike!
If you'd like to contribute to this column all you need to do is send Steve an email at SteveSeigh@TalkingComicBooks.com, telling him the title of the issue with the cover that you dig, as well as a brief description of why you're grooving on that particular cover. We'll try to include as many selections as possible and hope that you enjoy seeing your choices displayed for all of the internet to see.
So without further or due let's get this week's selections highlighted!
– Steve Seigh's Favorite Comic Book Covers of the Week –
Avengers A.I. #3 Mike Allred Variant
Writer: Sam Humphries
Artist: Andre Araujo
Cover Artist: Mike Allred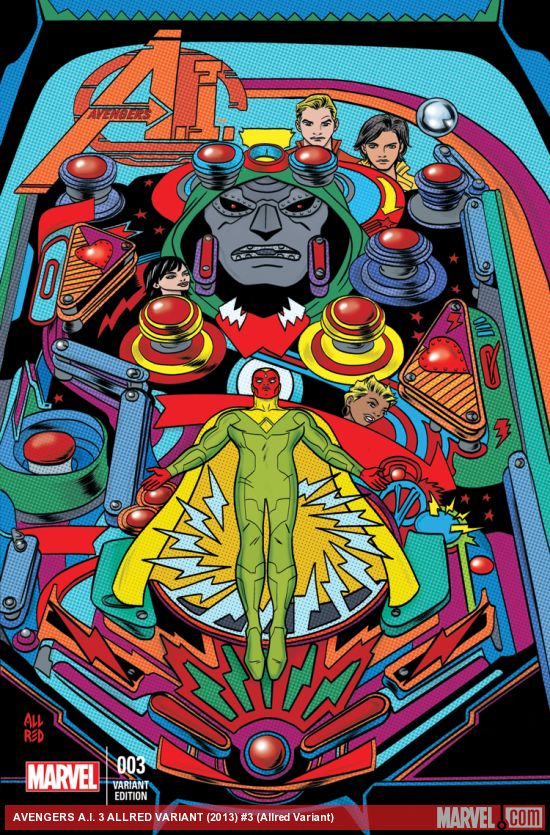 "Yeah, um, it's going to be pretty damn hard to top this amazing comic book cover this week. Vibrant, colors galore, and … oh c'mon! This is just amazing! Do I really need to say anything else? Seriously, look at this cover! LOOK at it! It's fantastic. Yup." – Steve Seigh
"Mike Allred. Doom-Face Pinball. You get the idea." – Michael Duke
Neccessary Evil the Villains of the DC Universe TP
Writer: Richard Donner
Artist: Alex Ross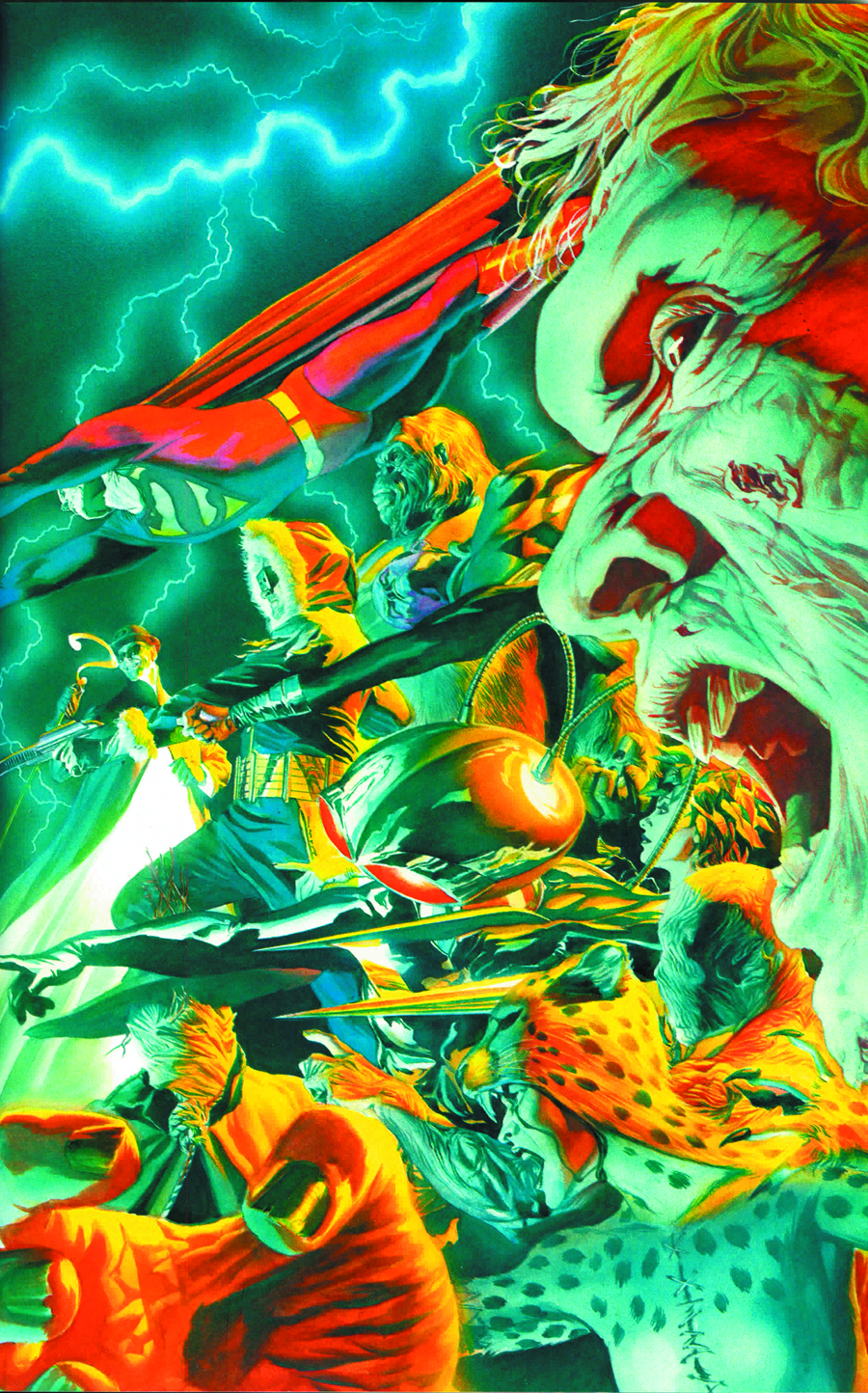 "This is the first time that I've ever seen this cover and I've got to say that it is pretty awesome! The cool color palate really works with the villains depicted here and I can only imagine the trouble that the poor bastard on the receiving end of their wrath is in." – Steve Seigh
Batman Black & White #1
Writer: Chipp Kidd
Artist: Michael Cho
"This tragic and emotional cover is really working for me this week. Perhaps it's the look of defeat on Batman's face, or perhaps it has very much to do with the skeletal remains of Mr. and Mrs. Wayne, bekoning to their son from deep within their graves? Either way. it's beautiful." – Steve Seigh
"Just like most of the art in this issue, the cover of Batman Black and White is gorgeous.  I love the detail, the shading, and the general tragedy and creepiness of the image.  My peepers are pumped to have this book back." – Patrick Brennan
Dexter #3
Writer: Jeff Lindsay
Artist: Dakbor Talajic
Cover Artist: Mike Del Mundo
"Ha ha ha ha! How could you not love this cover? I'm a big fan of Mike Del Mundo's outrageous X-Men Legacy covers and it's nice to see his talent being used elsewhere." – Steve Seigh 
Fairest #19
Writer: Sean Williams
Artist: Stephen Sadowski
Cover Artist: Adam Hughes
"Isn't she gorgeous? Adam Hughes really does know how to draw beautiful women, as evidenced by this incredible Fairest cover. I love the warm colors, and the ease upon which she handles that bow. It's all very exquisite." – Steve Seigh
– Bob Reyer's Favorite Comic Book Covers of the Week –
X-Men: Battle of the Atom #1
Writer: Brian Michael Bendis
Artist: Frank Cho
Cover Artist: Arthur Adams
"I've been a fan of Arthur Adams' work for many years, so it's always a pleasure seeing his art as it so in-frequently appears! This week there are two covers with his fabulous images, but this one is clearly the stand-out! It's as if you can feel the soft weight of Angel's wings!" – Bob Reyer
X-Factor #262
Writer: Peter David
Artist: Neil Edwards
Cover Artist: David Yardin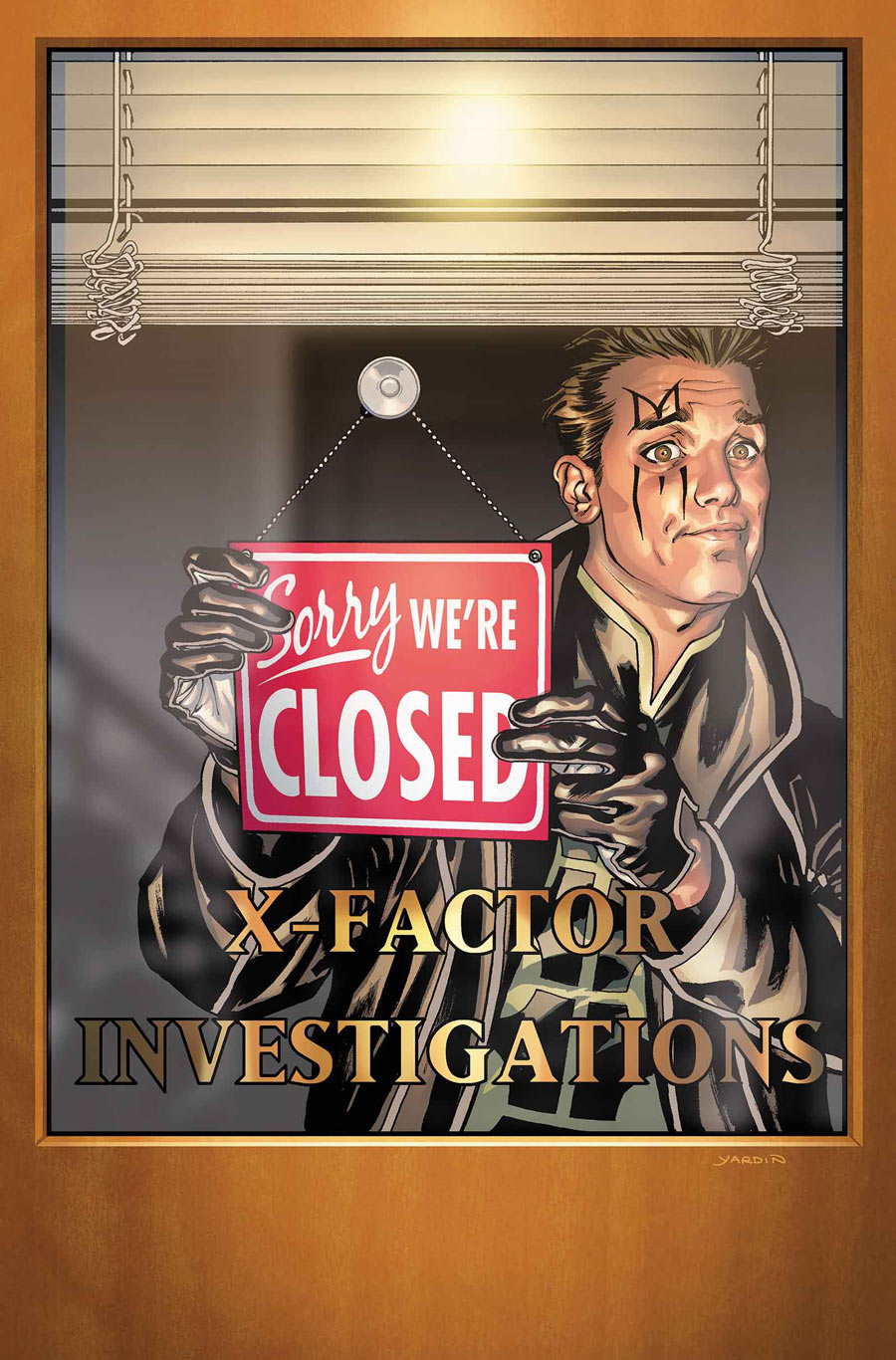 "This is it, the final issue of X-Factor! On this affecting cover by David Yardin. Jamie Madrox seems about as happy as I am about his closing the doors for the last time. My fingers remain crossed for an announcement of a new Peter David mutant project; perhaps at NYCC?" – Bob Reyer
– Melissa Megan's Favorite Comic Book Cover of the Week –
Shadowman #10
Writer: Justin Jordan
Artist: Roberto De La Torre
Cover Artist: Stephanie Perger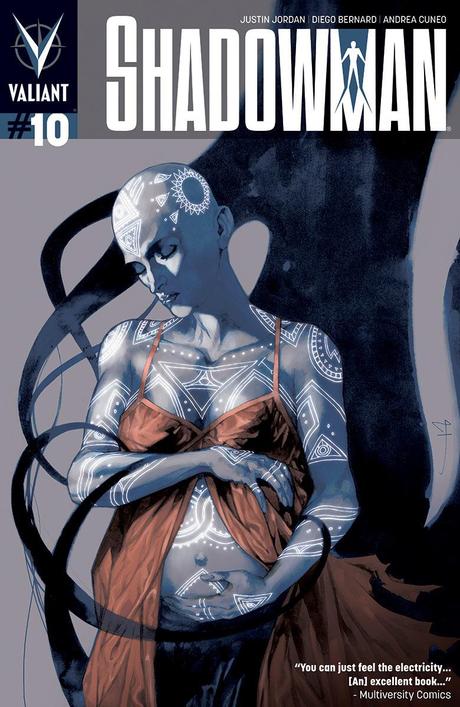 "Very creepy, nicely colored pregnant alien woman. The story isn't my favorite, but the cover is pretty great." – Melissa Megan
* Editor's Note: I'm fairly certain that Melissa will also enjoy this variant cover by artist Riley Rossmo. We're both HUGE fans of his. This one's for you, Mama! – Steve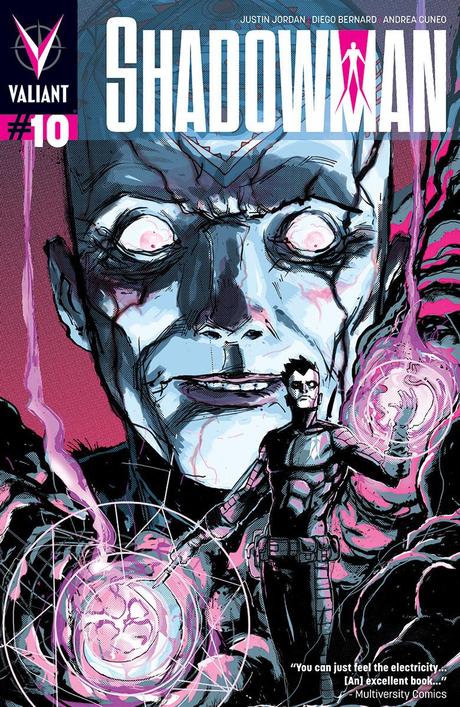 – Michael Duke's Favorite Comic Book Cover of the Week –
Writer: Spurrier, Simon
Artist: Huat, Tan Eng
Cover Artist: Mundo, Mike Del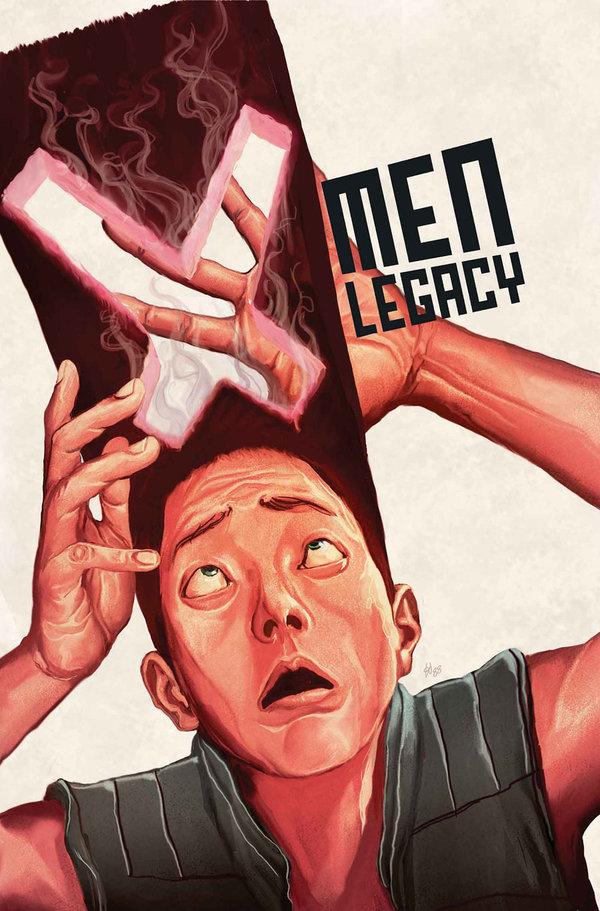 "This book has the best covers in the business right now, period. In this issue, Legion comes face to face with Cyclops! (Think Cyclops's new visor….)" – Michael Duke
– Patrick Brennan's Favorite Comic Book Cover of the Week – 
Green Arrow #23.1 Count Vertigo Villains Cover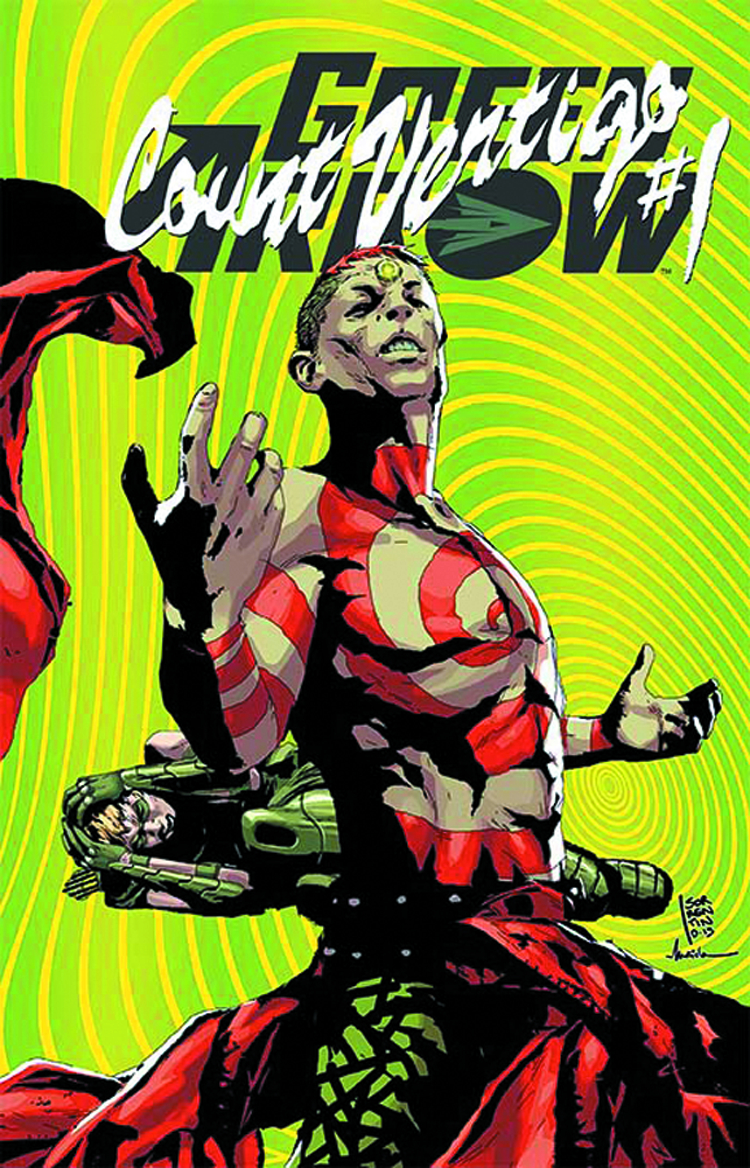 Writer: Jeff Lemire
Artist: Andrea Sorrentino
Cover Artist: Andrea Sorrentino
"I was expecting a train wreck when I first heard about the 3D covers for this month, but I've been crazy pleasantly surprised.  They've been exciting, super bright, and the images are fairly crisp despite the 3D effect.   This one is one of my favorites." – Patrick Brennan
– Favorite Comic Book Covers of the Week Soundtrack –
This list was compiled while listening to the album Green Naugahyde by the band Primus.
[youtube]https://www.youtube.com/watch?v=IMKKXSh967U[/youtube]
*Remember, if you would like to participate in this column you can send your cover selections (please, only one cover per week) to SteveSeigh@TalkingComicBooks.com. Be sure to have your selections in by midnight of the Monday that corresponds with that week's releases. Also, please try to keep your selections to books that are being released that week ONLY. Thanks so much and we look forward to sharing your thoughts with all who stop by the Talking Comics website. Cheers! – Steve
This list was compiled by Steve Seigh – Executive Editor of Talking Comics. You can hear Steve on the Talking Comics weekly podcast as well as find him on Joblo.com where he writes a featured, bi-weekly column called Ink & Pixel. His Twitter handle is @dead_anchoress.