* Better late than never right? My apologies to those who contributed to this piece well ahead of time. Sometimes we get busy and things go by the wayside. Enjoy!
Favorite Comic Book Covers of the Week 08/14/13/
Hello and welcome to the revised edition of Talking Comics: Favorite Comic Book Covers of the Week! It used to be that every week our Executive Editor Steve Seigh would showcase his favorite comic book covers of the week and then you could all go about your day. Well no more! From this point forward Steve won't be the only one displaying the covers that caught his fancy. As of today, and for the foreseeable future, you'll be viewing selections not only from Steve, but from other site staff and fans alike!
If you'd like to contribute to this column all you need to do is send Steve an email at SteveSeigh@TalkingComicBooks.com, telling him the title of the issue with the cover that you dig, as well as a brief description of why you're grooving on that particular cover. We'll try to include as many selections as possible and hope that you enjoy seeing your choices displayed for all of the internet to see.
So without further or due let's get this week's selections highlighted!
– Steve Seigh's Favorite Comic Book Covers of the Week –
Saga #13
Story by Brian K. Vaughan
Art by Fiona Staples
"This is my favorite cover this week for very personal reasons. Among them is the feeling of tranquility I get when looking at this cover. I find the quizzical expressions shared by both Barr and Hazel to be hilarious and at the same time very endearing. Having become an uncle two times over in the past five years I can totally relate to the love being shared in the art for this cover. Bravo, Fiona Staples. You truly are amazing!" – Steve Seigh
Batman #23
Story by Scott Snyder
Art by Greg Capullo & Danny Miki
Colors by FCO Plascencia
Letters by Nick Napolitano
Cover by Greg Capullo, Danny Miki, FCO Plascencia, Gary Frank, & Brad Anderson
"I think it's awesome that a comic book cover depicting an essentially singular image can be just as striking as one that contains many. Batman looks like he's suited up and ready to patrol the streets to whoop some ass and bring a little justice to the streets of Gotham … and I love it!" – Steve Seigh 
The Fearless Defenders #8
Story by Cullen Bunn
Art by Will Sliney
Colors by Veronica Gandini
Letters by Clayton Cowles
Cover by Mark Brooks
"Yet another great cover from the team in charge of The Fearless Defenders! I love concept art. For me, seeing the evolution of the character on the page is super fun. There are all sorts of details that end up being masked by the final product, but with concept art you get to appreciate all the subtle details that make up the whole." – Steve Seigh
" Every cover from this comic has knocked it out of the park. Each one is unique and appealing without being too campy. This cover, like the others, lets you know that the contents are going to be great." – Mara Wood
Astonishing X-Men #65
Story by Marjorie Liu
Art by Gabriel Hernandez Walta
Colors by Cris Peter
Letters by Joe Caramagna
Cover by Phil Noto
"It's always sad to see a series you love disappear. Well, at least we're graced with this beautiful cover of Ice Man and Thor, struggling high in the sky, as Majorie Liu bring her run to a close. I've really enjoyed this series since jumping on at issue #51 and I hope this won't be the last we'll see of Liu or the amazing team that put this book together." – Steve Seigh
"Phil Noto really knocks this one out of the park. Love the stark blue and the Ice Man angel wings. What really makes this cover though? Thor's hammer falling out reach…" – Joey Braccino
Lost Vegas #4
Story by Jim McCann
Art by Janet Lee
"I love the desolate nature of this cover. I also think it's awesome that it implies that our main character has pulled a disappearing act right inside the vastness of space. That's pretty badass." – Steve Seigh
– Bob Reyer's Favorite Comic Book Covers of the Week –
T.H.U.N.D.E.R. Agents #1
Story by Phil Hester
Art by Andrea Di Vito
Cover by Andrea Di Vito
"This issue comes with four randomly filled covers, each of which I would be happy to pick for this column! It would be great if it came as a fold-out, so I wouldn't have to choose!" – Steve Seigh
Red Sonja #2
Writer: Gail Simone
Artist: Walter Geovanni
Cover: Stephanie Buscema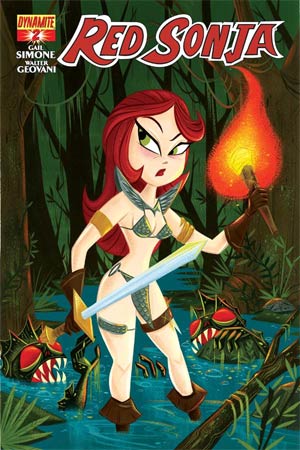 "What can I say but "Awwwww….."" – Bob Reyer
Batgirl #23
Written by Gail Simone
Art by Fernando Pasarin & Jonathan Glapion
Cover by Alex Garner
"Every one of these painted covers by Alex Garner has been a gem! In many ways, they are reminiscent of those classic James Bama "Doc Savage" paperbacks of the Sixties & Seventies that I'm sure that Mr. Garner is a fan, too!" – Bob Reyer
– Bobby Shortle's Favorite Comic Book Cover of the Week – 
Story by Brian Posehn & Gerry Duggan
Art by Scott Koblish
Colors by Val Staples
Cover by Kris Anka
"This is an odd pick for me. Sure I'm a sucker for covers that feature monochrome with a splash of red and this has that. But its less the image and more the words that appear.  The tag line of "Sometimes the past comes back to haunt you….and it's dressed like a pimp" made me laugh out loud. " – Bobby Shortle
– Mara Whiteside's Favorite Comic Book Cover of the Week –
Peter Panzerfaust #13
Story by Kurtis J Wiebe
Art by Tyler Jenkins
"Peter just oozes cool on this cover. I love how the artwork for this series carries that darker, noir feel. I hope this cover is enticing to new readers!" – Mara Wood
– Joey Braccino's Favorite Comic Book Covers of the Week –
Resident Alien: The Suicide Blonde #0
Writer: Peter Hogan
Artist: Steve Parkhouse
Colorist: Steve Parkhouse
Cover Artist: Steve Parkhouse 
"This cover from interior artist Steve Parkhouse is an absolute trip. I have no idea what this comic is about, but the cover is an uber-pulpy visual throwback to everything from the X-Files and MIB to Sandman and Scalped. As if the alien-in-the-crosshairs image wouldn't pop enough, Parkhouse uses bright neon greens and purples to really delineate the strange in a sea of Black and White." – Joey Braccino
Half Past Danger #4
Story, art, and cover by Stephen Mooney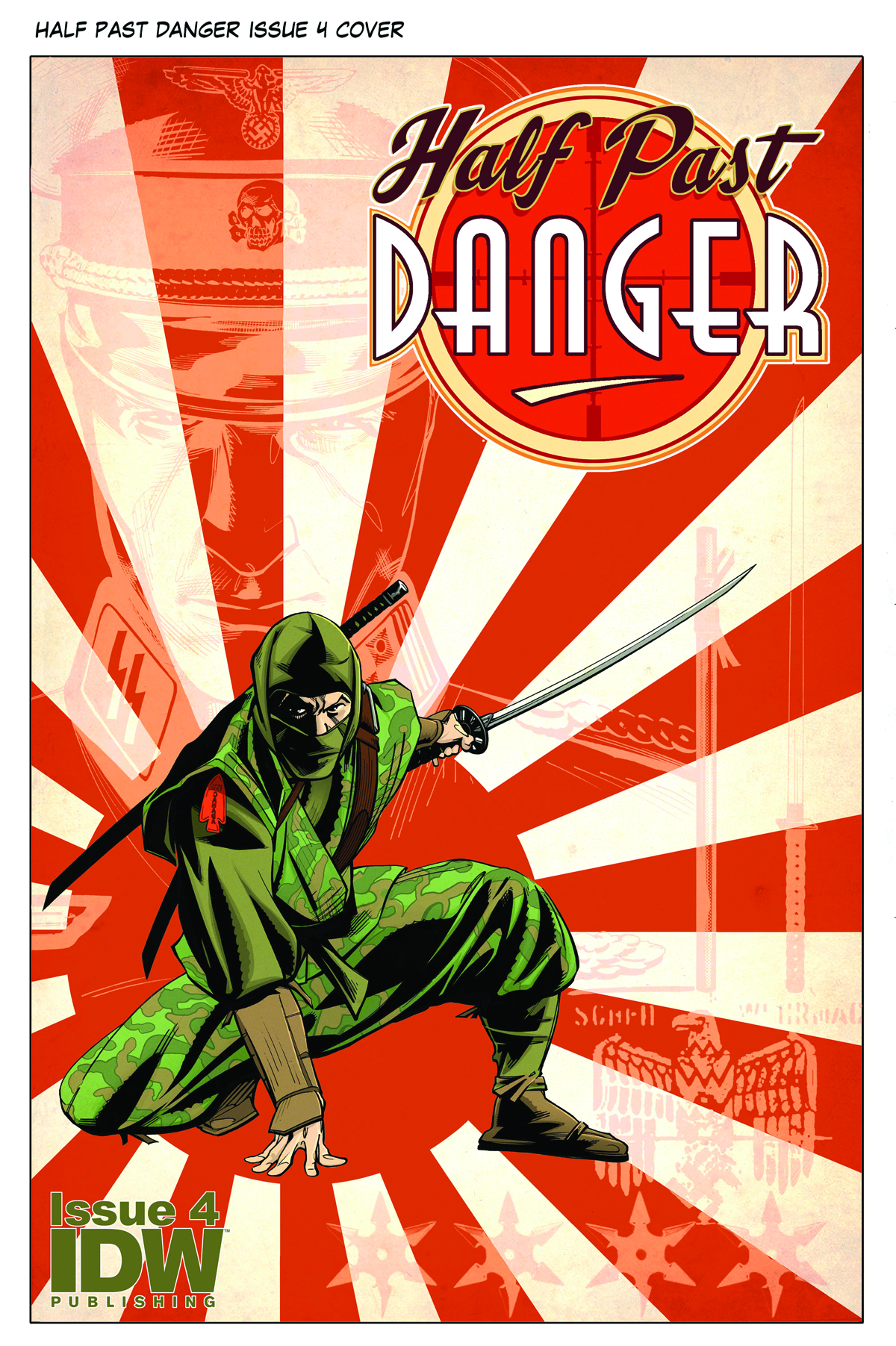 "Half Past Danger #4 – Stephen Mooney pulls triple duties on Half Past Danger as writer, artist, and cover artist. This simple cover mixes several element: the pulp novel title font clashes wonderfully with the flipping NINJA and Japanese iconography. Furthermore, what initially looks like wear-marks on the background is actually an image of the Nazi villains "behind the scenes" as it were. Great cover." – Joey Braccino
– Favorite Covers of the Week Soundtrack –
This list was compiled while listening to the Self Titled LP by the band Pinkish Black.
[youtube]http://www.youtube.com/watch?v=F7tR0zn3zo0[/youtube]
*Remember, if you would  like to participate in this column, send your cover selections (please, only one cover per week) to SteveSeigh@TalkingComicBooks.com. Be sure to have your selections in by midnight of the Monday that corresponds with that week's releases. Also, please try to keep your selections to books that are being released that week ONLY. Thanks so much and we look forward to sharing your thoughts with all who stop by the Talking Comics website. Cheers! – Steve
This list was compiled by Steve Seigh – Executive Editor of Talking Comics. You can hear Steve on the Talking Comics weekly podcast as well as find him on Joblo.com where he writes a featured, bi-weekly column called Ink & Pixel. His Twitter handle is @dead_anchoress.