Favorite Comic Book Covers of the Week 06/12/13/
Hello and welcome to the revised edition of Talking Comics: Favorite Comic Book Covers of the Week! It used to be that every week our Executive Editor Steve Seigh would showcase his favorite comic book covers of the week and then you could all go about your day. Well no more! From this point forward Steve won't be the only one displaying the covers that caught his fancy. As of today, and for the foreseeable future, you'll be viewing selections not only from Steve, but from other site staff and fans alike!
If you'd like to contribute to this column all you need to do is send Steve an email at SteveSeigh@TalkingComicBooks.com, telling him the title of the issue with the cover that you dig, as well as a brief description of why you're grooving on that particular cover. We'll try to include as many selections as possible and hope that you enjoy seeing your choices displayed for all of the internet to see.
So without further or due let's get this week's selections highlighted!
– Steve Seigh's Favorite Comic Book Covers of the Week –
The True Lives of the Fabulous Killjoys #1
Writer: Gerard Way & Shaun Simon
Artist: Becky Cloonan
Colorist: Dan Jackson
Cover Artist: Becky Cloonan
"Not only so I love Beck Cloonan's fabulous style, but I'm really digging the layout and colors of Dan Jackson on this cover. It almost reminds me of a Metal Hammer or Kerrang! magazine cover as well – which rocks!" – Steve Seigh
Six Gun Gorilla #1
Writer: Simon Spurrier
Artist: Jeff Stokely
Cover by Ramon Perez
"It's a giant pissed off gorilla, with a six-shooter, who appears to be dancing on the brow of Dr, Manhattan (not really), and I think that's awesome. Plus … ya know, gorilla." – Steve Seigh
Suicide Squad #21
Story by Ales Kot
Art by Patrick Zircher
Cover by Jason Pearson
"Harley's looking pretty hot in her police gear and that smile on my face tells me that she's up to no good – which is exactly the way I like her." – Steve Seigh
Astonishing X-Men #63
Story by Marjorie Liu
Art by Gabriel Hernandez Walta
Colors by Cris Peter
Letters by Joe Caramagna
Cover by Phil Noto
"Who wouldn't love a cover featuring Iceman looking like quite the pimp? I also dig the soft tones and colors featured here. It's cool, seductive, and everyone here is looking mighty dangerous." – Steve Seigh
Batman: Li'l Gotham #3
Story by Dustin Nguyen & Derek Fridolfs
Art by Dustin Nguyen
Cover by Dustin Nguyen
"We should just face facts that every time Li'l Gotham hits the shelves that it will be featured here. I just can' get enough of that chibi, watercolor-like cuteness. It makes me happy." – Steve Seigh
– Bob Reyer's Favorite Comic Book Covers of the Week –
Avengers Assemble #16 (Regular and variant covers)(Marvel)
Writer: Kelly Sue DeConnick
Artist: Matteo Buffagni
Variant Cover: Amanda Conner
Regular Cover: Joe Quinones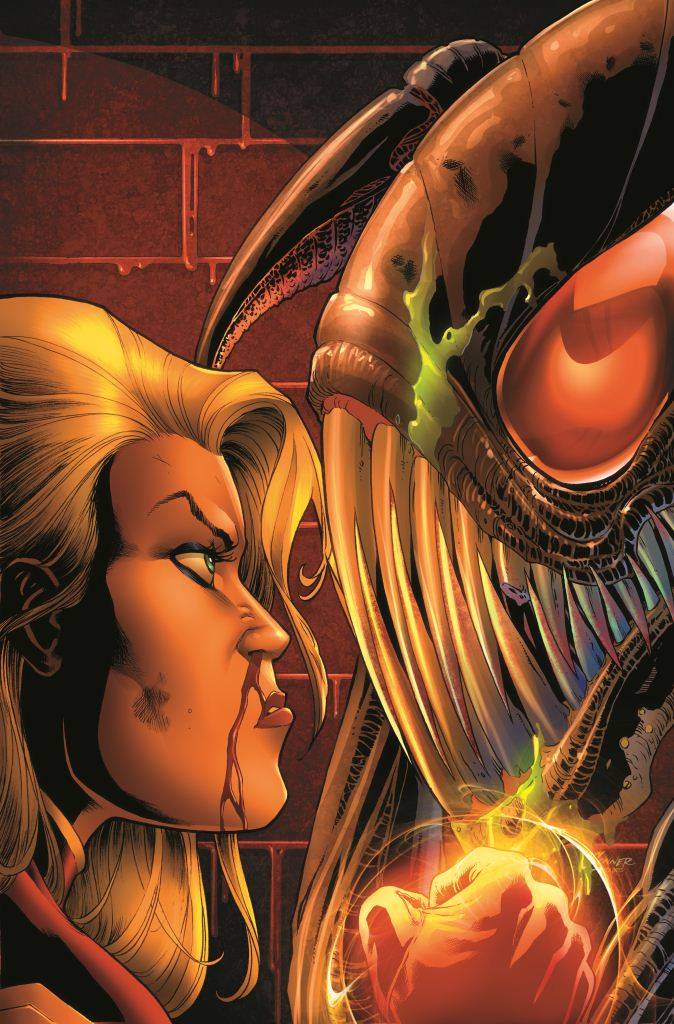 (Amanda Connor)
(Joe Quinones)
"What a dilemma! Two of my favorite artists, each doing a cover for one of my favorite books–ARRGGHH!!" – Bob Reyer
Doomsday.1 #2 (IDW)
Writer/Artist: John Byrne
Colorist: Leonard O'Grady
Cover: John Byrne
"Our intrepid survivors have escaped the solar flare only to find that the words of Capt. Boyd from last issue may be prophetic "Those who died instantly may have been the lucky ones." – Bob Reyer
Batgirl #21 (DC)
Writer: Gail Simone
Artist: Fernando Pasarin
Cover: John Garner
"This chilling cover by John Garner seems as if it belongs to an old EC "Tales from the Crypt"!  Based on the current story, we know that Commissioner Gordon won't be riding to the rescue, either!  Yikes!!" – Bob Reyer
"I love the almost realistic look to this cover. It's frightening and chilling, and captures everything that this issue is about." – Adam Shaw
ONE THAT SLIPPED THROUGH THE CRACKS:
Fearless Defenders #5 (Variant) (Marvel)
Cover: Amanda Conner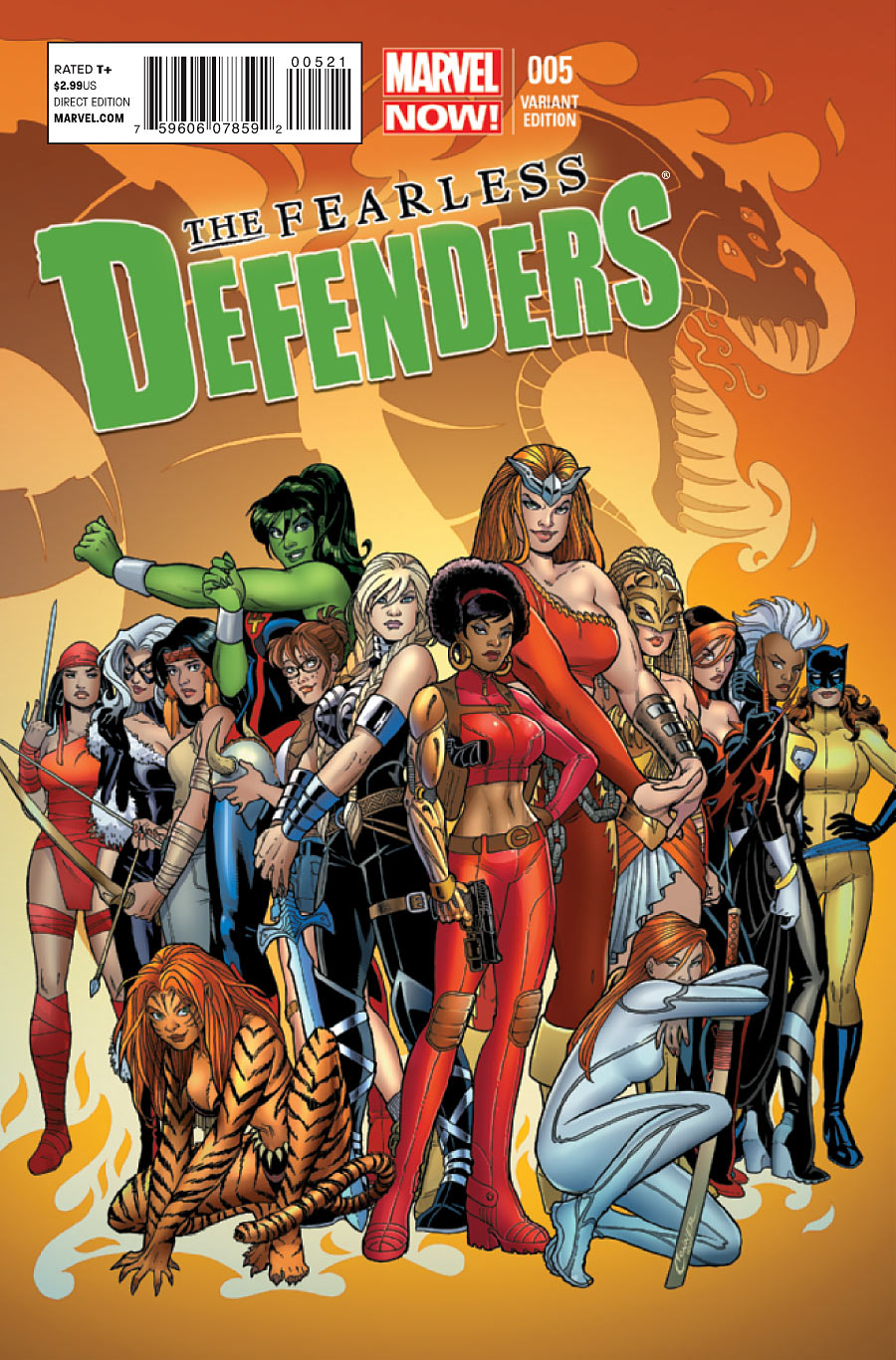 "Due to a computer glitch, the image for this fabulous cover by the Amazing Amanda Conner (I'm sure that's what Stan "The Man" Lee would have called her!) fell off last week's column–not enough Scotch tape, I guess! Anyway, gaze on it in wonderment, True Believer!!" – Bob Reyer
– Mara's Favorite Comic Book Covers of the Week –
Guardians of the Galaxy #3
Story by Brian Michael Bendis
Art by Steve McNiven
Cover by Steve McNiven, Leinil Francis Yu, & Ed McGuinness
" I don't know what it is exactly about this cover that makes me so happy. Honestly, I don't even read this series. But Rocket Raccoon seriously looks like he's ready to do some major damage." – Mara Whiteside
Favorite Comic Book Covers of the Week Soundtrack
This list was compiled while listening to my friend, the lovely Rachel Fannan, performing the song "Let Me  Sing You Love Songs"
[youtube]http://www.youtube.com/watch?v=DsVoVJlAk8g[/youtube]
*Remember, if you would  like to participate in this column, send your cover selections (please, only one cover per week) to SteveSeigh@TalkingComicBooks.com. Be sure to have your selections in by midnight of the Monday that corresponds with that week's releases. Also, please try to keep your selections to books that are being released that week ONLY. Thanks so much and we look forward to sharing your thoughts with all who stop by the Talking Comics website. Cheers! – Steve
This list was compiled by Steve Seigh – Executive Editor of Talking Comics. You can hear Steve on the Talking Comics weekly podcast as well as find him on Joblo.com where he writes a featured, bi-weekly column called Ink & Pixel. His Twitter handle is @dead_anchoress.