Carmine Infantino: An Appreciation by Bob Reyer
The comics world has lost one of the giants of the industry with the April 4th passing of Carmine Infantino at the age of 87. His career in the four-color realm began in the industry's outset during the Golden Age of the early 1940s, reached its pinnacle during the Silver Age of the 50s & 60s, and Mr. Infantino continued to be active in teaching and public appearances until very recently. He was an artist, a designer, an editor, and a publisher, but to my generation of fans, he was "the guy who draws The Flash", and as simple as that sounds, nothing more need be said to cement Mr. Infantino's legacy as a creator of the first order.
Mr. Infantino was born on May 25, 1925 in Brooklyn, and as a student at the School of Industrial Art he began getting work from the many "packagers" and publishers of comics, who at that time were mostly based in New York City, and who were constantly searching for talented newcomers due to the explosion of title and genres at that time.
Carmine Infantino's long tenure with DC (or National Periodicals as they were known then) would begin with a Johnny Thunder back-up story in Flash Comic #86 in the Summer of 1947  that would feature the debut of the Black Canary, a character designed by Mr. Infantino and crafted by writer Robert Kanigher, who would grow to be so popular she would oust Johnny from his own feature and gain her a cover (by Mr. Infantino!) only six months later! In between, Mr. Infantino would tackle his first assignment on a character (albeit from a different Earth!) that would come to define his career, with his pencils  for a story in All-Flash Comics #31 late in 1947, which would lead him in early 1948 to drawing the cover and splash of the JSA-led All Star Comics #40, as well as the Flash chapter of that important anti-juvenile delinquency book that was released during Dr. Fredric Wertham's first attack on comics as the cause of teenage crime.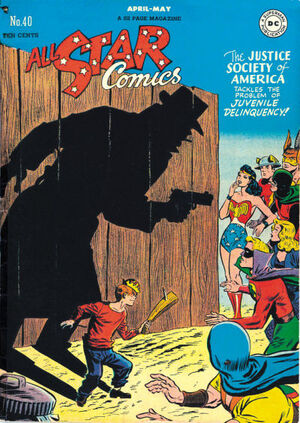 As super-heroes fell out of favor during the early Fifties, Mr. Infantino turned his pencils to nearly every genre imaginable, but things were about to "speed up". Due to the continuing popularity of the "Adventures of Superman" TV show, DC editor Julius Schwartz decided it was time to add some new (if reborn) heroes to the trinity of Superman, Batman, and Wonder Woman. Mr. Schwartz would turn to Robert Kanigher and Carmine Infantino to re-launch the "Fastest Man Alive" in the October 1956 issue #4 of Showcase that would serve as the birth of the Silver Age of Comics. In a sleek red and yellow outfit of Mr. Infantino's design, Barry Allen would race through three more Showcase appearances, before gaining his own title in early 1959.
It was as if Carmine Infantino's entire career pointed to this book; his talent for dynamic action sequences was now in full bloom, and he created a new vocabulary for depicting speed in comics that has never been equaled  With that, his designs for the famous "Rogues' Gallery" were never anything but inspired, and his civilians would always be  part of the drama, and not just "filler". Whatever the situation (and there were some crazy ones!), Mr. Infantino could be counted on to deliver an image that screamed "BUY ME!", such as the cover for Flash #123 seen at the top of this piece that re-introduced Jay Garrick, the Golden Age Flash, and with its depiction of Earth-Two, began the DC Multiverse concept.
During this most imaginative period, Mr. Infantino would grace us with the stunning science-fiction of Adam Strange in the title Mystery in Space, and also preside over the "New Look" re-vamp of Batman that would restore mystery and suspense to the Dark Knight after many years of off-beat quirkiness. In addition, along with writer Gardner Fox, Mr. Infantino would co-create one of comics' most enduring super-heroines in Detective Comics #359 by introducing the "Daredoll Detective", the Barbara Gordon Batgirl to the Bat-family.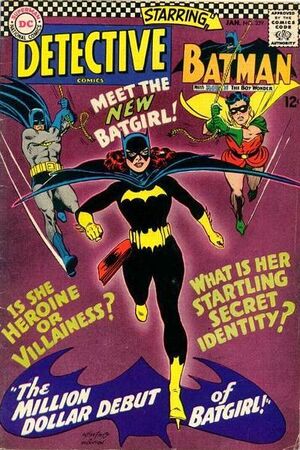 Around this time, Mr. Infantino would begin to pull back from the grind of monthly books, when he became first the art director, and then the editorial head of the DC Comics line. In swift order he would attempt to bring them back level with Marvel by hiring rising new talents such as Neal Adams, and even luring Jack Kirby to the other side of the tracks. Mr. Infantino would eventually be named Publisher, before returning to artistic endeavors with old rival Marvel as the original artist on the Jessica Drew Spider-Woman in 1978.
In 1981, Carmine Infantino would return to his most famous and beloved character, and he would chronicle the adventures of the Flash through to the title's end due to the events of Crisis on Infinite Earths. It was more than fitting that the man who truly gave life to the character of the Barry Allen Flash through his greatest period would be there for the finale. Rarely in the history of super-hero comics has one creator been so identified with a single character as Carmine Infantino and the Scarlet Speedster, but with such a perfect marriage of subject matter and artistic abilities and creativity, those books are some of the most spectacular, and most remembered of the entire Silver Age of Comics that Mr. Infantino had helped to launch!
SOURCES: 
DC Comics: Sixty Years of the World's Favorite Comic Book Heroes  Les Daniels (Bulfinch/1995)
Super-Hero Comics of the Silver Age  Mike Benton (Taylor/1991)
Silver Age Sci-Fi Companion  Mike Barr (Twomorrows Press/2007)
All-Star Companion Vol.1  Roy Thomas, ed. (Twomorrows Press/2000)
All Star Comics Archives Vol. 9  (DC/2003)
Black Canary Archives  (DC/2001)
The Flash Archives Vol.1  (DC/1998)
Soundtrack: This appreciation was composed whilst (semi) watching the 1990 CBS-TV series The Flash, the intro to which can be seen here: