Favorite Comic Book Covers of the Week 3/27/13
Hello and welcome to the revised edition of Talking Comics: Favorite Comic Book Covers of the Week! It used to be that every week our Executive Editor Steve Seigh would showcase his favorite comic book covers of the week and then you could all go about your day. Well no more! From this point forward Steve won't be the only one displaying the covers that caught his fancy. As of today, and for the foreseeable future, you'll be viewing selections not only from Steve, but from other site staff and fans alike!
If you'd like to contribute to this column all you need to do is send Steve an email at SteveSeigh@TalkingComicBooks.com, telling him the title of the issue with the cover that you dig, as well as a brief description of why you're grooving on that particular cover. We'll try to include as many selections as possible and hope that you enjoy seeing your choices displayed for all of the internet to see.
So without further or due let's get this week's selections highlighted!
Steve's Picks
* We have a TIE for my Favorite Comic Book Cover of the Week this week!
Morning Glories #25
Story by Nick Spencer
Art by Joe Eisma
Cover by Rodin Esquejo
*To see a far larger image of the combined A,B, and C covers that are shown above you can click  here.
"I don't know how anyone reading Morning Glories could not lose their shit over this three cover spread. All of the major players are there and they look as hungry as ever for answers to their burning questions about the fates. I feel like this cover has got a strong "Lord of the Flies" vibe to it that I'm totally digging on." – Steve Seigh
FF #5
Story by Matt Fraction
Art by Michael Allred
Colors by Laura Allred
Letters by Clayton Cowles
Cover by Michael Allred & Laura Allred
"What can I say? I love Mike Allred's wildly imaginative art coupled with Laura Allred's eye-popping color work. Medusa has quickly become one of my favorite characters within the Marvel Universe and this cover highlights her so beautifully." – Steve Seigh 
"I have a feeling that this cover by Michael Allred will be on my list of "Favorite Covers of 2013" when we get to the end of the year! Impressionistic and representational at the same time, and it serves as the perfect re-cap to last issue's cliffhanger "What is Medusa up to now?", as well as a great mood-setter!" – Bob Reyer
"I haven't started this run of FF yet, but I love this cover. Medusa is one of those characters I want to know more about and this cover makes it look like one of the best places to do just that." – Stephanie Cooke
"Admittedly, I was never a huge fan of Allred's pop art, but after reading FF it has grown on me. These covers feel nostalgic, and remind me of some of the 60's art and comics I used to read with my dad as a kid. That's what FFand Fantastic Four are all about, right? Family. I got like covers that remind me of my own." – Adam Shaw
Young Avengers #3
Story by Kieron Gillen
Art by Jamie McKelvie & Mike Norton
Colors by Matthew Wilson
Cover by Jamie McKelvie & Tradd Moore
"See Stephanie's comment below for my shared opinion about this cover. I could not have said it better myself. This cover screams "It's Business Time!" – Steve Seigh
"Because who doesn't love a cover where a girl is clearly getting ready to beat the shit out of something?" – Stephanie Cooke
 Transfusion #3
Story by Steve Niles
Art by menton3
Cover by menton3
"Menton3 is a master of the comic book dark arts. His style and attention to detail within the macabre makes him an unstoppable artist to adorn your comic book cover." – Steve Seigh
"It's a beautiful, terrifying, blood eating robot. Did I mention it's beautiful? " – Melissa Megan
"Artistic & creepy. This book has been under my radar, but this macabre look has me interested in cracking open the cover, and possibly hiding under the covers on my bed." – Adam Shaw
Hack/Slash #25
Story by Tim Seeley
Art by Elena Casagrande
Cover by Jenny Frison
"I'm really feeling the cool color work of this cover as well as the intense gaze this girl is putting into the hollowed eyes of that skull. This cover makes me wish that I was currently reading this series. In fact, I might have to start." – Steve Seigh
The Art of Bioshock Infinite HC
Writer: Julian Murdoch
"Let's face facts, shall we. Any artwork attached to the Bioshock franchise is pretty amazing and this cover is no exception." – Steve Seigh
Bob's Pick
The Green Hornet #1

Writer: Mark Waid
Artist: Daniel Indro
Cover: Alex Ross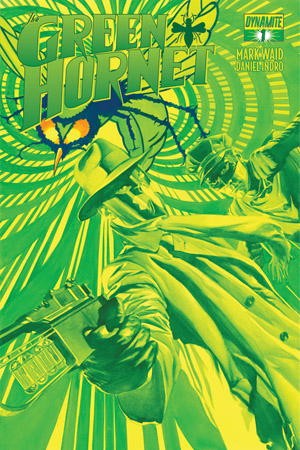 "Sadly, this gorgeous Alex Ross cover is a "Super Special Subscription Variant" that was only available if you pre-ordered well in advance!  That said, the combination of elements from the old Universal serials and the 60s TV show make for an eye-catching piece of work!" – Bob Reyer
Stephanie Cooke's Pick
B.P.R.D. Vampire #1
Writer: Mike Mignola, Fábio Moon, & Gabriel Bá
Artist: Fábio Moon & Gabriel Bá
Colorist: Dave Stewart
Cover Artist: Fábio Moon
"For REASONS (Happy, Steve? :P)… But really, look at it! Amazing." – Stephanie Cooke
Sean Lamont's Pick
Aquaman #18
Story by Geoff Johns
Art by Paul Pelletier & Sean Parsons
Colors by Rod Reis
Letters by Dezi Sienty
Cover by Paul Pelletier, Sean Parsons, & Rod Reis
"Aquaman #18 for me.  Not only does it give Arthur a regal atmosphere as he holds court from upon his throne, but also easily conveys the doubts and worries that plague the king in the hour of his return." – Sean Lamont
* Again, if you'd like to participate in this column send your cover selections (please, only one cover per week) to SteveSeigh@TalkingComicBooks.com. Be sure to have your selections in by midnight of the Monday that corresponds with that week's releases. Also, please try to keep your selections to books that are being released that week ONLY. Thanks so much and we look forward to sharing your thoughts with all who stop by the Talking Comics website. Cheers! – Steve
Favorite Comic Book Covers of the Week Soundtrack
This list was compiled while listening to the album Happy New Year by the band Oneida.
[youtube]http://www.youtube.com/watch?v=Afxz1MG38QI[/youtube]
This list was compiled by Steve Seigh – Executive Editor of Talking Comics. You can hear Steve on the Talking Comics weekly podcast as well as find him on Joblo.com where he writes a featured, bi-weekly column called Ink & Pixel. His Twitter handle is @dead_anchoress.